Our youngest has been having a hard time transitioning since our big move this winter. Although we're only part way through our homeschool year (we homeschool by calendar year), I wanted to encourage him to have more structured learning as part of his day since we will be easing in to some Kindergarten work. So I was really excited for the opportunity to review the La La Logic Preschool Curriculum.

La La Logic is a 100 week preschool curriculum the combines using the computer, worksheets, and enrichment activities. It includes an easy to follow schedule consisting of activities for 4-5 days. Fridays have an optional activity and recommended Family Fun. The La La Logic Curriculum is progressive so regardless of the child's age or educational level, it should be started at the beginning.
For our preschool curriculum review we received a lifetime membership to the La La Logic Preschool Curriculum. Though the main focus for our review was using this curriculum with our preschooler, our older two children (ages 7 and 9) also wanted to join in as well. So I have been using it with all three children 4-5 days per week.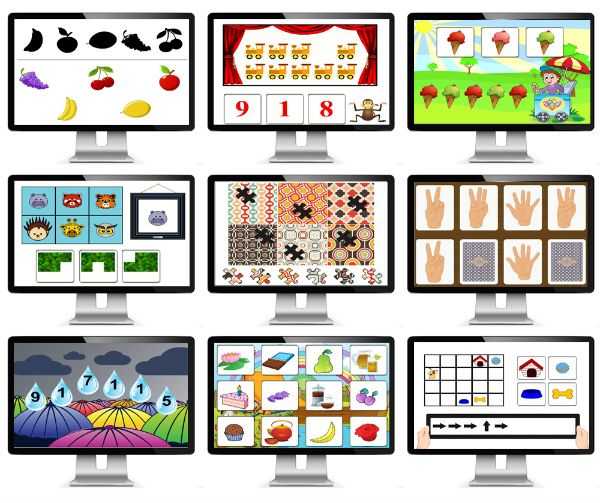 I love the diversity of La La Logic because it offers more than just a single experience. Our kids work on the computer, do a hands-on activity/worksheet, and we work on the Enrichment Activities together as a family. I appreciate that it's a well-rounded experience.
What's more is that La La Logic isn't geared to any specific academic subject. Instead it focuses on cognitive function which essential helps children know how to learn with critical thinking and problem-solving. I am absolutely loving this approach. Surely academics aren't left out as we are often counting and learning shapes and colors along the way as well! Plus, they understand how children learn, and each lesson is short. It's perfect for little kids like our son who has a short attention span. He gets a good balance of learning and play (which is its own form of learning!).
The La La Logic preschool curriculum can be easily accessed online. I just have to sign into one account and have the option to select which child will be doing the work. Each child got to use a picture to represent their account, which is always fun for them! From within each account I can access each week's lesson, print a weekly check sheet, worksheets, and the Enrichment Activities. I can also make notes within each child's account and check off when we have finished that week. The interface is straightforward and simple to use. I have accessed it easily on both my laptop and my husband's PC.
The three main components of La La Logic are the Brain Challenge, Worksheets, and Enrichment Activities. For the Brain Challenge there are two options – the Brain Challenge that corresponds with the weekly curriculum and Continuous Brain Challenge Mode with allows the children to just go through the Brain Challenges as much as they would like. I definitely focus on doing the weekly Brain Challenge 2-3 times per week per the recommended schedule, but when our preschooler asks to do Continuous Brain Challenge, I am all for it! In fact, I love that he asks!
In the Brain Challenge, the kids match shadows to the object, choose pictures that are different, drag letters and numbers to matching baskets, and so much more. I love that they are going over basic ideas like letters, numbers, shapes, and colors, but are also being challenged to think more deeply. Plus, they love it! It's just like a fun game to them! While our preschooler is usually hesitant when I say the word "school," when I ask if he wants to do his La La Logic Brain Challenge he is ready to go!
The Worksheet Activities vary from cutting, matching, and more. I love that they offer a hands-on experience that is easy for young children and encourages fine-motor skills. Unfortunately, our preschooler is a little more resistant to the cutting, for example, because he does have delayed fine-motor skills due to his special needs, but I try to work around it by maybe cutting out the bigger pieces so he just has to make simple cuts. Sometimes he's receptive and sometimes he isn't, but I work to follow his cues. I want learning to be an encouraging experience, and I think that's what La La Logic is all about. Many of the worksheets he's definitely open to and loves them.
Yes, our daughter took it upon herself to add our preschooler's name to the worksheet! Ha! Although the worksheets are activities I would consider "too easy" for our daughter and oldest son, they really enjoy doing them, and I love that they are getting extra fine-motor practice as well as they also both have fine motor challenges due to their special needs. Plus, I think seeing his sister and brother doing them as well encourages him to give them a try!
The Enrichment Activities are something we are able to do as a family. In the Enrichment Activities we do things from talking about emotions (definitely important with not only young children, but with our kids' special needs – though this was a challenge for them, I am so glad it's something we've done), counting games, stories, and more. It encourages both fun and learning, and I love that we can do it all together.
Overall, I am definitely impressed with La La Logic. I love that it encourages critical thinking and offers both online and offline content. It has really encouraged our preschooler to get involved in regular learning without the fuss.
For more, be sure to connect with La La Logic on Facebook and click on the button below to see what other members of the Schoolhouse Review Crew thought!