Disclosure: As a VeggieTales Blogger I received a VeggieTales Summer Movie Party Pack with the MacLarry and the Stinky Cheese Battle DVD free of charge to facilitate my review and share my experience. My opinions are my own and those of my family.
The latest VeggieTales movie, MacLarry & the Stinky Cheese Battle was released on July 30th! To celebrate the new release we received a VeggieTales Summer Movie Party Pack for some family-friendly movie fun! In addition to the MacLarry & the Stinky Cheese Battle DVD we received Veggie Tales cups and plates and activities to go along with the movie like Bob & Larry balloons (for water balloons), lyrics for the Singalong songs, activity sheets, cheesy snack ideas, and more!
We are big VeggieTales fans, so I am very excited to now be part of their Blogger team! VeggiesTales offers great family-friendly entertainment with important Faith-based lessons. I have always appreciated the main theme of VeggieTales which is "God made you special, and He loves you very much." MacLarry & the Stinky Cheese Battle is a really good movie to emphasize this very idea!
MacLarry & the Stinky Cheese Battle is about two tribes of pranksters. MacLarry is the son of Chog Norrius the head of the Barber-barians and best prankster of all, but he is an inventor and can't get the hang of pranking. Here is the movie Overview:
Larry the Cucumber stars as MacLarry, a misfit inventor who is stuck in the middle of the silliest battle ever between two tribes of perpetual pranksters! When the biggest prank of the century is unleashed, the feuding tribes are in danger of being overcome by the stinkiest cheese in the land! Will MacLarry realize that his God-given talents may be just what is needed to save them from the rotten cheddar??
I LOVE that MacLarry & The Stinky Cheese Battle Stresses that God created us to be different with different talents and abilities, and that it's not only OK – it's GREAT! Just because others are different doesn't mean we can't get along. In fact, we can find ways to work together and get along despite our differences and even celebrate and appreciate our differences. Our kids all have special needs, so many times they are "different" than the other children. What a great way to express that not only is that OK, but God created them to be special, and they are loved unconditionally! Sometimes each of their differences can make it hard to get along, so it is also a great lesson in reinforcing that it's great that they are different from each other as well!
As always, VeggieTales delivers this wonderful message in a way that is exciting and fun! The kids were dancing and singing and having a great time, but the lesson definitely didn't go unnoticed! We were able to discuss the lessons in the movie after when we were working on the activity pack! You can Download the MacLarry & the Stinky Cheese Battle Activity Pack, to enjoy!
Get a Peek of MacLarry and the Stinky Cheese Battle and Watch the Trailer:
Unfortunately, our party ended up just being a family party because of some unforeseen circumstances with our oldest son's tooth infection, dental work, and the dental bill! Although we hope to reschedule our "big" Summer Movie Party for another date when he gets to feeling better and we can have plenty of refreshments for our friends, I wanted to share our review of MacLarry & The Stinky Cheese Battle as well as our little family Summer Movie Party. It may have been just us for this party, but we still had a great time! (Yes, we have a screen and projector as a "TV." Cool, right?)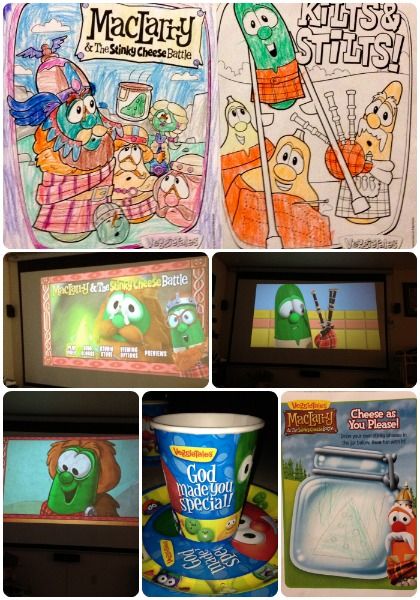 MacLarry & the Stinky Cheese Battle is another great family-friendly movie from VeggieTales! There is a great Lunchbox Bundle, which is perfect for Back-to-School and includes the movie, a padded lunchbox, a Sing Along DVD, and a Larry Learns to Listen book! Or you can purchase MacLarry & the Stinky Cheese Battle DVD by itself. Don't forget to download your free Activity Pack!
For More: Be sure to connect with VeggieTales on Pinterest where you can find more information and more great printables and VeggieTales resources! You can also connect with VeggieTales on Facebook and Twitter