Disclosure: This post contains affiliate links.
A+ Tutorsoft, Inc. is an multisensory Math curriculum for grades 1-6. We reviewed the A+ Interactive Math Online Homeschool Edition for 1st Grade. We used the program for our oldest son. Our daughter is also in 1st Grade but gets easily frustrated by computer work whereas our son really enjoys computer work, so I knew this would be a nice program for him. It is interactive learning online designed for homeschoolers. It's a feature rich program, so you can be sure to fill in any gaps you may have in your curriculum.
You can track your student's progress online as well. It features a Teacher Dashboard as well as a Student Dashboard. The Dashboard features a place that keeps track of all of your child(ren)'s grades. When they do the worksheets and Exams online it automatically logs and saves the grades in the Dashboard. There are options to also print out the worksheets (and Exams as well), which we opted to do a couple of times. You can then go in and manually add grades for any worksheets and exams that were printed out.
For example, Brayden was having a hard time doing a couting worksheet online because he couldn't cross out the items he had already counted. So, we printed out that worksheet (as well as that first exam), so he could cross out the items as he counted them. Then, I manually added his grade from the worksheet. It was really simple, and I liked that we were given the option to do either.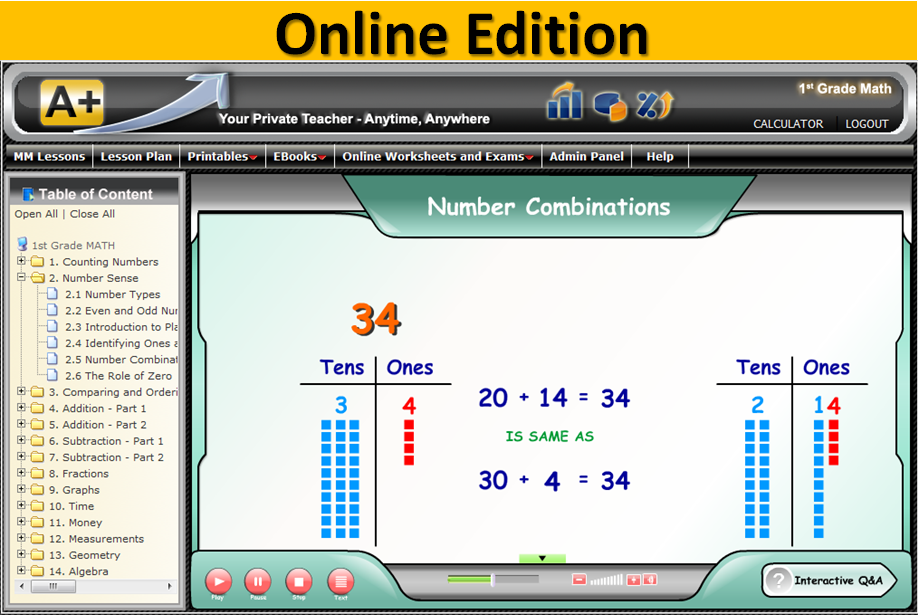 To get started I first looked at the Lesson Plan before doing anything else as I usually do. It's also something I always recommend! 😉 The lesson plan was nicely laid out and easy to follow. The first week started with one lesson every day. I really liked that on "Exam weeks" they would only do one or two lessons so there was plenty of time for review. Each lesson starts with a video lesson for the child to follow along with a review following the lesson. I like how the video lesson encourages them to interact by answering out loud.
The first review after the first lesson was a little challenging because we had to figure out you have to click the frog's belly to submit the answer before moving forward. Once he knew that, though, he never forgot to do it again! Because he is on the Autism Spectrum he is very "technical," so seeing that he "didn't answer" questions on the first review was enough to make him remember not to forget that step! Then they were to complete the worksheet for that lesson. Because the first lesson was counting that is the worksheet I printed out so he could physically mark off the objects he already counted. Otherwise, he did well with doing the worksheets online, and he enjoyed doing work on the computer and getting away from his desk for a while!
We completed the first 2 chapters during the review period, and it really did fill in some gaps – gaps I didn't even know we had. It was very detailed and covered concepts like skip counting (counting by 2's, 5's, 10's, etc.), which is something we hadn't done before, and he really enjoyed it and did well! It really helped him to count more easily because it's obviously much easier to skip count when you have higher numbers rather than counting everything individually! There were a couple of points in the first chapter that were very frustrating for him, which were letter NAMES. Although he is slowly (but surely) learning to read, reading is very frustrating for him.
After one video lesson he was expected to know the names of the numbers, and he was literally in tears over it. I encouraged him to try to sound them out, but he was already too frustrated to continue. Although I do think recognizing letter words and names is important, I was surprised it actually went into details of double digit letters in the first chapter, and I did feel that is a little too difficult for some first graders – particularly one like mine that has a harder time reading.
I feel he would benefit from it further into the program, but he needed more time to learn them and recognize them. It was discouraging for both of us to see him getting grades like 60% on the worksheets due to this. Obviously it affected his grade on the exam as well. I was able to keep up his spirit, though, so he wasn't too discouraged to continue! So, he was still excited and ready to start the second chapter.
Another thing I enjoyed about A+ Tutorsoft is that after we initially navigated it together he was able to navigate it on his own. After discovering the "frog" issue the next issue was finding the "Next" Button on the Worksheets, but once he recognized that button he was able to do that as well. This gave him a boost in confidence to do things on his own, and I was even able to work more one on one with our other two children. Brayden really benefits from independence and self confidence. I love that at the end it would show them a completion certificate with fireworks and everything. He would be SO proud to show us his completion certificate. I think it is wonderful that it makes such a fun display of their achievements!
A+ Tutorsoft is definitely a thorough online Math program and is good for learners that enjoy computer time and gives you plenty of options for those that prefer physical worksheets with the ability to still track everything online! This is a benefit for a parent like me that likes to "track" everything without writing it all down on paper. Aside from the reading frustration and after we got through some of the navigation concerns Brayden enjoys and has been benefitting from this program.

A+ Tutorsoft offers a free one-month trial so you can try it for yourself. It also offers online placement test to be sure you start your children at the correct grade level. A Yearly membership is $124.99. Or you have the option to purchase Monthly ($19.99) or Quarterly ($49.99) memberships as well. Right now A+ Tutorsoft is offering an AMAZING deal! 50% off through the end of March! The coupon is good on any product, any plan, and you can buy more than one! Make sure to use the code SPOFFER50.


To read more great reviews, including other great levels and the CD software – click the banner below!