Disclosure: I received the product mentioned to facilitate my review. Regardless, I only recommend products I feel would be good for my readers. All opinions are my own and those of my family. This post contains affiliate links. Please see my Disclosure Policy for more information.


Actual Size books contain lessons with blueprints to create actual-sized drawings or scaled versions of various things like animals, plants, buildings, landmarks, vehicles, and more! The Actual Size series is recommended for ages 5 and up and contains a complete lesson to compliment the blue prints. You can use sidewalk chalk out in your driveway, the basketball court, your patio, or wherever you find a place! Be creative! I may even try dry erase marker on our linoleum floor on a rainy day when we need a change of pace. (Don't worry, I already know it wipes right off the linoleum!) There are two books in the series: Actual Size – Science and Actual Size – Social Studies.
We received Actual Size – Science to review. I was really excited to check it out because I think it is such a unique idea! Plus, our kids are very hands-on, so I knew this would be exciting for them. Not to mention anything that we can do outside during our homeschool day when the weather is nice is an added bonus! So, we grabbed the sidewalk chalk and a tape measure and went outside to draw an actual size polar bear in the driveway! Another added bonus was my husband got home in time to help us as well! So it was awesome family time, too!
Our oldest two kids are ages 7 and 5 and are both at the First Grade level, so I honestly wasn't sure what to expect since it does say Kindergarten and above. I was a little concerned it might be a little "too much." It was really a great lesson, though! The lesson was informative but short, so they were really able to retain the information and answer questions I asked them about what they learned about polar bears. Drawing the polar bear was also educational because we were learning about measuring, how to follow a blue print, and team work. With the exception of our 3 year old we all drew something. He wasn't totally left out, though! He really enjoyed "measuring" the polar bear with his steps.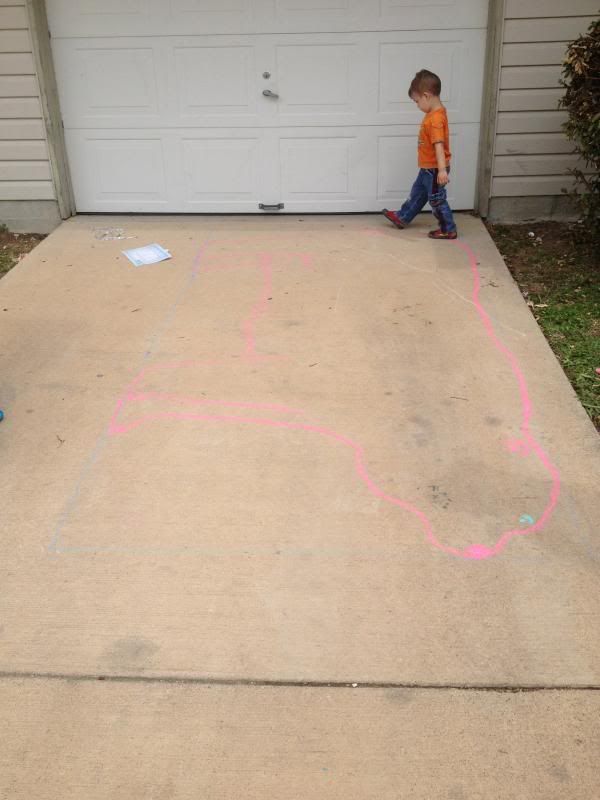 So, we got to enjoy the beautiful weather, learn some great information about polar bears, and draw one together as a family! I'm definitely excited to do more lessons! I think we might do the biggest spider this week, but I'm not sure I want to see the actual size. I'm not afraid of spiders, but I might be after seeing that!
Right now you can get Actual Size Books on Educents for 32% off! If you aren't familiar with Educents yet, I definitely recommend you check it out! While you're there definitely check out the Actual Size Books while the deal is still going on!
Disclaimer: The previous post may contain affiliate links. If these links are clicked, I may receive monetary compensation. If this is a product review, I received a free sample to facilitate my review. No monetary compensation was provided. All opinions are completely my own. My participation is voluntary. I am disclosing in accordance with FTC 16 CFR Part 255.