Over the past couple of years I've learned that even if I'm using digital options I still like to have a physical planner as well. Finding a physical planner that works with our unconventional homeschool schedule is definitely challenging. I was definitely intrigued to see all The Ultimate Homeschool Planner from Apologia Educational Ministries has to offer!
For my homeschool planner review I received The Ultimate Homeschool Planner – Yellow Cover.



Apologia Educational Ministries offers a variety of homeschool curricula and resources as well as online classes. Their faith-based curricula and resources are available for grades K-12 with resources specifically for parents as well! The Ultimate Homeschool Planner is one of those great resources!
Right after opening The Ultimate Homeschool Planner I realized this was not like other physical homeschool planners I have used. It is so much more than a place to write ideas, schedules, etc. It is actually a place to truly plan everything about your homeschool. The key resources The Ultimate Planner contains for writing plans and ideas includes:
One-Year Planning Grid
Student Goal Setter
Pre-Planning Guides
Monthly Planner
Weekly Planner
Records
Teaching Tips
Year in Review
Notes
Additionally, what I feel makes The Ultimate Homeschool Planner different is that it also includes a variety of information specifically for parents to not only help them understand how to use the planner to its fullest but also general planning tips (many I wish I had been using before!) as well as teaching tips.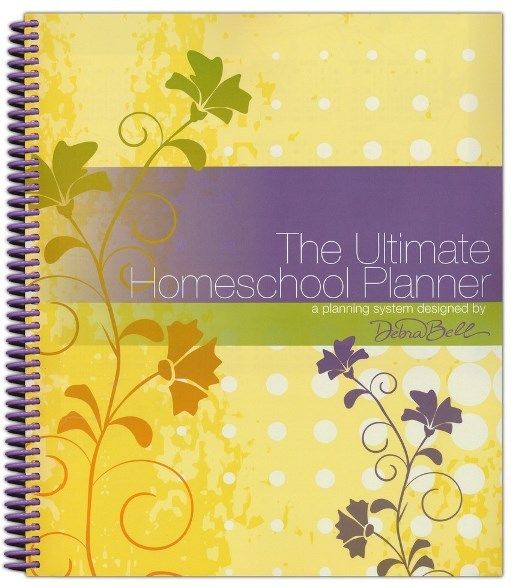 I did take the time to read the User's Guide and truly was blown away by all the information. It breaks down a plan in five steps to help parents plan for peace and guide kids toward independence. Isn't this the ultimate goal? I know I am constantly feeling like I don't have enough time in the day and am constantly scrambling for a solution. Peace is exactly what I need! It even breaks down how long each step will take so I could plan accordingly.
What I find unique is it's clear from the beginning that planning involves the whole family. Although "retreats" are recommended in the planning process, it stresses the importance of involving both children and spouses. I love this because I very much feel the family should be involved in every part of homeschooling. Although I haven't yet taken my yearly planning retreat (which I will definitely do before we start our new homeschool year in January), I have started asking the kids what they like, don't like, what they'd like to learn, goals, etc. and taking notes.
Not only does it provide thorough information on the Yearly Planning Retreat, it provides examples as well. As a visual person, this is definitely a feature I appreciate. It breaks down each of the pages I'll be using and explains the best way to use them. I feel I am definitely going into my Yearly Planning Retreat fully prepared!


Although we homeschool by calendar year (we start our new homeschool year at the beginning of the new year and wrap up just before Thanksgiving), this is still a planner I am able to use without confusion. The only pages that are month specific are those for the One-Year Planning Grid. I can definitely still use them, but I'll be using the write page first and left page next. It actually makes it fairly easy!
To get started using The Ultimate Planner now, I started with the Monthly Planning Sessions. The focus is to block out slots on the monthly planner according to priorities and commitment. It notes to take up to 2 hours, which I found it didn't take quite that long for me, but it should take even less time as the year goes along. Again, it has pages with a specific guide to the Monthly Planning Sessions.


Next, are the weekly planning breaks. This is where I will plan for the week ahead, recount God's faithfulness and commit my plan to the Lord. It notes to take about 30 minutes. I find sometimes it takes a little less or sometimes a little more. Some weeks I need to spend extra time in prayer! It even recommends a "fighter verse" for the week, which I have found is an amazing suggestion to get through the hard weeks!
What I like most about the weekly planning breaks is although it does remind me of the challenges of the week, it helps bring me back around to focus on the positive. It encourages me for the coming week and helps me remember the positive points of the previous week.


The Ultimate Homeschool Planner also recommends Monday Morning Tutorials and Friday Afternoon Reviews. These can go hand-in-hand with other planners they provide like The Ultimate Daily Planner for Students and The Ultimate Weekly Planner for Teens. All of our children are young (ages 9, 7 and 5) and beginning readers, so they don't have their own planners, but we do pray together and I do work on helping them with their time management skills. I always offer independent activities each day, and we go over them during the Monday Morning Tutorials and review how they went on the Friday Afternoon Reviews.
Near the end of the planner, the Records section is a great place to record grades and reading lists. We don't use these two features based on their age and educational level, but it also allows notes for Field Trips and Outdoor Activities which is always nice!
The Teaching Tips have also been interesting to read and have been helpful. I really found the Thinking Skills section helpful because it breaks down thinking skills and what they mean. It also notes learning styles, but not one of our children fit into any one style mentioned!
Overall, I found The Ultimate Homeschool Planner to be one of the most thorough and helpful planners I've ever used. I love that I can take notes in a physical planner and I truly appreciate how it has broken down planning into a form and process that makes sense!
For more be sure to connect with Apologia Educational Ministries on Facebook, Twitter, Pinterest and Google+.
Many members of the Schoolhouse Review Crew have been reviewing The Ultimate Homeschool Planner. Be sure to check out their reviews by clicking on the banner below!