I have heard so many positive reviews for Apologia Educational Ministries that I was extremely excited to have the chance to review Exploring Creation with Zoology 2: Swimming Creatures of the Fifth Day. In fact, I'm not sure who was more excited: the kids or me! We also had the opportunity to document our experiences in the Junior Notebooking Journal, which is designed especially for the younger learners like our two first graders. The Junior Notebook is also recommended for older learners that may not have mastered writing skills or have developmental delays.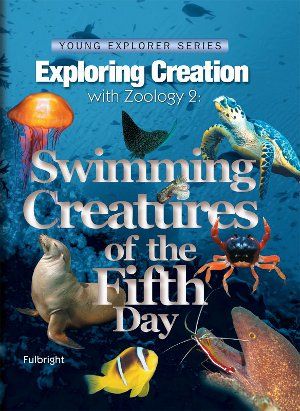 When I first received the text book I was amazed at the wealth of information provided. At first, it was almost overwhelming at the thought of all the information and knowing with our kids' special needs they have a hard time focusing. Luckily, they provide a recommended schedule (which can be found in the beginning of the Junior Notebooking Journal) that divides each Lesson into 4 days. So by their recommended schedule we worked on the curriculum twice a week, which means you complete one lesson every two weeks. This is just the recommended schedule per the Junior Notebooking Journal, so you could definitely tailor it to work on it more often as well. This schedule worked out very well for us given our kids' short attention spans. With their developmental delays (one is on the Autism Spectrum and the other has Sensory Processing Disorder) they take information much better in short spurts, and it helps them retain it better, so this break up of the material was perfect. There were still times when reading from the text that I had to paraphrase in order to keep their attention but because it was a subject they want to learn about it, it really helped to keep them attentive. They were really surprised at the things they were learning about the sea creatures, and how there is so much more than they imagined. I really appreciated the Biblical references for the creatures of the Fifth Day as well. There were also a wonderful amount of hands on activities to really enforce what we learned in the text. I love how we were able to us personal experiences to reinforce lessons as well such as when we go fishing! The kids really enjoyed making hypothesis and then discovering the results of our experiments. It was great that many of the hands on experiments use products you generally have at home anyway. Just in case, though, the beginning of the Text Book thoroughly covers what to expect from this curriculum, how to use the book in a step-by-step guide, and items needed to complete each lesson. They definitely didn't leave anything out! They have gracious provided a sample of Lesson 2 so you can see a lesson before making a decision. The Exploring Creation with Zoology 2: Swimming Creatures of the Fifth Day can be purchased for $39.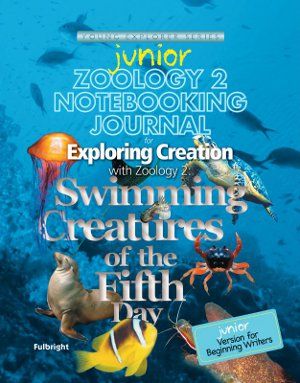 The Junior Notebooking Journal complemented the lessons very well, and we used it regularly. You can make your own notebook, but I appreciated the layout and ease of this Notebooking Journal because it flows so well with the lessons. Because there are a lot of activities I opted to have our children share the notebook and divide the work evenly, which worked out really well! I found it was divided perfectly for this, and it really helped both of them to not feel overwhelmed. I loved when we would go to the Junior Notebooking Journal because that is where I would discover what they had been learning, and it was so neat to me that they would both soak in different things that would be their "favorite" part of the lessons. They would each draw different pictures and write about something different, though sometimes they chose the same thing. Because they cannot write on their own yet I would ask them what they would want to say to remember what they learned, which I would then write on a separate piece of paper and have them write it in the notebook. Certain lines were smaller, so I would fill in their answers myself on those lines because they do both have motor skill delays with writing, so writing in smaller spaces can be very difficult. In the Junior Notebooking Journal they answered questions about what they had learned, drew pictures about what they had learned, colored pictures, made puzzle pockets and mini books, and copied Bible Verses. The Bible Verses were offered in both print and cursive, but because they haven't learned cursive they would both copy the print verse. It really was full of great activities. For more check out the Junior Notebooking Journal Sample. They also have a Regular Notebooking Journal for older children and those that have mastered writing. Here is a Notebooking Journal Sample. Both Notebooking Journals can be purchased for $24.


Overall, we really enjoy Apologia Zoology 2, and it has been a great addition to our homeschooling. It is well written, full of great information, and has a great guideline for teaching. It offers plenty of hands on activities to really help the lessons sink in. I also love that this curriculum can be used for the wide range of Elementary students: grades K-6! For more reviews on Zoology 2 as well as other great Apologia Elementary Science Programs check out all the Reviews from the Review Crew Below!



Disclosure: I received a free copy of this product through the Schoolhouse Review Crew in exchange for my honest review. I was not required to write a positive review. No other compensation was received. All opinions I have expressed are my own or those of my family and may be different than yours. I am disclosing this in accordance with the FTC Regulations. Please refer to my Disclosure Policy for more information.