Are you ready to get back to homeschooling? We homeschool year round on a Jan-Nov schedule, but I know many homeschoolers are getting ready for their new homeschooling year! We're extremely excited about blessing 13 families (YES 13!) with a chance to win over $1,000 in prizes, this is the perfect start to a new school year!
This month's giveaway will be focusing on some great homeschooling resources. Let's take a look at the prizes…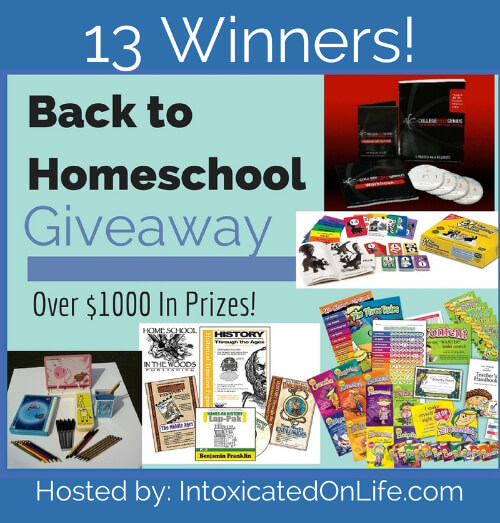 The Prizes
Homeschool Kit (1 winner – $98.99 value)
Sponsor: We Choose Virtues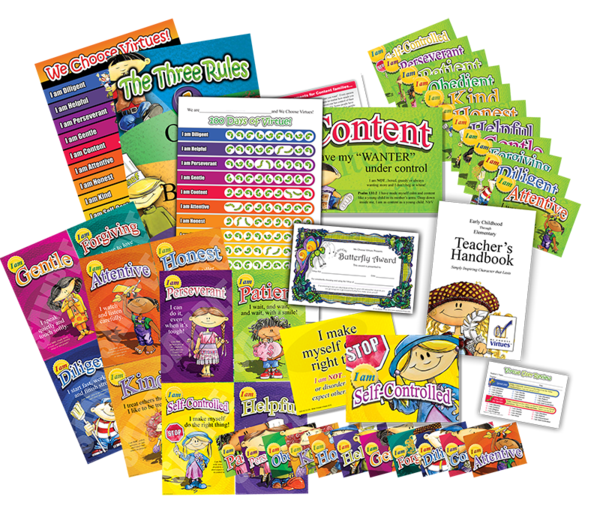 This Kit was assembled with everything a Homeschool parent needs to effectively teach 12 Virtues. It has 5 beautiful posters, a 100 Day's of Virtue achievement chart with stickers, flash cards and so much more. The Parenting Cards included in this set were created to help you inspire and demonstrate each Virtue and turn your home or home classroom into a place where Virtue is demonstrated with both attitudes and actions!
Homeschool in the Woods Package (1 winner – $103.80 value)
Sponsor: Homeschool in the Woods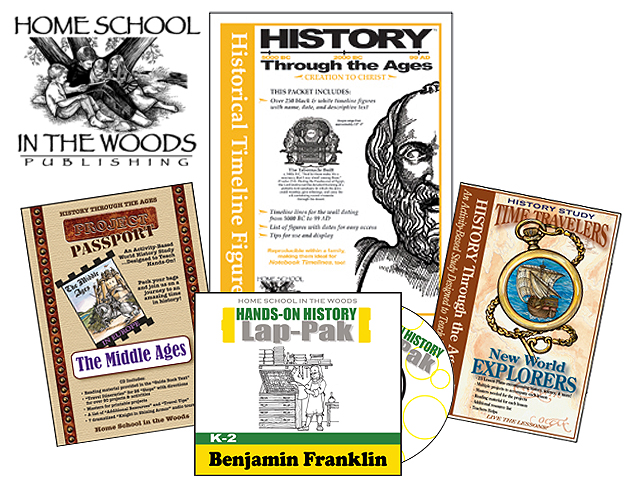 School time is nearly upon us! Got all your history resources ready to go? Never fear! At Home School in the Woods, we ignite a love of learning in YOUR child!
HISTORY Through the Ages Historical Timeline Figures help put the puzzle of history together. They allow you to follow across eras of time using illustrated figures to represent people and events key to world history. Our "Creation to Christ" set of wall-size figures cover many people and events of the Bible, Sumer, Babylonia, Mesopotamia, Egypt, Persia, Greece, and the Rise of Rome to the time of Jesus Christ (over 250 figures).
Leave textbooks and workbooks aside and bring your child right into the adventure with Time Travelers history studies for American history! Our first in the series, "New World Explorers," contains 25 lessons that can spread across 5-10 weeks, incorporating notebooking, lapbooking, games, recipes, creative writing, authentic crafts, and so much more.
Or, pack your bags and grab your passport – take a trip through history and discover cultures at another era of time in world history with Project Passport! Included are 25 "Stops" that can spread across 8-12 weeks, where you will witness exciting events and meet interesting people of "The Middle Ages."  (All text, masters, directions, teacher keys, photos, and resource lists for the Time Travelers and Project Passports are provided on CD)
Perhaps you just want a lap book? Our Hands-On History Lap-Paks provide reading text and printables to make your lap book mini-study complete! And now we are introducing K-2 Lap-Paks for younger learners, with coloring pages in the text and an audio narrative included on the CD! Learn about a man who stood out as not only a founding father, but as an inventor, an author, a scientist, and a diplomat, to name a few of his many talents. That man was "Benjamin Franklin"!
The Reading Game (3 winners – $34.95 value)
Sponsor: The Reading Game


The Reading Game is a groundbreaking learn-to-read series that using play to teach children to read. Geared towards beginning and struggling readers, each of the 6 stories are told using 30 new words. The student then learns to read these words by playing a simple word matching game. This prize is going to 3 winners!
College Prep DVD Set (2 Winners – $129.85 value)
Sponsor: College Prep Genius


FREE College can happen to you! Raise your SAT scores as much as 600 points! Colleges go up on their rankings based on test scores, the higher your score-the more money you get! Don't fear these tests-they are merely logic tests with tricky questions that even many smart students have bombed. Good news is that every question can be answered in 30 seconds or less. Learn to find the hidden recurring patterns that point you to the answer! Finally see your scores soar by not falling for the appealing wrong answers or subjective phrasing.
Our program is not only award-winning, but has also been featured on Fox, CBS, NBC, ABC, WE, TXA21, ION, UShopTV, The Homeschool Channel and more. "…BEST option"-Cathy Duffy, "VERY Impressed…"-Heidi St. John, "Highly recommended…"-Old Schoolhouse Magazine.
This prize has 2 winners!
Magic House Prize Pack (6 Winners – $77.52 value)

Sponsor: Magic House USA 

Magic House is giving away a huge prize pack to 6 winners! Our family loves these amazing pencils. With these auto-feed pencils you'll never have to stop to sharpen or click a pencil again. Yes, the pencils self-advance as your pencils moves across the paper. They are super cool!
Each winner will receive:
2 bookstands
3 Pencilboxes
5 Auto-feed Pencils
3 Refill Lead Tubes(each tube contain 12 leads)
10 Golden Edition Auto-feed Pencils
3 Bio-ink Pens
Enter the Giveaway Below!

Disclosure: I received no compensation for this publication. Pea of Sweetness is not responsible for prize fulfillment.