Our kids love to build. They love to build creations from their imagination as well as guided creations. How fun would it be to interact with the Bible by building the stories with their LEGO® bricks? That's what we've been doing with the Faith Builders Bible, a Bible for kids, from Zonderkidz.



The Faith Builders Bible takes a unique approach of providing the complete Bible with occasional full-color pages depicting brick creations based on stories in the Bible. It uses the NIrV version of the Bible, which is like the NIV for kids. It includes information on the NIrV and what makes it different such as how it is different than the NIV and how it is easy to read and understand. It explains additional helps offered by the NIrV.


Our oldest son was in need of a new Bible, and he was extremely excited to not only get a new Bible, but to get a Bible the included bright, colorful pages with brick building ideas! As a delayed reader, he is unable to read it on his own (though it is noted to be ideal for 3rd Grade+), but it is still the perfect Bible for kids to take with him to church as he learns to read. Plus, I love reading it to him (and our other children) because it definitely is a version that is easier for them to understand.
The Faith Builders Bible includes the Table of Contents both in the order of the books of the Bible as well as an Alphabetical Order of the Books of the Bible. What I find even more unique is at the end it includes a Dictionary as well as a list of great Bible stories for easy reference.
There are a total of 24 full-color pages of Bible stories which includes detailed text about the story as well as a verse at the bottom of the page.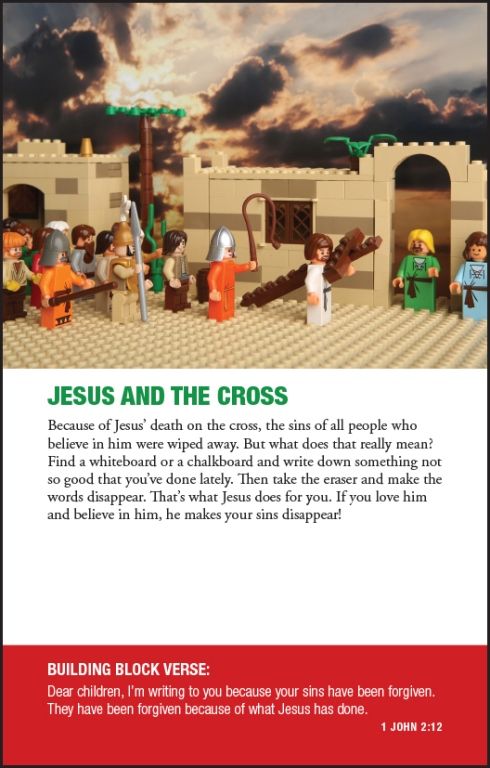 I was definitely excited to receive the Faith Builders Bible as well because I am always looking for great resources to include in our homeschool Bible time. I wasn't sure 100% what to expect, so I had set an expectation that it would include instructions for building the stories, but it does not. In short, I would describe the Faith Builders Bible as a Bible for children with some colorful pictures with inspiration for building scenes from the Bible.
It doesn't include instructions or lesson ideas or anything of the sort, so although it has been a great resource to add to our Bible time, if I want to do more than read a verse such as a lesson or even encouraging building something from the story, I have to create the lesson (and building project) myself. The 24 included are a great start, but again, they don't include instructions and may still need quite a bit of instruction based on your child(ren)'s experience and creativity.
Although our oldest son has claimed the Faith Builders Bible as his Bible, our daughter has been enjoying building the scenes. She is definitely the most creative and can build something specifically from a picture or even come up with her own idea based on a story. Our boys, on the other hand, just kind of "do their own thing," though they still enjoy it!


Our boys aren't keen on doing anything specific without exact instructions, so they have yet to actually build something from the Bible, but they have built many random things during our building time! Our daughter jumped right in to building one of the recommended projects and has done quite a few. One of her favorites was a monkey that was inspired by Noah's Ark.


Overall, I do think the Faith Builders Bible is a great Bible for kids. I love that it encourages hands-on interaction with the stories from the Bible, and although I, personally, would have loved to see specific instructions for the projects, I think it's a great way for kids to use their creativity and imagination.
For more be sure to connect with Zonderkidz on Facebook and Twitter!
Many members of the Schoolhouse Review Crew had the chance to review the Faith Builders Bible with their families. See what they thought by clicking on the banner below!