When considering Bible Studies for children to include in our homeschool, it's definitely important that we use something the children enjoy and is presented in a way that is engaging and easy to follow. We had the opportunity to introduce Volume 1 of the Theo stories in our homeschool thanks to FishFlix.com.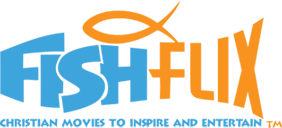 FishFlix.com offers a variety of great Christian movies for all ages. There are movies for both entertainment as well as for teaching purposes. Because they are all faith-based, it's a great resource knowing what they offer aligns with our values and beliefs.
Theo, God's Love DVD is the first Volume in a series of Bible studies for children on DVD. The series was born out of a desire to help teach children of all ages Biblical principles. This Home Edition can be used at home with multiple children of all ages.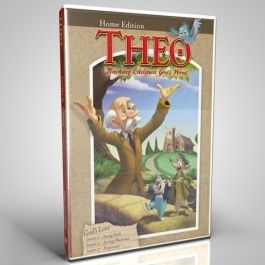 We have been using Theo, God's Love DVD with all three of our children (ages 9, 8 and 5) as part of our Bible Study time in our homeschool. Theo, God's Love DVD offers three family Bible studies for children presented through video lessons, Scripture references, Discussion Questions, Family Activities and Nightly Devotionals. Each lesson also includes a Final Thought and Closing Prayer.
While much of the lesson is completed through the watching of the videos, it includes a great Parent's Guide for the additional, hands-on and interactive portions of the lesson. In the Parent's Guide are the various activities and devotionals. It's very easy to follow both as the parent presenting the lessons as well as the children.
Each video lesson is about 9-10 minutes and is presented by Theo, a theologian who knows the Bible well. In each lesson there is a situation or problem presented. Theo then presents a related Bible verse in the form of a story theater. He tells about the Bible verse through this fun presentation and then it's explained how it's related to life. There are additional characters, such as his mice friends, that relate the lesson through their own lives. It's really a great way to present the lesson as kids learn a related Bible verse as well as see how it relates to our lives.
Lessons in Theo, God's Love DVD include: Saving Faith, Loving Obedience and Forgiveness.


Following each lesson we went over the Discussion Questions together as a family. The questions offer a way to be sure the kids understood the lesson. There are 5 questions, and it only takes a few minutes to go over them. I take additional time, though, to just fully discuss what each child got from the lesson.
The Family Activity can take a various amount of time depending on how many people you have in your family. They are interactive activities to really reinforce the lesson. Although there is no set day mentioned to do the Family Activity, it seems the flow would make the most sense to do it after the Discussion Questions because the Final Thoughts and Closing Prayers follow.
For the Nightly Devotional, we would start Day 1 that evening before bed. We would then complete Days 2-6 on the following evenings (so Tuesday – Saturday). The devotionals on days 1-5 include reading a Bible verse with discussion and/or questions. We generally spent 10-15 minutes on the devotionals.
Bible Studies for Children
Overall, I think Theo, God's Love DVD is a great way to teach Biblical principles in a way that kids enjoy and understand and offers a great guide to help parents further instill these principles. I love that this series is offered on FishFlix.com as well as many other great Christian movies.
Get Connected with FishFlix.com
Website | Facebook | Twitter | Pinterest | Instagram
Members of the Schoolhouse Review Crew had the chance to review various movies from FishFlix.com. Check out their reviews by clicking on the banner below!