Our meal was provided at no cost by The Bistro at Hotel Sorella during the GoHouston! Travel Campaign hosted by New Creative Writing and Social Media Marketing, home to Money Saving Parent.com. All opinions are my own.


The Bistro is located in the upscale Hotel Sorella in CityCentre Houston. It is open to all guests, though, and not just guests of Hotel Sorella. It offers an elegant dining experience that we found to still be family-friendly. We enjoyed our dinner at The Bistro earlier in the evening on the 4th of July before many of the other guests arrived. We were seated in a very large booth, so the kids had plenty of room to stretch out and not disturb others either and were given cups with lids, which is always helpful.
When we placed our order I was surprised how accommodating they were. Our kids made special, random requests, but they were very accommodating. One request was even made by our oldest son later in the meal, and they simply filled the request without any fuss. They also brought out extra plates so we could divide the food up between the kids since there was plenty in two servings for all three of them. I was very impressed by the service. Our server also checked on us often to make sure everything was OK.
They had such an amazing variety of natural foods on their menu. It was so hard for my husband and I to decide what to order. I was so impressed with many of the ingredients. One example is the calamari. It was dusted in rice flour instead of a flour with wheat, which is great for those of us that either need to or try to avoid wheat. Eventually my husband and I decided on the two main entrees we wanted to try and agreed to share them. My husband chose the Prime New York Strip, and I chose the Maple Leaf Farms Duck Breast. The presentation of the meals is wonderful, and the taste was just as pleasant. My husband's Prime New York strip was served with loaded mashed potatoes and butter braised brussel sprouts. My Duck Breast was served with pearl barley risotto, arugula, foie gras fondue, seared foie gras, cranberry demi glace, and a quail egg.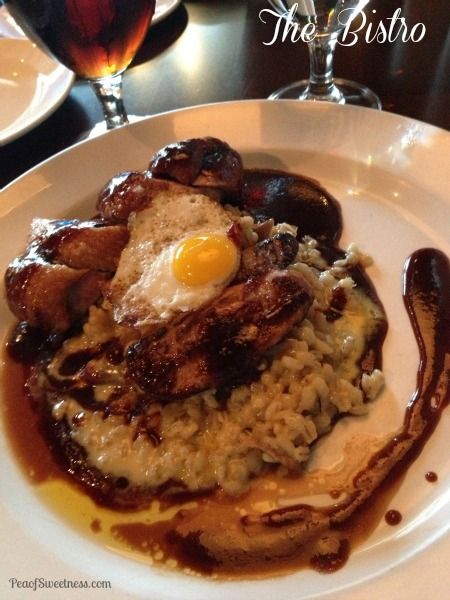 Yes, it really was as delicious as it looks!
We didn't have a chance to try dessert because we were already full and a little tired from our drive still, but I have seen their dessert, and it looks amazing!
The Bistro really is elegant and unique. If you do plan on making it a family event I suggest going earlier in the day or having dinner earlier like we did. It would also be perfect restaurant for a date night or a night out with friends. With its perfect location in CityCentre Houston you could plan a full day of shopping and fun or a full night of fun and enjoy a meal at The Bistro. They are open for Breakfast, Lunch, and Dinner. To make your reservations visit The Bistro Website.