Bobee™ Diaper & Wipe Dispenser is a wall-mounted caddy that can be customized to any nursery décor with included decals. You can use the included decals, which come in pink, brown, blue, green, and yellow, or you can add your own! The Bobee can even be painted, so you can get as creative as you want!
My review:
I love to have everything in place and organized, and now that we got our toddler a new "big boy bed," there is not much space left in his room! A diaper stacker is a must! I knew the Bobee would be great for saving space (and my sanity because I won't have to search the house wondering where the wipes wandered off to this time!) The included decals are super cute, but because his room is decked out with a "cars" theme that has predominately primary colors, I opted to cut out some car shapes and car themed items with my black vinyl on my Silhouette Cameo. I LOVE the way it turned out, and it fits him room theme so nicely! I put it above his bed because his bed becomes the "changing station" during the day since he isn't a fan of diaper changes and was very unhappy on a changing table! So, I make his bed in the morning and lay out a changing pad to use during the day. The black decals match his bed frame and this changing pad!
I actually reviewed the Bobee diaper caddy a few different ways to share an idea of the various uses. As you probably know, I favor cloth diapering. Unfortunately, I've been using disposable diapers due to an unexplained reaction while using cloth. That is a long story for another time, but we think we have figured out the issue so we can go back to cloth full-time. First, though, I tried the Bobee with disposable diapers and wipes. It can really fit a lot of diapers! C uses a size 3 in the disposable diapers, and I put in the remaining diapers we had (10 diapers), and there was still plenty of room! I left the wipes in their package and removed the top. Both the diapers and wipes come out in a breeze! I was afraid if I kept the wipes in the package they might be difficult to pull out, but that wasn't the case! It definitely simplifies things!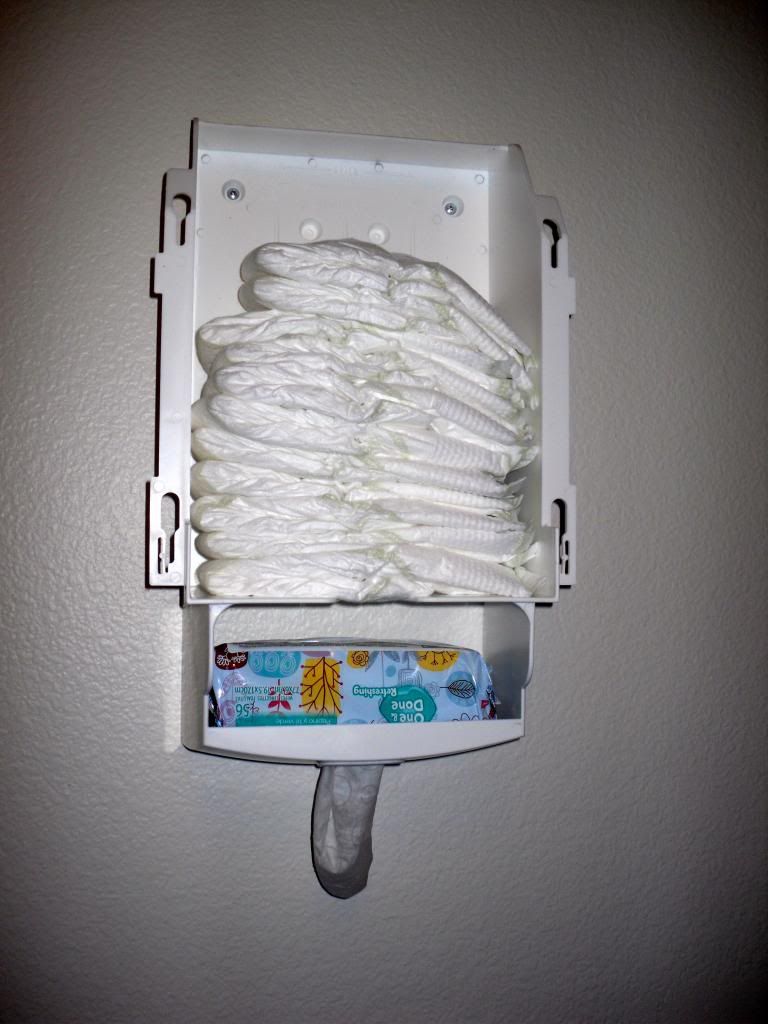 Next, I used prefolds in the Bobee to see how well that would work. The information does mention diaper inserts, and we do have various diaper inserts, but mostly I already have inserts in pocket diapers and not separately. Otherwise, I use prefolds with covers. The prefolds came out just as easily as the disposable diapers, and it really is a great system for having your prefolds stacked and ready to go! Generally I reuse covers throughout the day, so I only need quick access to more prefolds, so I definitely see the benefit in using the Bobee this way as well! Unfortunately, stuffed pocket diapers or all-in-ones would be a little to thick to be able to pull them out easily, but if you don't pre-stuff your pocket diapers, I could also see how the Bobee could be beneficial for easy access to your inserts while you have your pocket diaper nearby. I also tried the pocket diapers without an insert, and that works as well! So you could have pocket diapers AND inserts right on top of each other in the Bobee for a quick grab, stuff, and change!
I did try cloth wipes as well, but I'll admit I didn't try them to the "full extent." By this I mean, I don't like to have cloth wipes pre-moistened unless they are in the warmer. So I'm not sure how wet cloth wipes would do, but you can definitely stack dry cloth wipes and pull one down at a time. I then use my solution in a spray bottle to wet the wipe, but you could also keep a solution tub near by as well! I did make sure to prepare the next cloth wipe by pulling it down a little, so I didn't have to "dig" for it during the change itself!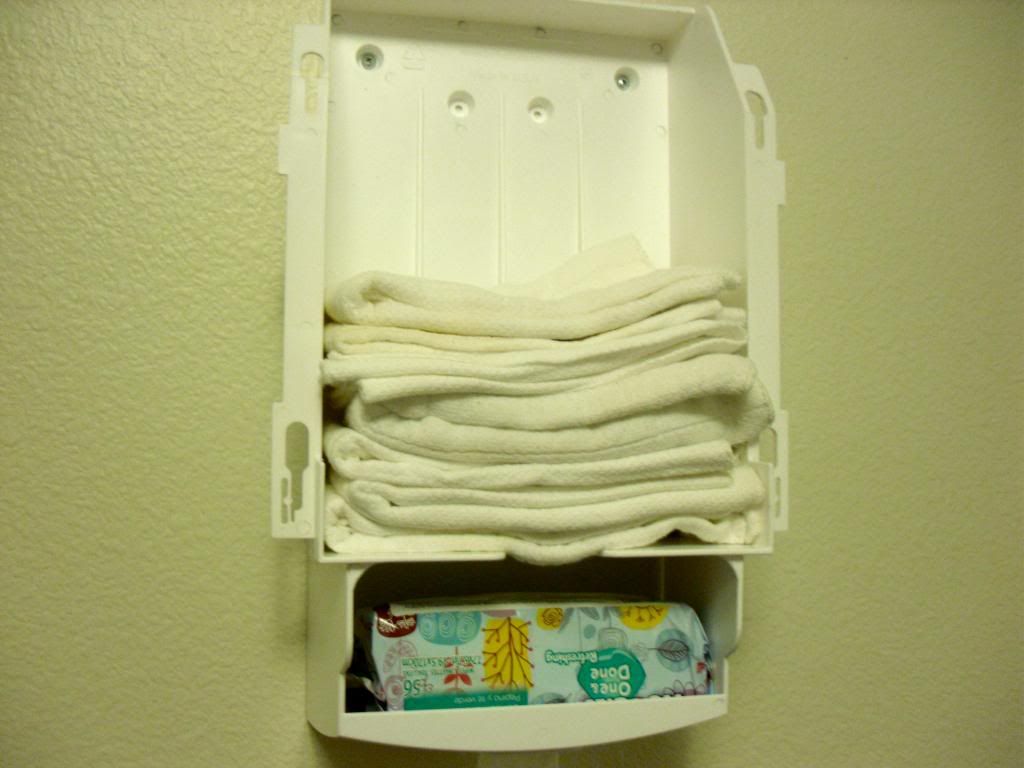 So, I think whether you use disposable diapers and wipes, cloth, or a little of both you will definitely be able to benefit from the Bobee. Plus, it really is fun to decorate it to match your baby's nursery or toddler's "big boy" room! I love that it's made in the USA, the dispenser and decals are both 100% BpA-free, phthalate-free and PVC-free, and it was created by a mom like me!
For More Information:
Visit the Bobee Website
Connect with Bobee on Facebook (and view their photo albums for more great decoration ideas!)
Follow Bobee on Twitter
and view even MORE picture ideas by connecting with Bobee on Pinterest

Disclosure: I received the product mentioned above in exchange for my honest review. Regardless, I only recommend products I feel would benefit my readers. I received no additional compensation. My opinions are my own and may be different than yours. For more information please read my Disclosure Policy.