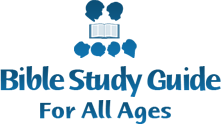 We had the chance to review Bible Study Guide For All Ages with all three of our children ages 7, 5, and 3. For our review we received the Beginner Student Pages (1 set for each child), Beginner Time Line, and Children's Songs CD set. The recommended ages for the Beginner level is age 3 – Kindergarten. Although our 5 and 7 year old are both academically at the 1st Grade level I knew this would be a good fit for our family because they are still both beginning readers and all three children would be able to learn together.
With the exception of the Primary level (Grades 1-2), the Bible Study Guide for All Ages is designed so that it can be used for all members of the family together, which is something I find really exciting because we really enjoy our Bible time together, and I can now see our family being able to enjoy this experience long term. Here it explains how to use it with multiple family members. When faced with a situation like ours where we wanted to use it with all family members but had two in the Primary level it suggests moving beginning readers to the Beginner level or more established readers to the Intermediate Level so we could all work together.
Bible Study Guide for All Ages walks us through the Bible and helps our children apply what they are learning to life in a way that they will understand. So they are not only learning about the Bible but are also learning that it is relevant to our lives and how we can apply it. We use it 2-4 days per week during our circle time.
The Beginner Student Pages are broken down into multiple parts. We usually do one page in a day, though rarely we may separate it into two sections. Although there were some variations, the main sections are "Learn the Basics," "Sing and Remember," "Get Active," "Discover the Bible," and "Apply It!" There were a couple of days we did a "My Bible" section and discussed the Bible itself.
"Learn the Basics" is where we discuss the Time Line. We would talk about the new Time Line event for the day and review the previous events, which I would then put on our wall. Some days we would simply review all of them rather than learn a new one per the directions. The Time Line event pages are full color pages that are bright, eye catching and definitely appealing to the kids! The Beginner Time Line can be purchased for $24.95.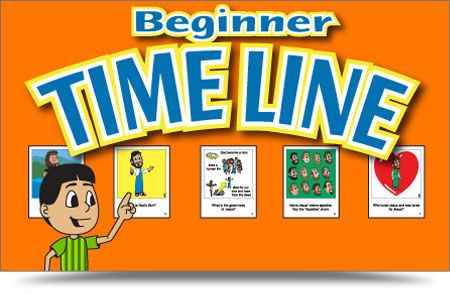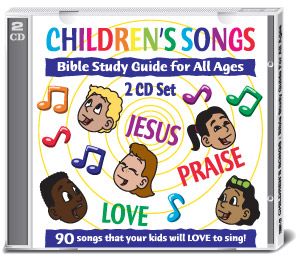 In "Sing and Remember" we would review what we had been learning in our Bible lessons and sing a song that related to the lessons from the Children's Songs CD set. It also suggested learning (and then reviewing) the books of the New Testament, but since we had already been learning the books of the Old Testament and were close to finishing the Old Testament books I chose to continue learning and reviewing the Old Testament books during this time instead of the New Testament books so as to not disrupt the progress we have made with that! The Children's Songs CD set can be purchased for $19.95.
In the "Get Active" section we got to do some fun things and some serious things. I always read the lesson beforehand to see if I needed anything in advance. Usually everything we needed were things we had around the house with the exception of blocks. What family with children between the ages of 3-7 doesn't have blocks? Ours apparently! I'm convinced they must be hidden somewhere because I know we had more than enough at one point in time! Anyway, we substituted dominoes for that particular project! The kids were asked to make a plan and build something with them. Though our 7 and 5 year old worked together to build a town our 3 year old decided to work on his own to build a squid. I didn't specify that they had to work together, so it was unique to see how they took different paths!


The "Get Active" is designed to be interactive and get them to really think and prepare them for the Bible lesson. Once (so far) it did come after the Bible lesson, though generally it was before. It was a great way for us to talk together, do things together, and it addresses questions and ideas that apply to both life and the Bible lesson.
The back section of the page is the "Discover the Bible" section. It was really neat that our Bible study thus far had just left off at the story of Joseph, and that is where The Bible Study Guide for All Ages began! How perfect! The "Discover the Bible" page breaks down a Bible verse or verses into sections while giving the children directions along the way. It uses basic colors and easy to follow directions for their age.
Our 3 year old didn't always complete this section (or he would just scribble on everything), but given he just turned 3 recently and has developmental delays I wasn't too discouraged. When my husband was home he would offer extra help to encourage him. Even when he was just doing his scribbles, though, he still made it clear he was learning the lessons when he would point to the person I would reference. So even if he didn't make the specific colored "X" I still felt really great knowing our little guy was learning the Bible, too!
Our 5 and 7 year old were also retaining the lessons in The Bible Study guide much better than they had been previously. They can both get overwhelmed with information overload due to their special needs, and because "Discover the Bible" presented the verses broken up into small bits at a time with interaction as they went it really helped them to better remember and understand what they were learning versus what we had been using prior.


After we finished the "Discover the Bible" section we would then flip it back over to "Apply It!" I would start "Apply It!" by reading the Bible verse from our Bible. "Apply It!" then has a story about family members or children in a life scenario similar to many we face today. It asks them to think about it, answer questions, and compares it to the Bible verse we just learned. This is such a great way to see how relevant the Bible stories are to our lives today and also gets them to think about the situations presented in "Apply It!" and how they CAN apply it to our lives. We also talk about how to pray about the important life lesson we have learned. After the discussion we can then color the picture! Again, our 3 year old sometimes just scribbles and then runs off, but our 5 year old in particular loves to color, so she really enjoys it. It's also a good time to continue the discussion as they color!


The Beginner Student Pages can be purchased for $5.95 per set of 25 lessons.
I am really impressed with Bible Study Guide for All Ages. It covers so much, presents lessons in a way that is easy for kids to like ours to understand, presents very real-life situations to which you can discuss and apply the lessons, uses an interactive approach to teaching, and uses illustrations that are appealing to children. The fact that they have designed the studies in a way that the whole family can use it together regardless of age makes it not only a great learning tool but family tool as well! I am excited to have been blessed with the chance to review Bible Study Guide for All Ages and plan to continue using it long-term!
The Schoolhouse Review Crew had a chance to review The Bible Study Guide for All Ages for, well, all ages! Check out some of the great reviews by clicking on the banner below!