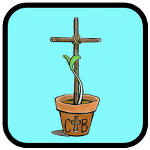 About the Child Training Bible:
The Child Training Bible is tool that allows parents and children (and anyone that loves the Word of God) to go directly to the pages of Scripture for instruction in 20 key areas with a complete section dedicated to the gospel.
The CTB was designed with Colossians 3:9-10 in mind.  "You have put off the old self with its practices and have put on the new self."  The Scriptures selected for the CTB teach why we are to "put off" certain behavior and what godly behavior we are to "put on" instead.
The front key of the CTB is a visual index of the areas that Scripture teaches us to "put off."  These areas correspond to color-coded tabs and highlighted text.  CTB Scriptures address both negative and positive responses with the emphasis on Jesus Himself, His perfect life as an example and gift to us.
 To make a Child Training Bible you will use the CTB charts that include over 200 Scripture references, heart and gospel questions, and sample prayers.
My review:
I was really excited to put the Child Training Bible to use. We use The Bible regularly with our homeschooling curriculum, and I knew this would be a great addition! It definitely is! One thing I found myself struggling with this year is trying to explain Bible verses in terms our kids understand since they are so young and have special needs. Bible verses are included in our curriculum, so they learn a new verse each week and do a great job memorizing them, writing them, etc., but sometimes I feel like I'm not "getting through" in regards to what the verse really means. I really have found the Child Training Bible to help me fill in these gaps because it relates specific behaviors to specific verses in The Bible. You can address each behavior by reading many verses for that area of concern or just a few like I do due to their short attention span. The Child Training Bible not only directs you to the verses in regards to certain behaviors, but it also directs you with questions you can ask in a way that they can easily understand! I really feel like I can address concerns Biblically in a way they can understand. For us, the best time to read The Bible together and use the Child Training Bible, specifically, is in the evening when we're all winding down. The kids are more receptive and calm. With anything, I don't recommend trying to address a concern in a detailed way in the heat of the emotion or behavior! Perhaps this works with some children, but not ours!
Another thing I love about the Child Training Bible is that there is a prayer for each behavior as well. I know I'm always praying for our kids and sometimes I need a little guidance, so I found the prayers to be especially helpful as well. I find myself often praying FOR guidance when I feel overwhelmed, so having specific prayers about the concerns that overwhelm me is really helpful.
For the Child Training Bible you need a Bible, 7 colors of highlighters, 7 matching colors of Post-It Flags, Double-Sided Tabbers, a pencil, and Double-Sided Tape. We already had most of the needed supplies, so I simply had to get the Post-It Flags. I love to be organized, so I also really enjoyed the organization of the Child Training Bible! It definitely makes it easy to find exactly what you're looking for at that time. Because our kids are so particular, I think this is also something they will find helpful when they are older and reading on their own.
Overall, I think the Child Training Bible is a great supplement to our homeschooling curriculum and an overall helpful tool for parents in general. It is organized, helps engage both the parents and children, and it easy to use.
(I like to include personal pictures, but it occurred to me that I forgot to upload them, and we're leaving for our Christmas vacation today! So be checking my Pinterest and this review post for personal pictures once we return!)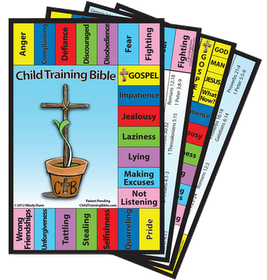 For more:
Connect with Child Training Bible: Visit their website, "Like" them on Facebook, Follow them on Twitter, and Follow them on Pinterest!
*Giveaway ended 1/5*
Thank-you to our amazing co-hosts: Giveaway Gator , Couponing with Integrity, Mommy Lesson Plans, and Meg's Daily Bytes, Reviews and other Online Distractions and all of the awesome participating bloggers!
About the Giveaway: This giveaway begins on 12/22 at 12:01am and ends on 1/5 at 11:59pm (times are EST) and is open to US Residents ages 18+. Please refer to the full terms and conditions in the Giveaway Tools.
The Prize: A Child Training Bible set
Loading Entry-Form…
…
Disclosure: I received one of the products mentioned above in exchange for my honest review. Regardless, I only recommend products or services I feel would be good for my readers. I received no additional compensation for this publication. My opinions are my own and may be different than yours. Pea of Sweetness is not responsible for shipment of the prize. For more information please view my Disclosure Policy