Christianity Cove offers a variety of lessons and Bible resources. They have over 700 resources available! I had a chance to review their Bible Science Experiments and KidMin Power Pack. Both are recommended for a variety of ages. I used them with our children who are ages 7, 5, and 3, but primarily with our 7 and 5 year olds who are both learning at a First Grade level.

Bible Science: 25 Fun and Easy Science Experiments That Show the Nature of God contains experiments using light, color, motion, magnetism, and gravity. It can be used with all ages and each lesson has a list of materials (most of which you probably already have in your home), steps, answers to questions your children may ask about the experiments, and a scientific explanation. Each experiment also contains a Scripture Verse and an "Understanding God" section, which is one of my favorite parts! I love how the lessons tie in both Scripture and a discussion about God's Nature.
The first week we used Bible Science in place of our usual science curriculum for our review but because the lessons are short I found we could do about three lessons in the time we usually allot for Science or we could even fit one in when we just wanted to mix things up since most of the materials, as I mentioned, we already had in our home as well. So, I decided to take the latter approach and use it as a supplement to our curriculum rather than a replacement. Of course, this did give us options, though. This was particularly nice for us because we definitely have days where their attention span isn't as long and the shorter lessons DID replace the longer lessons that week! What a nice relief! The lessons are simple and fun. Plus, the clean-up is just as quick and easy as well! The lessons take the natural curiosities of children and explore them further while also relating them their Creator. Bible Science can be purchased for $25.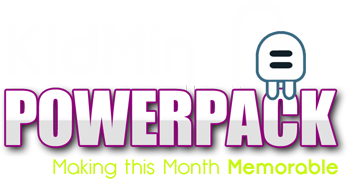 The KidMin Power Pack contains a variety of lessons, games, music, snacks, fundraising projects, and even some science projects for Sunday School teachers. It can be used with a variety of ages and small or large groups. I received both May's and June's Power Packs for review. The KidMin Power Packs use lessons and activities based around the holidays and events of the current month such as: April's Fools Day, Earth Day, Mother's Day, Pentecost, Memorial Day, etc. I, personally, had a hard time using the KidMin Power Pack activities with our kids. I feel the KidMin Power Pack may be good for a group setting where you need a day's worth of activities (such as a Sunday School class as it is intended), but I found it difficult to modify for a homeschool setting and somewhat hard to follow. We took some of the activities and songs that were a better fit for our younger kids and used them to supplement our Bible curriculum. The KidMin Power Pack is a subscription based resource. The first month is $1, and it is $19.99/month for the following months.
For more reviews as well as reviews of other resources Christianity Cove has to offer see what the other Schoolhouse Review Crew Members had to say by clicking on the button below!