For our review we received Classical Conversations PreScripts Cursive Letters and Coloring for ages 3 – 7. I was excited for the chance to use it with all three children, but I didn't know at the time that our 3 year old would have surgery during the review. So, I used it with only with our 7 and 5 year olds.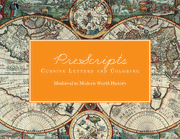 When I received the package I couldn't wait to get started! After looking it over I was even more excited. PreScripts Cursive Letters and Coloring starts with tracing lines, circles, and curved lines and then progresses into tracing basic pictures and cursive letters. The tracing is something that is so important for them because they both have fine motor challenges, so repetition and practice really helps. After the Progression of the first day we fell into the pattern of doing four pages per day which covered a cursive capital letter, tracing a simple picture, the cursive lowercase of that letter, and then a full picture to color from medieval and world history. It was a really great pattern, and we used it every day Monday through Friday. You can view a sample.
For each cursive letter you begin by having the child trace the large letter at the top of the page with their finger. They then have lines where the child can trace the letter than write one next to it. It continues in this pattern for 8 total letters traced and 8 letters written. Each picture drawn would start with a simple line, curve, or shape for the first picture. It would then progress adding additional details to each picture until you come to the completed picture, which they then color when finished. Our daughter absolutely loves to draw, so she really enjoyed the drawing! It was great for our son because he isn't confident in drawing, but the step-by-step approach made him realize that drawing is broken up into small parts. He is so visual that he has trouble seeing anything except the finished picture, so this really helped him see a different perspective.


What I really enjoy about Classical Conversations Prescripts is the fact that it covers so many bases. It isn't just a single subject. In just one lesson we covered writing, history, art, and the bonus of therapy! All of that was done in 30 – 45 minutes each day! Our daughter's Occupational Therapist mentioned that some children with fine motor challenges actually do better with cursive letters due to the consistent motion without the the breaks or the need to lift the pencil. Plus the dynamics of cursive makes it harder to reverse, which was mentioned in the introduction of the book. Despite our daughter having an incorrect grip she has been able to compensate and still write nicely. Our son, though, has writing challenges. Even tracing straight lines can be a challenge. After the initial challenge of the straight lines and circles, though, he has done really well! He has definitely been able to write the cursive letters more easily than print. It has really helped build his confidence in writing again! Our daughter is doing well with the cursive letters as well!
Our daughter particularly has been paying special attention to the details when she is coloring the pictures, which not only is encouraging her love of art but is also opens teaching opportunities in regards to the history behind the pictures. I love that it opens the door for more learning opportunities – not only for them, but for myself as well because it was a nice review for me, too! Having three children so close in age I also appreciate that Classical Conversations is family friendly in that they allow you to print additional copies for use within your own family. They mention in the introduction that the broad age spectrum helps support the one-room schoolhouse model, and I feel like this really helps reinforce that statement as well. It also leaves room for margin of error if you have a child that may need additional practice or would like to do more. If our 3 year old hadn't been recovering from surgery he would have been working along side us as well! I anticipate he will be joining us for the last half next week, and we may likely do it again or visit our other options!


You can connect with Classical Conversations on Twitter, Facebook, and YouTube.
Classical Conversations Prescripts can be purchased for $11.99. They offer a variety of subjects and levels. I will be checking out more myself! See what other Crew members had to say in their reviews by clicking on the button below!