For my review I received a Climb On! Bar and Creme.
About the products:
Climb On! Bar: This one product can soothe burns, cuts, scrapes, rashes, cracked cuticles and heels, tissue nose, road rash, diaper rash, abrasions, poison ivy, etc. It is good for any skin issue that needs deep moisturizing and nourishing. Climb On! Bar was originally formulated for rock climbers, but it works on any skin type and any skin issue. The beeswax is the emulsifier which holds the ingredients together. It acts as a humectant, which draws moisture to the skin. It acts as a natural water resistant barrier to help skin stay protected. Anyone from babies to rock stars use this product. The essential oils of neroli and lavender work their therapeutic properties to help the body bring the skin back into balance. Our body sees Climb On! recipe as a friend not a foe!
Creme: Our Crème is the best for the worst dry skin imaginable. Climb On! Creme is a deep moisturizer and acts like food for your skin in that it nourishes as well. Apply CO! Crème to your skin to moisturize and nourish if you are in the sun, wind, ice, rain, water, chemicals, etc. Use after extreme exposure for moisturizing relief. Along with the Climb On! Bar, the Creme can take the place of numerous items in your bathroom cabinet: make-up remover, cuticle cream, intense nighttime moisturizer, before and after the sun lotion, as a conditioning aftershave for face or legs. Climb On! Creme is a perfect moisturizing diaper rash cream, as a cradle cap lotion or any skin problem that is tender and needs easy application in order to moisturize. A little goes a long way!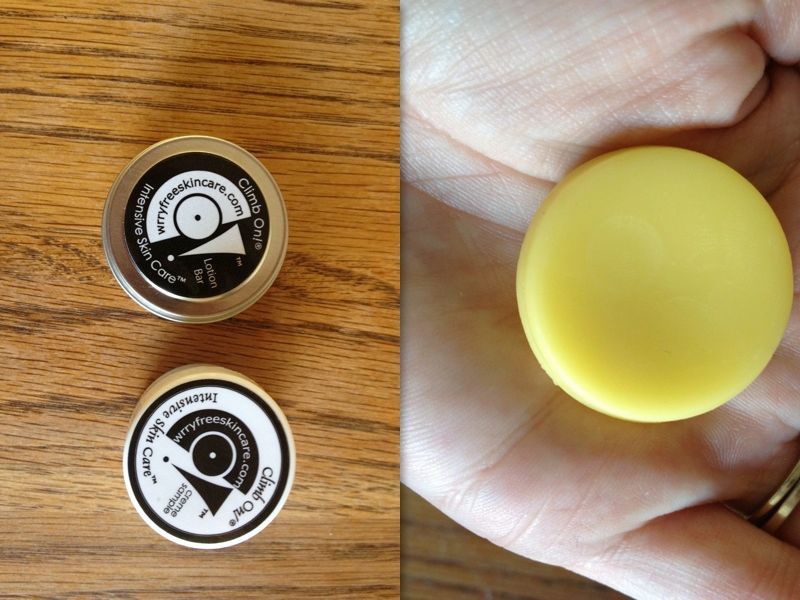 My review:
As you know, I love sharing natural products, so I was definitely excited to try it. Their products are 100% natural. I love their motto "If you can't eat, don't put it on your skin!" Great motto! They are definitely products I not only feel safe using but using on the whole family as well! I also love that they educate others on safe ingredients. They have an entire section of their website dedicated to education. The products also have a variety of uses. As I mentioned in the description they were original designed for climbers but are great for a variety of concerns!
I tried the lotion bar first. I really enjoy the concept of lotion bars because they're great for on-the-go without the mess. This is so much more than just a simple lotion bar, though! It's very soothing and actually helps soothe cuts and scrapes as well. I often have small tears by my finger nails, and they really start to hurt. I was surprised how much the Climb On! bar helped soothe them. The consistency of the Climb On! bar is very nice. I didn't have to go through a lot of effort to smooth it on. It's a very smooth consistency and you can rub it on easily. The scent is very pleasant as well! It leaves my skin soft and smooth without all the sticky, gooey mess!
The Climb On! creme has the same scent as the Climb On! bar. Overall, they seemed to be very similar to me in terms of performance, but the difference was the bar vs. the creme. I think the creme is easier to apply for things like the diaper area for our toddler, which did help soothe his irritated bottom. I found it easier to apply to the face as well. It's very moisturizing. The consistency is a little thinner than a traditional lotion, which is probably due to the natural ingredients, so it goes on quickly and smoothly. You don't have to rub it in over and over again, and you don't have to use a lot.
Overall, I love the natural ingredients of Climb On! and the products performed exactly as described! I found both products to be very pleasant and useful for multiple purposes.
For more information:
Visit the WRRYFree Skin Care website
Sign up for their Newsletter
"Like" WRRYFree Skin Care on Facebook
Follow WRRYFree Skin Care on Twitter

Disclosure: I received one or more of the products mentioned above for free using Tomoson.com. Regardless, I only recommend products or services I use personally and believe will be good for my readers. My opinions are my own and may be different than yours. Please view my Disclosure Policy for more information.