Do you have children that love art? Do you have children that aren't so fond of art? Is your family looking for something "more" in your homeschool art? I have a child that loves art, one that doesn't like it at all, and one that's indifferent (but still young). They all have completely different tastes and styles including how they learn. I was definitely intrigued by the Creating a Masterpiece art lessons!
For our Creating a Masterpiece Review we received the Monthly Plan. With the Monthly Plans families receive access to all projects available for a monthly fee of $39.99. This includes over 144 lessons as well as additional videos and tips. Additional options include an Annual Plan which includes everything included in the Monthly Plan, but families would have availability for an entire year. Families can also purchase individual levels which includes access to that specific level for one year.


The Creating a Masterpiece lessons are all account based lessons available online. Lessons can be accessed from any device with internet access. Once logging in, we can access all of the lessons available. One of the things I thought was really neat is how it says "Roberts Family's Art Studio" once we're logged in.
We have been accessing our "Art Studio" using a laptop running Windows 10 and the Google Chrome browser. We have not experienced any issues or complications. The videos run smoothly and the Supply List PDFs have downloaded smoothly. Printing the Supply List is optional, of course, but I always like to have a list when I'm at the store! In addition to the Supply List, there are also Lesson Highlights, a High Resolution Image and even a gallery of Reference Art with each Lesson.


I think probably the biggest question I had after logging in for the first time was "where do I start?" There are so many different options, and they are all so beautiful! As far as Level recommendations it's noted children as young as age 5 (depending on maturity) can do the Beginners Lessons. I can honestly say my youngest son is not at that maturity level despite being almost 7. So I have been using this program with my oldest son (almost 11) and daughter (9). Although my oldest son struggles with art, my daughter has natural talent. So the question became "what can I do with them together?"
There were a couple of ways I saw to approach this. We could simply choose something from the Beginners lessons as they are designed to be fun and simple and go from there or we could choose a project based on the required materials. The Art Studio is divided by Level in the main area and a colored dot is pictured next to the name to indicate the primary medium used. Additionally, all of the available art mediums are listed on the left-hand side so if you have a preference, you can simply click on it and see what projects are available in that medium. So really, you could easily go both routes!
Although I was strongly leaning towards a Beginners project it was noted Level 1 is also a great place to start. The kids chose to start with a clown fish picture from Level 1. My son chose this because he thought it "looked" simple. My daughter chose it because it was a colored pencils project, which is her favorite art medium.


This particular project is divided into 3 Lessons which are further broken down into sub lessons. My daughter could probably sit and do the entire project in one sitting despite each lesson taking around an hour. Of course, my son obviously couldn't (and we don't really have that kind of time to carve out of our homeschool day), so we worked on completing one lesson per week. We divided up the sub lessons usually to be done on separate days.
So since Lesson 1 contained three sub lessons, we did art three days that first week. Although I would say completing the full lesson in one day is definitely feasible for most, breaking up into small parts really worked for us – particularly with my reluctant artist. I think it just felt so much less overwhelming for him. The project still was challenging for him overall, though, but the breaks in between was nice. So although spanning one picture out to three weeks seemed like a lot it was definitely a good pace for him.


After browsing other projects – Level 1 and higher are generally presented in 3-7 full lessons, though Beginners can usually be completed in one lesson. I think the pace at which you go is definitely dependent on multiple factors: your child's age and maturity level, ability, desire, attention span, etc. Of course, in my case this was mainly dependent on my oldest's pace since I wanted them to do the lessons together. I have found they can do lessons together as our homeschool art, and I've given my daughter free reign to choose other projects she can do on her own. She simply lets me know which one, and I make sure we have (or go get) the supplies. There is just so much flexibility.
Creating a Masterpiece Review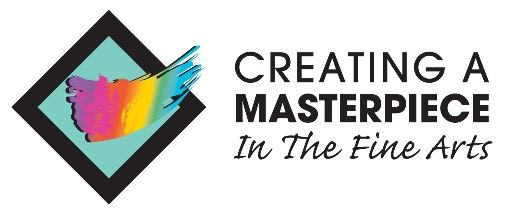 Overall, I definitely think Creating a Masterpiece is a unique art program. It goes beyond simple art projects into detailed, creative art projects. It's all available online for easy access, lists projects by levels and materials, breaks down projects into multiple lessons that are then further broken down into sub lessons, offers a straight forward printout for materials and additional lesson notes.
Is it as "easy" as it seems? I would have to say "not really." It does make it seem like just about everyone can do it. Although my oldest son's biggest challenge has been his lack of interest, the shorter lessons made it easier for him to stay interested. Unfortunately, though, his fine motor challenges posed a bigger limitation despite his actual interest in doing the projects. So, he was ultimately still left feeling frustrated. I plan to try to browse more projects (particularly in the Beginners area) for him, but I was kind of disappointed for him, too. My daughter, of course, did very well which I would expect.
As with any art, I always encourage them no matter what. Art is beautiful even from different perspectives and abilities!
Connect with Creating a Masterpiece
Website | Facebook
Members of the Homeschool Review Crew with children of multiple ages and abilities also had the opportunity to review Creating a Masterpiece. See what they thought by clicking on the button below!