It is very important to us to make sure our kids know the reason we celebrate Easter. Last year we had a chance to review products from Egglo Entertainment, and I was so excited to review them again as they focus on the message from John 1:5 "The Light shines in the dark and the darkness has not overcome it."


For our Egglo review we received a variety of products that included: Glow in the Dark Egglo Eggs, The Egg-cellent Easter Adventure book, Egglo Treasures Scripture Scrolls, Egglo Bible Verse Stickers, and The Egglo Glow in the Dark Egg Hunt Event Curriculum.


Our kids were just as excited to have another glow-in-the dark Easter egg hunt as I was to share it with them again! I decided to add the eggs from last year into our hunt as well. So we had a total of 24 eggs because each box of eggs includes 12 eggs. They include four different colors: blue, green, yellow, and pink. The eggs are either plain or have a cross design. We decided to host our egg hunt here at our home with our three children. Last year we lived in Texas, so we did the egg hunt outside. Although it actually has started to get warmer here in Ohio, there is still snow on the ground, and it's been pretty rainy, so I decided we would do everything here in the house.


To get started, I read the Egg-cellent Easter Adventure Book to the kids. It is a fun, exciting story that follows a brother, sister, cousin and their dog as they go on a treasure hunt. Glowing eggs take them to exciting destinations and scrolls inside the eggs provide Bible verses and clues needed for their journey. It is a soft cover book with 40 pages. It does have a lot of words, and is definitely a book our kids could not read on their own, but I love reading the story to them, and they enjoy hearing it! I also love that it teaches them an important message as their ultimate treasure they learn is Jesus!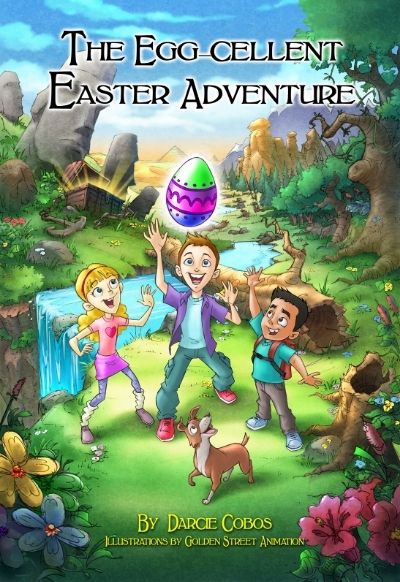 The Egglo Glow in the Dark Egg Hunt Event Curriculum is a 60 page step-by-step guide that is downloaded in two parts. It contains how-to instructions, visual aides, nack ideas, decorations, activity pages, Bible verse scroll and cross Easter eggs cutouts to put in the eggs, activity ideas, and so much more! It's perfect for those planning a group activity or individual activities. Because we just used it at home, we didn't use the fancy parts like the snacks and decorations, but we used some of the printable activities like the coloring sheets.


The Egglo Treasure Scripture Scrolls and Bible Verse Stickers both come in a set of twelve. The Bible verses included specifically compliment the Egg-cellent Adventure book, but they could definitely be used independently as well. The stickers are already cut out individually so they are easy to place in the eggs. Even though they both contain Bible verses I chose to put one scroll and one sticker in each egg. Last year we just had scrolls, so I loved adding the stickers because the kids love stickers. Plus I love that this is a great "no candy" option that also helps keep the focus on Jesus!


Then we were ready for our glow-in-the-dark Easter egg hunt! I made sure to "charge" the eggs by keeping them in direct light for a while before our hunt. This helps to make sure they will have a good glow that is strong and will last. I sent the kids upstairs while I hid the eggs then turned off all the lights and announced it was time for the egg hunt to begin! I wasn't sure how they would look inside, but they did have a nice glow!


The kids had so much fun – not just finding the eggs but opening them and discovering the stickers and scrolls as well. They really like to open and read the scrolls, and the stickers were an added bonus! They love stickers! Once again, I was happy with Egglo Entertainment. It provides a fun, memorable experience for the kids while helping them focus on Jesus!
Be sure to connect with Egglo Entertainment on Facebook, Twitter, Pinterest, Instagram, Google+, YouTube and Tumblr
Egglo Entertainment sent products to many members of the Schoolhouse Review Crew. See what they thought in their reviews by clicking on the banner below!