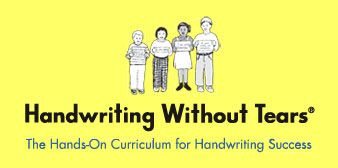 The first thing we did after downloading the App was creating an account for each child – our 5 year old and 6 year old. Both are learning at the 1st grade level but both have special needs that affect fine motor skills. Our daughter, in particular, has trouble with reversals (reversing both letters and numbers). According to their FAQs The Wet-Dry-Try App is age-appropriate for Pre-K and Kindergarten children, or for 1:1 remediation with older children. So although our children are academically at the 1st grade level I feel the app is still a good fit for them due to their special needs and their need for reinforcement and practice.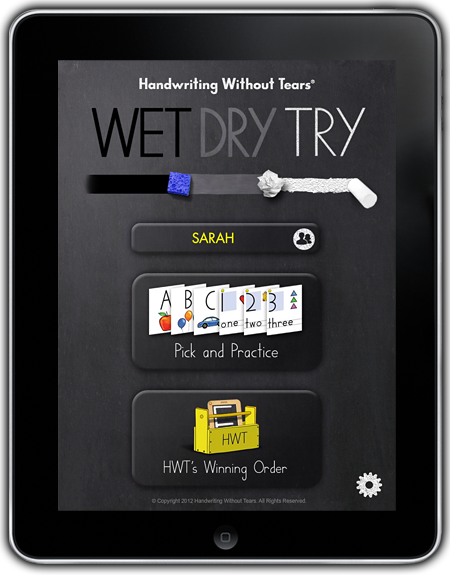 Handwriting Without Tears helps children learn how to write properly by using hands on methods. It is actually a program our 6 year old uses sometimes with his Occupational Therapist and comes highly recommended by their therapy staff. We had the opportunity to review their Wet-Dry-Try App on our iPad. It actually resembles their slate chalkboard activity used in some of their hands on activities. The Wet-Dry-Try App helps reinforce handwriting habits for the capital letters and numbers.
There are two ways to use the Wet-Dry-Try app. It teaches only the capital letters and numbers because they are the easiest letters to learn, and that is the basis to set children up for success. After choosing their name the kids could choose "Pick and Practice" meaning they could choose any letters or numbers to practice or "HWT's Winning Order," which starts with a specific letter and then unlocks the other letters according to their "Winning Order" as you go. The "Winning Order" starts with letters that have similar starting points and stroke sequences to make it easier to build on rather than going through the Alphabet in traditional orders where very different letters are next to each other. Here you can find out more about their Teaching Order. We chose to use the "Winning Order" and practiced for about 15 minutes each school day as a reinforcement activity. This worked out well for us because there is another project we're working on that requires the kids to do something separately, so one can do that while the other works on the Wet-Dry-Try App. The app also allows different settings, so you can choose for it to be a little easier as far as sensitivity if necessary.

Brayden, our 6 year old, did really well with the Wet-Dry-Try app. You can see in the picture there is a nice rewards based system in which he earned a lot of stars and even the special cards when you get all 3 stars for a letter. At the first star level there are voice prompts and helpful hints to help the child start, and by star level 3 there are no prompts at all because the child should be able to do the activity on their own. You can even "lock" letters at a certain star level. So if you know your child needs extra practice they can be locked at Star Level 1 or if you know they need higher level practice you can lock them at Star Level 3. We did not use this feature, but it is a nice feature to have available. For Brayden I had everything set on the hardest intensity and use the "HWT's Winning Order." I think another reason he did so well is he has also had the hands on practice of the real slate board in his Occupational Therapy because she had mentioned to me that he told her all about the Wet-Dry-Try App saying it was like what they were working on in therapy. So, it's nice to know we're reinforcing his therapy as well!

Aurora, our 5 year old, had a much harder time with the Wet-Dry-Try app. The first thing I did was change the setting to easier because she became overly frustrated and didn't even want to try it anymore. This is very common for her as she has Sensory Processing Disorder, so when she feels overwhelmed she tends to want to shut everything out. So, after the first day of frustration we just finished for that day, but I set it to the easier mode for the next time around. It was still fairly difficult for her, but her frustration level was much easier to maintain at the easier level as she wasn't making as many mistakes. I often, though, had to sit with her and try to coach her through it, which I feel was a good learning experience for both of us! I actually have neurological issues with my hands, so there were even some that I tried and was unable to do without correction! So, I could definitely relate to her frustration being a perfectionist like her! So, though her older brother breezed through the Wet-Dry-Try app I do think the lack of the hands on activities that he is accustomed to through his therapy affected her ability to start off as well and as quickly as he did. It is slowly getting better, though, which is obviously the whole idea of the app – improvement. There are still some struggles she has to work through – particularly with the round letters, but I just keep encouraging her and reminding her it's OK to make mistakes because that is how we learn. This is something we have to work on daily anyway! As of now, she hasn't earned any of the cards, but she has that goal in mind, which keeps her motivated to keep trying! I do often have to remind her, too, though, and it will be much easier if she puts the iPad on her desk or the table while she's working on it rather than her lap, which she prefers.
Overall, I think the Handwriting Without Tears Wet-Dry-Try App is great reinforcement for young children and those that need the extra help. I do feel it would be best used with their hands-on products as well, though, for further learning and reinforcement. I do think there may be some benefit for making a range of levels rather than just the most strict and the easy (which has proven to not be that easy particularly to start), so I think with younger learners they may need a lot of help at first. This will give you the opportunity to be more involved, though, which is always a positive thing!
The Wet-Dry-Try App is available on the App Store as well as Google Play for Android devices for $4.99
For more great reviews on not only the Wet-Dry-Try App but also more of Handwriting Without Tears Curriculum click on the button below!



Disclosure: I received a free copy of this product through the Schoolhouse Review Crew in exchange for my honest review. I was not required to write a positive review. No other compensation was received. All opinions I have expressed are my own or those of my family and may be different than yours. I am disclosing this in accordance with the FTC Regulations. Please refer to my Disclosure Policy for more information.