Our once resistant six year old has been loving Jolly Phonics from jollyliteracy.com. He has been learning his letter sounds in a whole new way and has been making amazing progress! Plus he's had a great time singing songs in Jolly Songs to help reinforce his learning! just2ducks LLC also sent us Jolly Grammar from their jollyliteracy.com division for our Jolly Grammar and Jolly Phonics review.

Jolly Phonics Review
Chaz has been using Jolly Phonics regularly (3-4 days per week). I started him at the very beginning because he has writing challenges due to his special needs. Although he does know many letter sounds, I thought it would be best to follow the progression as it is presented in Jolly Phonics.
The Jolly Phonics program includes three Jolly Phonics Student Books – Jolly Phonics Student Book 1, 2 and 3. It also includes the Jolly Phonics Teacher's Book in print letters which covers all three of the Student Books.
The Teacher's Book offers daily guidance for teaching the Jolly Phonics program. It includes a detailed introduction as well as detailed information for the concepts the child will be learning including:
The Letter Sounds of the English Language
Learning the Letter Sounds
Learning Letter Formation
Reading (Blending)
Identifying the Sounds in Words
Tricky Words
I was impressed with all the details it includes. Once it breaks down into the Daily Guidance for Teaching, it explains the best way to go about teaching the lessons. We have been using Book 1, so each lesson includes a story to read to introduce the letter sounds. Each letter sound is taught using an action to help them remember the letter sound, so the story helps to introduce this action as well.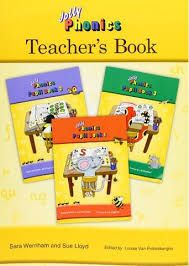 Jolly Phonics Review – Student Book 1
Chaz has been happily working through his Jolly Phonics Student Book 1. He's been learning individual letter sounds as well as progressing to blend those letter sounds as the new letter sounds are introduced. He has been working on writing his letters as well as identifying pictures/words that contain the letter sound.
We have been treating each letter sound as a lesson. So each one is one page long. So each lesson only takes around 15-20 minutes. His biggest struggle is writing the letters. He has been enjoying the lessons so much, though, that he is actually attempting to write the letters, which is major progress. Generally he refuses to even try. We also brought out the white board to give him more practice as well.

Jolly Phonics Review – Student Books 2 & 3
We haven't yet progressed to the Jolly Phonics Student Book 2 and Student Book 3. They are quite a bit different. In Student Book 1 we continue to progress through letter sounds and blending them together through the basic 42 letter sounds. Starting in Student Book 2 there are already full words presented right at the beginning. It presents alternative letter-sound spellings, more handwriting, tricky words and words and sentences. Capital letters are also introduced.
Jolly Phonics Student Book 3 presents more letter-sound alternative spellings, tricky words, comprehension and words and sentences. Of course, it also includes handwriting, but in this book there is free writing and dictation.
Jolly Songs Review
Jolly Songs complements what we've been learning in Student Book 1. It presents the letter sounds in songs written to familiar tunes. It includes a music CD you can play to sing along. I found knowing the tune alone made it possible to sing the songs without the CD. The songs also include the motions he has been learning to remember the letters.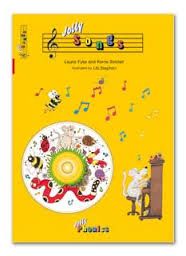 Jolly Grammar Review
We haven't yet progressed to Jolly Grammar. It includes the Jolly Grammar 1 Teacher's Book in print letters and Jolly Grammar 1 Student Book. If following the recommended progression, Jolly Grammar follows the completion of all three Jolly Phonics books. It builds on what they have learned in Jolly Phonics and covers a variety of grammar concepts including: common nouns, pronouns, plurals, verbs (including conjugating verbs), adjectives, adverbs, definite and indefinite articles, sentences, questions, identifying parts of speech, improving vocabulary and using a dictionary.
I am really surprised by all it covers! The Teacher's Book once again provides detailed information about the concept they'll be learning as well as lesson information. Each lesson is one page long and has a corresponding page in the Teacher's Book.

Connect with jollyliteracy.com (just2ducks LLC)
Website | Facebook | Twitter | Pinterest
Other members of the Schoolhouse Review shared their Jolly Grammar and Jolly Phonics review as well. They have children of different ages and abilities, so be sure to check out their reviews by clicking on the banner below!