If you have young children you know how messy art time can be. It can be particularly messy when paints are involved! What if your child(ren) could paint without the liquid paint and paint brushes? It seems too good to be true, but that is exactly what The Pencil Grip, Inc. offers with the Kwik Stix 12 pk.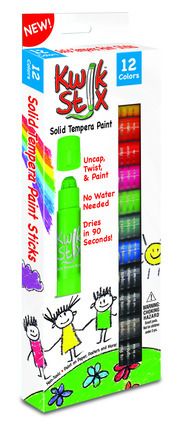 Disclosure: This post contains affiliate links.
Kwik Stix are a solid tempera paint in a mess-free, stick form. They can be used to paint and draw, and when finished, the lid just needs to be put back on. Three are no brushes to clean, no paint getting on clothes (or furniture, the floor, etc.), and they're available in a variety of colors.
The Kwik Stix 12 pk includes a variety of colors. I'm not sure who was more excited – our daughter who couldn't wait to use them or me because I wouldn't have to scrub the table and floor afterwards. Unfortunately, due to our kids' motor delays, being uncoordinated means paint ends up pretty much everywhere – even in random places I don't expect! Our daughter in particular, though, loves to express herself through art, so I don't want to limit her!


Aurora, of course, got them out right away and started making pictures. Her face lit up the whole time as she saw Kwik Stix as a form of paint coming through on her paper. She was equally surprised at how quickly it dries.
Because of her fine motor challenges, getting paint everywhere isn't the only obstacle. Holding and using a paint brush is equally challenging. So, although she loves making things with paint, it does take her a long time, which can also be frustrating due to her challenges with ADHD. So the Kwik Stix not only offer a mess-free solution, but they are also easier for her to use because they are thicker and easier to hold. She completed her first picture rather quickly!


One thing I didn't expect, though, is that are boys were excited to use them, too. Neither of them are opposed to art, but they both don't like to do things they believe they can't do well. Despite our best encouragement they tend to avoid art that is related to drawing, painting, etc. unless they have to do it. They are both generally more excited about hands-on art like making things with clay.
Seriously, though, how cool is it to paint with a stick? It is something new, and they were willing to give it a try! Because they are easier to use, there is less of the frustration that generally leads to their not wanting to do it anymore.
Kwik Stix Review
Overall, I would say the Kwik Stix are a big hit here in our house and have been a great addition to our homeschool art supplies! There is no fuss or mess, they are easier to hold and use, and they dry quickly, so the kids can move on to another color quickly.


Additionally, we receive a sample which included a Pencil Grip. This is a very welcome tool in our house where holding pencils correctly is a challenge! In fact, neither my husband nor I hold it correctly as well, so anything that can offer help to teach the kids to hold the pencil correctly is a huge blessing! They really like this one because of the shape and texture, so they actually like to use it!
Get Connected with The Pencil Grip
Website | Facebook | Twitter | Pinterest
Kwik Stix can be purchased on Amazon.
Other members of the Schoolhouse Review Crew have shared their experiences with the Kwik Stix as well so be sure to check out what they thought by clicking on the banner below!