I had a chance to review A Life in Balance from the Learning Breakthrough Program. A Life in Balance: Discovery of a Learning Breakthrough is the story of Frank Belgau and his development of the Learning Breakthrough to help people learn and retain information as told to Eric Balgau.
In it, Frank Belgau tells the story of his life from a child through to his discovery of the learning breakthroughs that developed into his Learning Breakthrough program. It seems like it might be long, but it is actually a simple read.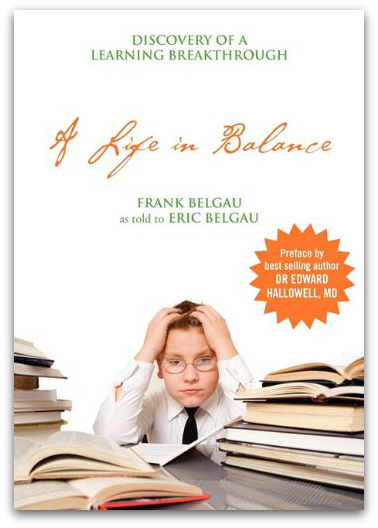 As a mom of three special needs children with learning challenges, I was definitely intrigued by A Life in Balance. Right off the bat I was reminded how far we've come in education as he explains back in the 60's it was assumed children with learning delays couldn't be taught, and they'd just have to go on as hard labor workers. In fact, many times they were considered "problem children."
What a relief it is no longer like that, and that there are those with a heart like Frank Belgau. He really took the time to acknowledge that it wasn't impossible to teach them successfully and see the beauty in their intelligence that can be revealed. It just takes that breakthrough.
I appreciated that he story didn't just go straight to the Learning Breakthrough but rather really told his story. I can truly appreciate his journey from his own experiences as a struggling reader to helping others overcome obstacles. I really found it engaging. I wanted to keep reading.
I was touched by the stories of overcoming – particularly the story of a little boy with cerebral palsy that was only in his class to give the special education teacher a break. He dropped and broke a project he made, but instead of getting upset, it sparked an idea, and he made something even more beautiful that went on to win prizes. It also helped others recognize that despite his special needs, he is capable. I also love that it helped spark Frank Belgau in his journey as well. It was so neat to read how so,many people came into his life at the perfect time. There were successes and challenges, but he pushed on.
Of course, in addition to enjoying learning how Learning Breakthrough came to be, I was definitely intrigued about the program itself. It shares the tools for the Learning Breakthrough program including the tool around which it involves – the balance board. It also shares some experiments and activities.
Even having three special needs children who have been in occupational therapy and doing therapy Learning Breakthrough was something I found so fascinating and unique. As a homeschooling mom, I am always looking for therapies that will help our children succeed in their education as well as their personal life.
I love how Learning Breakthrough addresses the key – the mind. I really learned a lot. I would definitely recommend A Life in Balance. I think it would be beneficial for anyone, but particularly for those with special needs. It can be purchased for $16.49 (at the time of this posting).
For More Information:
Connect with Learning Breakthrough on Facebook, Twitter and YouTube
Many members of the Schoolhouse Review Crew reviewed A Life in Balance. See what they thought by clicking on the button below.