Something that is important to me is making sure our family is watching movies that align with our values and beliefs. Educational movies that align with our values are particularly amazing! That's why I was thrilled with the opportunity to review Living Waters: Intelligent Design in the Oceans of the Earth from FishFlix.com.
FishFlix.com is an online movie store specifically for Christian movies. It's a great resource not only for movies for ourselves but as gifts for others as well. The available movies range from movies that are great for young children, educational movies and movies for older children and adults as well. One thing I can be sure of is that the movies and shows are Christian-based which means they align with our values and beliefs and don't contain a lot of the things we try to avoid!
For our FishFlix.com review we received the Living Waters: Intelligent Design in the Oceans of the Earth DVD. The kids and I were all excited to see it because we all love learning about animals, and they are particularly fond of sea animals. This is actually the third documentary in the Illustra Media DVD series.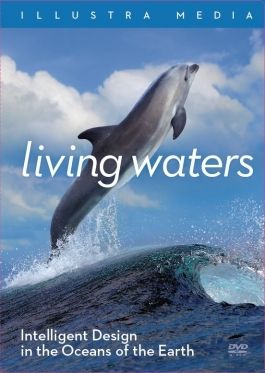 As a homeschool mom I love that the Living Waters documentary is educational. We've watched it a couple of times as a supplement to our homeschool with all three of our children (ages 9, 7 and 5). I found so many opportunities for additional learning experiences. We will watch the movie and as we're learning about dolphins, whales, salmon, jelly fish, sea turtles and more we'll run across something about which the kids have questions. I'll take the opportunity to stop the DVD and answer the questions. This is also a great time to ask them questions to see how they're comprehending what they're learning. Of course, the more we watch it the less this happens.
Something I appreciate about Living Waters is not only are our kids learning amazing facts about the various ocean creatures, but they are also learning God's amazing design when it comes to both the ocean and the ocean animals. You can't help but be in awe of the awesome facts like how the sea turtle babies find their way to the ocean and back home to lay their eggs or how salmon return upstream or dolphins' echo location. It's not by accident, it's an amazing God-designed plan and life down to every specific detail. It can't just happen on its own! God has designed some amazing animals! Living Waters really helps to emphasize this.
Overall, we really enjoy Living Waters: Intelligent Design in the Oceans of the Earth DVD. I love that it's educational and faith-based. Plus our children really enjoy it! They have learned a lot, and I admit, I have, too! For more information be sure to connect with FishFlix.com on Facebook, Twitter, Pinterest, Google+ and YouTube.
Many members of the Schoolhouse Review Crew reviewed a variety of movies from FishFlix.com. Be sure to check out their reviews by clicking on the banner below!