When I first saw the LivyBelt I KNEW this product must have been designed by a parent! The LivyBelt™ waistband, is a unique fashion accessory for kids. The LivyBelt™ eliminates the use of buckles, snaps, clasps or belt loops while still keeping skirts, yoga pants, leggings and even jeans in place. I definitely saw a need for this because our kids are tall and skinny, so we often have the problem of pants that fit their waist are often "high waters" or pants that are long enough for them actually fall off their waist! When I saw the LivyBelt I thought of our daughter because not only would this solve that problem for her, but I knew she'd love to wear it for looks! They come in so many cute prints!
The LivyBelt also comes in 3 different styles. The "traditional" style, the "Lexi" offers the extra support little ones need in the waist, while not changing the look of the ensemble. You can place it around the waist of the pants, skirt, shorts, etc. and put the shirt over it so it won't even be seen! Aurora liked hers so much, though, she made sure everybody saw it! The "Lizzy" and "Lila" styles are more for looks to spruce up an outfit and add a little flare! The "Lizzy" is wide, andn the "Lila" is thin with a cute bow! Both are still stretchy and offer reinforcement like the "Lexi" but definitely add a new look to any outfit!
 For my review I received one of each style. Our daughter is almost 5 and is a petite 30lbs. She wears clothes that are 3T – 4T but now that it's getting a bit cooler outside it's definitely "pants season" again. The 3T's are definitely too short, and even some of the 4T's are as well, but a 5T will just drop right off her little waist! I put the "Lexi" to the test right away with a pair of pants that were the right length, but too big on the waist. I was a little nervous because they are jeans, and I was afraid they would bunch. Although, there was a little bunching when she got in and out of the car (which is always a bit of a fight since all 3 kids fight to get in and out first) or if she would tug on her pants or mess with it, it definitely did what it says it does! I found that really impressive particularly with the jeans, and as I said, she loved it so much she had to show it off as well! Even when you could see it I noticed you couldn't see big bumps or bulges underneath it from the jeans, which I thought was nice!
Here she is modeling the "Lexi."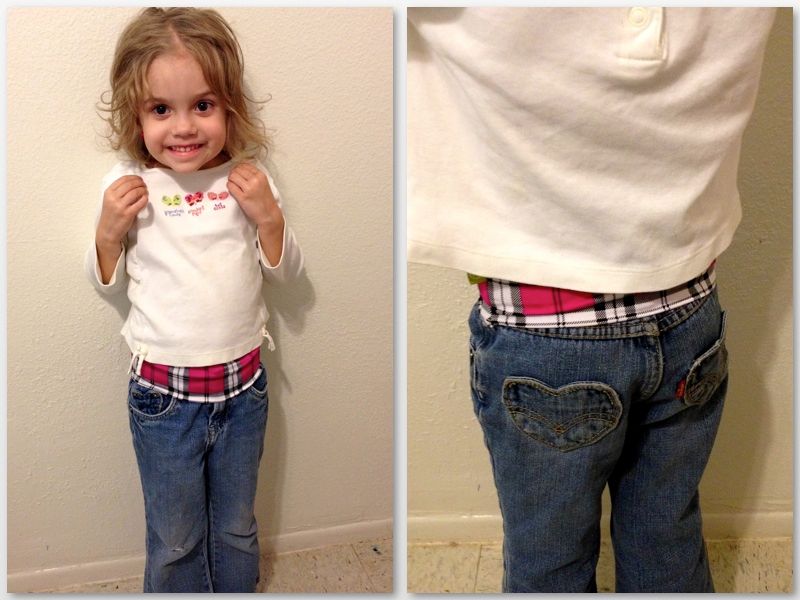 Although the "Lizzy" is more for style. I definitely saw a need for it as well! Another issue we have with Aurora's clothes is her long torso. It's hard to find shirts for her that aren't too bulky but are still long enough. Some shirt styles I think just are made shorter now, too, which really isn't our "style," so I was excited that I could pull together a look with the shorter shirts. She really LOVES the print she got for the "Lizzy," too! The "Lizzy" is pretty versatile, too, because it's so wide. You can leave it wide for a different look or I scrunched it up a little and tucked under the ends. So you can change it up with different outfits!
Here is a "Before" and "After" photo with the "Lizzy"
Modeling the "Lizzy"
The "Lila" I think is her favorite because it has the cute bow. I was wanting to find one of her dresses to have her show off the "Lila," but she wanted to wear the same outfit. The "Lila" actually matches that outfit better than the "Lizzy," so I didn't complain! It didn't have the same effect as far as helping with the shorter shirt, but it definitely makes a cute addition to any outfit!
Modeling the "Lila"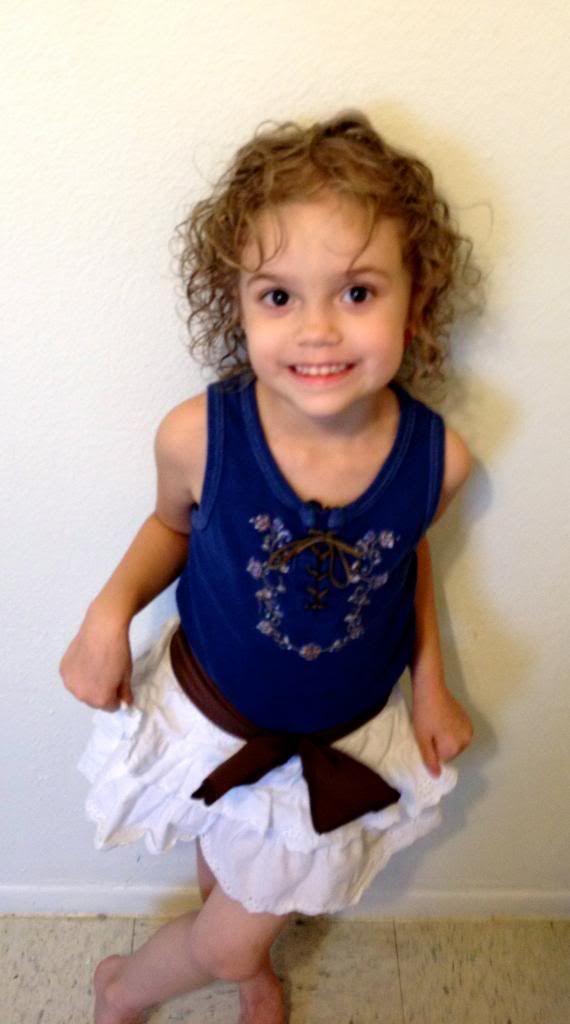 Overall, I think the LivyBelts are a wonderful idea and whether you're looking for function or fun you get both! I think they would be a great gift for any little girl(s) in your life! With all of the different prints as well there is something everyone can like! the LivyBelt is sized "one-size-fits-most" waists, 14″-25″, which equates to most 2 to 10-year-olds. LivyBelts can be purchased exclusively online at www.oliveandnell.com
For More information:
Visit the olive&nell Website
"Like" olive&nell on Facebook
Follow olive&nell on Twitter
*Giveaway!!*
Are you a member of Pea of Sweetness Giveaways? Then this giveaway is exclusive for YOU! 🙂
The prize: One lucky winner will win a LivyBelt in their choice of style and print!
Giveaway Dates: 11/17/12 at 11:00 pm – 12/2/12 at 11:59pm (EST)
Disclosure: I received one or more of the products mentioned above for free using Tomoson.com. Regardless, I only recommend products or services I use personally and believe will be good for my readers. My opinions are my own and may be different than yours. Pea of Sweetness is not responsible for sponsor shipment of the prize.