Disclosure: This post contains affiliate links. Please refer to my Disclosure Policy for more information.
I was so excited for the chance to review another product from Logic of English. We received Foundations, Level A as well as Reusable Resources that compliment the program and the Doodling Dragons App, which we used on the kids' iPad, to facilitate our Foundations Review. We had the choice of manuscript and cursive, and I chose cursive because our children have fine-motor delays and do better with cursive.


Logic of English Foundations A is recommended for students in Pre-K or Kindergarten. If your child is age 7 and under, and you're not sure where to start they actually offer a Help Me Choose option where you can enter the information about your child (or children) and see where they should begin. It actually recommended both of our older children (ages 6 and 8) begin with Foundations A, so I was grateful it offered the Help Me Choose option so I knew we would start in the right place.


I did initially wonder that perhaps we would be taking steps backwards because we reviewed the Logic of English Rhythm of Handwriting last fall. They did well with it, but I knew based on the questions in the "Help me Choose" they weren't yet ready for the other programs. They are both delayed readers due to their special needs. I knew it would also be appropriate for our preschooler (age 4) to join us for lessons as well, and he often did. Mostly, though, it was our older two children using the program, and we used it 4-5 times per week. I had them share the workbook, which actually worked out really well, but if you're able to purchase additional workbooks I would recommend it!
Even our preschooler got his turn in the workbook. You can definitely tell that it is a preschooler's work, and he made the strokes on the whole page versus the individual lines, but I was so proud of him! This was his first attempt ever at writing. That is how much he was enjoying it! He really did great on the whiteboard as well! It does include a nice whiteboard, and since our older two children have their own whiteboards, our preschooler got to use the new whiteboard. On days he didn't join in our older two took turns with it.


I like that Foundations Level A really goes into depth with phonograms and actually helps them recognize the specific sounds. Both of our boys (oldest and youngest) have speech delays, so I also felt like I was building a solid foundation for speech as well as they were learning to distinguish and speak the different sounds. I often try to fit speech into our homeschool day, so I thought it was great that I was covering that base as well as reading and writing! That is so valuable for our family!
Logic of English Essentials starts by covering phonograms and is very detailed in teaching children how to distinguish the phonograms. What makes them the same (such as your mouth is in the same position) and what makes them different (such as "voiced" or "unvoiced")? Our kids have been learning sounds like they never had before, and they really enjoy it. Of course, I also enjoy it because I know they are learning something valuable.


Although we had done the Rhythm of Handwriting Cursive, I still had the children do the writing portion as well. Our oldest son, in particular, struggles with writing due to fine motor challenges, so I knew there was still benefit in it. We started by learning the different strokes we would use for the phonograms, and then we built up to the phonograms themselves – starting with the phonograms that used similar strokes. I think it is a great way to ease into writing!
In addition to being a thorough program for teaching phonograms and writing, it is also FUN! We have really had so much fun with it! In the Teacher's Manual there are suggestions for hands-on learning such as blending phonograms together and acting out the word or finding the object. We were always excited to see what we would do next! On the days we learned a new phonogram there were suggestions to really establish that phonogram by using it frequently that day. It would recommend snacks that start with that phonogram and activities as well. It was fun for them and me!


We also had Basic Phonogram Flashcards, tactile cursive cards (our kids LOVED these because they could feel the phonogram as they wrote it with their finger), a cursive handwriting reference chart, a whiteboard and two sets of game cards. These were all included in the Reusable Resources. Plus, when you continue with the additional levels of Foundations, you will continue to use these resources!


In addition to the Teacher's Manual and Student Workbook, we also received the Doodling Dragons book. The Doodling Dragons book is very much like the Doodling Dragons app except the app is more interactive and offers additional features. Our kids used the app so much that when we would get to a page in the book to correspond to our lesson they would already know what it says! Even our preschooler could tell me what a full page said! I love that they really soaked it in!
With the Doodling Dragons app they can choose to listen to the Doodling Dragons book, interact with the pages by clicking on sounds, play phonemic awareness games to help them recognize phonograms and how they go together to make words as well as learn the phonograms.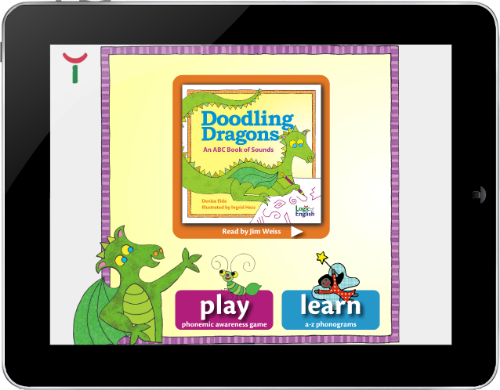 Logic of English Foundations Review
Overall, I am so glad we had the chance to review this great language arts program. It really starts at the basics to truly help children understand how phonograms work from the various sounds to the art of writing them. It is so thorough, and it is something we will continue to use.
The Logic of English Foundations A program can be purchased for $71 (Teacher's Manual, Student Workbook and Doodling Dragons book). The Reusable Resources can be purchased for $85. Logic of English makes it easy to bundle the two together and even offers the option to add Foundations B and C as well! The Doodling Dragons App can be purchased for $4.99 on the App Store and is also available on Google Play and Amazon.


Connect with Logic of English on Facebook, Twitter, Pinterest and YouTube.
Interested in learning more about what Logic of English has to offer? Be sure to check out the other reviews from Schoolhouse Review Crew Members by clicking on the button below!