This is a Sponsored post written by me on behalf of Comfort and Harmony for SocialSpark. All opinions are 100% mine.
Having nursed two I can attest to the importance of the a good nursing pillow. Even with our oldest who I was unable to breastfeed I found a nursing pillow helpful while feeding him because it protected my C-Section incision. Having a new baby is an adjustment whether it's your first or 3rd. Products that make this transition easier are a bonus. One thing I learned is that not "just any" nursing pillow will do!
The Mombo from Comfort & Harmony is definitel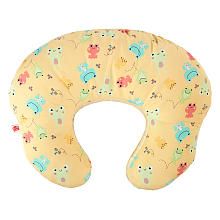 y not your "average" nursing pillow! It offers a two-sided design called Firm2Soft™. Each side offers a different experience. There is a firm side for that extra support needed while nursing. This is very important because it keeps your arms from getting tired and sore. There is a soft side for tummy play and lounging time for baby. This is great for relaxing time as well as time for baby to practice lifting his or her head. Plus, the mombo nursing pillow is the only pillow that has a vibration feature for an extra soothing experience! All of our kids were soothed by vibration when they were babies. There is definitely not another nursing pillow like it!
You can shop for the mombo nursing pillow at Toys R US and Babies R US. They are available in an assortment of styles: Standard, Deluxe, and Nude. Plus, there are a variety of slip covers to choose from so you can change the look whenever you'd like! Be sure to check out all of the great options!
For More Information:
Connect with Comfort & Harmony on Facebook
Follow Comfort & Harmony on Twitter