We have delayed and/or struggling readers and writers in our home. It definitely can be challenging, but we're always excited to discover resources that can help. Perfect Reading, Beautiful Handwriting from Everyday Education, LLC is one of those resources. It offers a step-by-step program for teaching children to read well and have beautiful handwriting. This is exactly what our children need, so I was definitely excited for the chance to review it.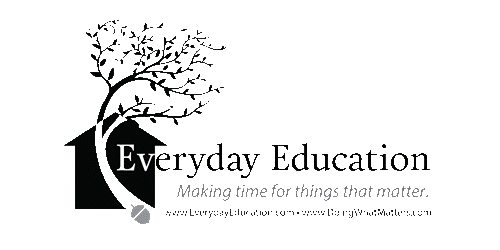 Everyday Education, LLC offers a variety of homeschool resources and information. They offer resources that help families streamline necessities for the homeschool to have time for more important things. Additionally, they offer homeschool resources for teaching language arts from preschool to high school.
For our review, we received the digital version of Perfect Reading, Beautiful Handwriting. It can be downloaded to any device and accessed as a PDF. The ebook can be printed multiple times for use within the same family, so I have been using it with both of our boys (ages 10 and 6). It contains 60 phonics-based lessons with italic handwriting that progresses from straight to slant and joined. It can be used both as a primary or supplemental teaching tool. We have been using it as a supplement.
The beginning of the Perfect Reading, Beautiful Handwriting ebook has an extensive Foreword and Introduction. It is a very thorough introduction to the program including tips, suggested schedule, reading time and more as well as how to use this program. Additionally, the 1st Chapter dives further into tips for teaching. By the time I was done reading through all of them, I understood the concepts of the program, how to use it properly for the children with different needs (one is struggling while the other is just beginning), and why this method is recommended. I was definitely impressed with all the information it included.
Perfect Reading, Beautiful Handwriting Review

To teach this program to a beginning reader versus a delayed reader/struggling writer is a little different. With our youngest, we progressed slowly – about 5-10 minutes a day, 5 days per week. This schedule is ideal for him. He does know many of the letter sounds, but it was a great way to introduce the program without overwhelming him. The writing, in particular, overwhelms him as he feels it's something he just can't do. Doing a little at a time has been helpful. Although he has still been hesitant about writing, he has continued to progress without fuss or complaint. That alone is encouraging!
Our oldest son is a delayed reader, but he knows his letter sounds. We were able to skip some sections as recommended in the "School age children that are already reading" schedule. If we run into things that are more challenging, I will switch to the "student with learning challenges" schedule, which is the same as the beginning readers. For now, we have been working about 10 minutes each day, 5 days per week. We skip "Introduction," "Sound Out," and "Read" and focus on the writing.
Because he struggles with writing, it's definitely not his favorite thing to do. In fact, if it were up to him, he wouldn't do it at all. Because Perfect Reading, Beautiful Handwriting teaches handwriting in this "Italic" fashion, though, I have found he's much more receptive. He finds this style easier on his hands and easier to use in general. 20 of the letters are made in one stroke, which is very helpful for those with fine-motor challenges. The less he has to pick up the pencil, the better! Plus the letters are more oval than circular, which doesn't seem like a big difference, but I've been surprised the difference it does make!
Progressing Through Perfect Reading, Beautiful Handwriting
The Perfect Reading, Beautiful Handwriting book starts in chapter two with the simplest of exercises – simply tracing the letters. What an ideal introduction, though! They introduce the writing style right away. Then as we progress through each lesson, they are already familiar with the writing style. With our youngest, I didn't have to do a lot of explaining as writing the letters is still fairly new to him. With our oldest, though, I did point out the differences in the letter styles so he would recognize it right away. While tracing the letters I did also make it a point to emphasize the letter sounds particularly for our youngest.
Perfect Reading, Beautiful Handwriting then breaks up into lessons. The lessons include short words focusing on a specific vowel sound followed by writing sentences using these words. Writing independently was a little more challenging for our youngest, so we really focused on tracing the letters, and I just continued to encourage him. Although it seems he may be progressing more slowly, I do definitely feel he is progressing.
We print out the lessons as needed, but you could surely print the entire ebook at once. I simply print out what we need for that week. I, personally, only print out the pages they will be writing on and read the words on the iPad from the PDF. I'm always a big fan of saving paper!
Overall, I do find Perfect Reading, Beautiful Handwriting to be an effective tool for beginning and struggling readers. Although we use it as a supplement, I do think it would also work well as a primary learning tool for beginning readers and writers.

Connect with Everyday Education, LLC
Website | Facebook | Twitter | Pinterest | Google+
Members of the Homeschool Review Crew have been using various resources from Everyday Education, LLC with their families. Check out their reviews by clicking on the banner below!