Disclosure I received the products mentioned from School of Wash to facilitate my review. All opinions are 100% my own.


School of Wash offers a variety of handmade bath products for the whole family. For my review I received something for everyone – including the pets! Because I love lavender I was sent products with lavender combination scents to try. When I learned they use essential oils for the lavender combinations I was even more excited since I try to stick to essential oils since they are natural. I LOVE essential oils! After looking further I learned they offer a wide variety of products with essential oils!
When I received the package I was thrilled! Everything smelled so good! I received bubble bath for the kids, body wash for my husband, pet perfume for the pets, and a wonderful foot scrub for myself. I might be a little partial to the foot scrub because it made me feel pampered. 😉
The Kids Handmade Super Foaming Bubble Bath comes in the cutest little container. It is a Lavender Vanilla scent, which I love. That is probably one of my favorite scent combinations. I only needed to pour a little in to make plenty of bubbles for the kids to enjoy! They lasted during our 3 year olds whole bath, too, which is nice because that doesn't always happen!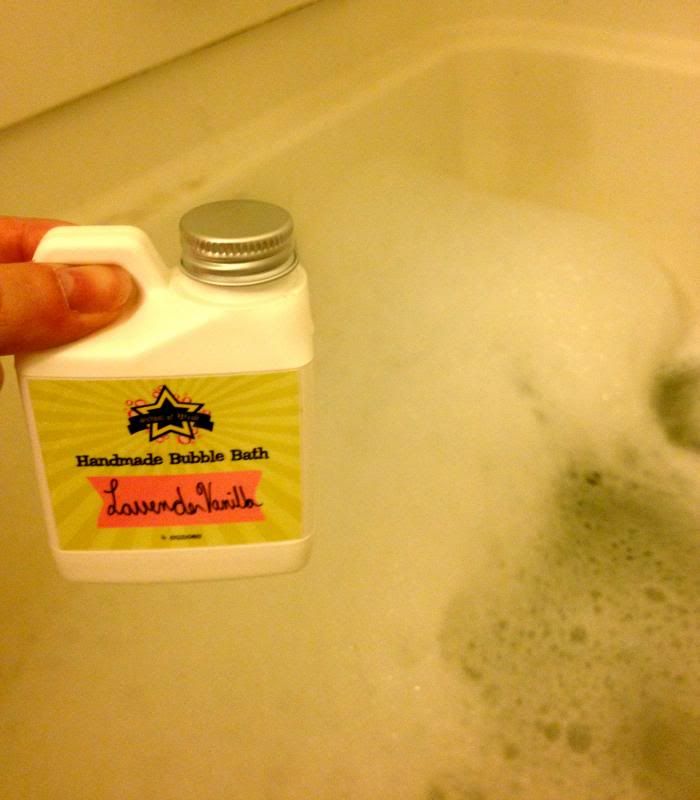 My husband received the Lemon Lavender Handmade Body Wash for men. I am generally not a fan of lemon, but this combination surprised me. I actually liked it so much I used some myself! I really like how the texture of this body wash is a little thick and not runny. Yes, I let my husband use it, too! He enjoys it as well. You don't have to use a lot, either, which is always a bonus.
I received the Lavender Vanilla Handmade Whipped Pumice Foot Scrub for myself. It has a very thick texture and exfoliates nicely. It even lathers a bit, and my feet feel really clean and soft after. Of course, I love the lavender scent! I have never used a scrub with pumice, and it makes quite a difference! I really enjoy the texture and results of this foot scrub!
Our pets received the Lulu's Pet Spritz in the Lavender Vanilla Scent. This is a much needed product because we are not able to bathe our dog as often as we would like! She is too big to fit in our tiny shower, and the kids' tub has a sliding door, so we can't manage to get her in there either. So we have to tie her up and wash her with the hose while she freaks out about it or resort to taking her to the self-serve dog wash. It's really not a fun ordeal. So, a little freshening up in between is a great solution! Plus, it's gentle enough to use on our cat, too! Now they can both smell good!
I love that School of Wash is a small mom and daughter owned business. They make the products fresh upon ordering. Their products are Paraben-free, Talc-free, SLS-free, Sulfate-free, and contain no dyes!
For More Information:
Visit the School of Wash Website
Connect with School of Wash on Facebook, Twitter, and YouTube.