I love grammar. More importantly, I love correct grammar. Because of this it's always something I've been particular about teaching our kids whether it's formal instruction or just impromptu lessons when something comes up. It actually hasn't been easy finding grammar resources for younger children like ours – even our oldest two who are ages 7 and 9 and working at a Third Grade level. I was really excited to check out Sheldon's New Primary Language Lessons from Brookdale House.



Brookdale House offers a variety of multi purpose homeschool curricula for Elementary age children that is predominately centered around writing and language. They place an emphasis on child-centered learning and design their books around the natural way children learn. The writing curriculum was developed around the Charlotte Mason method and/or are Charlotte Mason friendly. We, personally, have an ecletic style, but I always appreciate knowing the style of the curricula. Sheldon's New Primary Language Lessons is noted to fit well with Classical education as well.
For our review we received the printed book. It is a standard size workbook with over 200 pages of lessons as well as a Preface, information on using the text for both the child and instructor, Table of Contents and an Appendix in the back with answer key. It is recommended for Pages can be photocopied for use only within the family. Because our older two children are at the same educational level, I often teach them together, so this is a feature we definitely appreciate!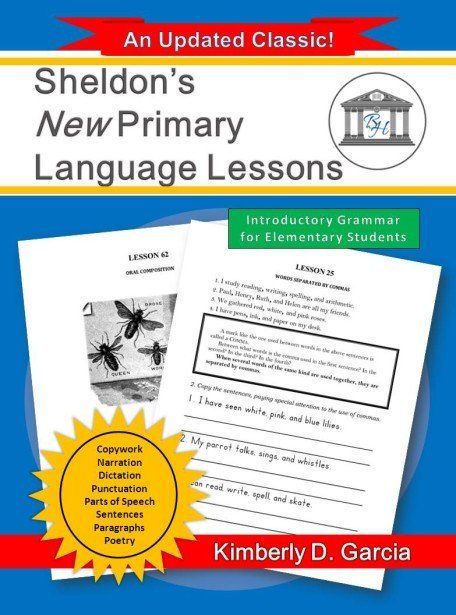 The Shedon's New Primary Language Lessons contains 96 lessons. It is noted in the beginning that they are just that – lessons. Some lessons may only take a few minutes (we have completed a few in less than 10 minutes) while others may need to be broken up in multiple days. So far, we have been able to complete every lesson within a day. We use it 4-5 times per week and although we usually complete one lesson per day, there have been a few days where we've completed two or even three in a day.
I have found this curriculum to be unlike any curricula we have used. It has a really nice and extensive blend of important language concepts and activities. It covers parts of speech, copywork (both cursive and manuscript), punctuation, sentences, paragraphs, dictation, narration, poetry and more. I have found the kids really respond well to the variety offered in this curriculum, and I love that they're learning grammar while practicing many different important language skills.
Although it is a workbook I have still found it can be flexible when needed. For example, even if the copywork is in cursive, I allow our children to choose how they would like to copy it. If they choose something different than what is on the page, I simply write the sentences on the white board. Of course, I do try to encourage them to use whichever form is used on that lesson but our oldest son, in particular, has challenges with writing due to his special needs, so I am very cautious not to discourage him which sometimes means we have to do things a little differently.


Something I love is that our children have been challenged in both comprehension as well as imagination. Questions in some lessons have concrete answers. We may read a short story or poem and have questions pertaining to it. Some of the questions are answered based on comprehension or answers in the story and others ask them questions that aren't answered in the story. They can answer these questions using their imagination. Questions are sometimes answered orally while others are written. I love that they are challenged in so many different areas!
In addition to interactive lessons, I found it unique that there is also memory work as well. There are a total of 7 poems overall. I have followed the suggestions given in the beginning. So I introduce the poems by reading them to the kids a couple of times, I ask them to repeat the first few lines with me and once they can recite those lines I add the next set until they have memorized the whole poem. Once the first poem was introduced, this was something that we did each time before that day's lesson.
Overall, we are definitely loving this curriculum. It's thorough, presented in a way that our kids enjoy and learn from well, and offers a variety of activities. They have been writing, listening, memorizing, dictating, and doing work orally. Of course, they are also learning the fundamentals of grammar like punctuation, sentences, names and capitals, nouns and so much more. I am really impressed with everything that is covered!
For more information be sure to connect with Brookdale House on Facebook, Twitter, Pinterest and Google+.
Many members from the Schoolhouse Review Crew reviewed various curricula from Brookdale House. Be sure to read their reviews by clicking on the button below!