Disclosure: I received one or more of the products mentioned above for free using Tomoson.com. Regardless, I only recommend products or services I use personally and believe will be good for my readers. All opinions are my own.


The Splash Math 1st Grade App is a fun app that covers a wide range of math skills. It has 13 chapters with over 185 math skills. It is recommended for 1st Graders or those entering 2nd Grade.
Since our older two kids are both at the 1st Grade Math level they both got to use the Splash Math 1st Grade App. We downloaded it to one of the iPads. It allows you to create multiple child accounts so you can track each child's individual progress, which is something that is important to me. I appreciate that a grade level program still offers that feature not assuming we would definitely only have one child at that grade level. We did create an account for our 3 year old as well who obviously is not anywhere near a 1st Grade Math level but just really enjoyed all the underwater creatures!
In fact, the fact that the app seemed to be a magnet to all three children actually concerned me. You know how much I love when learning is fun, but are they learning? I made it very clear to them that I want them to have fun but to really try hard to work on the problems and ask me for help when needed and that their little brother was obviously an exception. Well, that seemed a little silly because when I got their reports I was not only really amazed by how detailed each report is but I could also tell they were learning while having fun!
Wow, I really was impressed by all the areas the app covers! Although each child's report is emailed to me I can also check it in the app itself through a parent dashboard. It shows me how much progress they have made in each chapter, their performance summary, strong skills, weak skills, and grade level.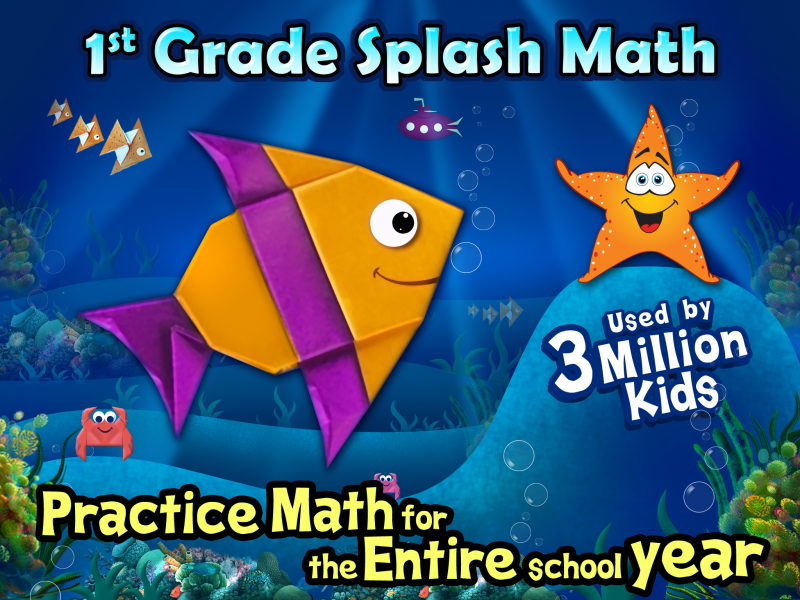 Some of the problems were challenging for them because they have a hard time concentrating when other things are going on around them due to their special needs, so if they were unable to hear and understand what was being asked they may not be able to answer correctly. Because they aren't proficient readers yet they couldn't rely on reading skills to compensate. Luckily, though, Splash Math is set up in a way that it didn't make them feel down or discouraged. For those that need a little extra work, there is also a scratchpad option to write out the problems.
Splash Math offers a points based rewards system, so the more you practice the more points you get! The best way to keep learning is practice! Although, there is a daily notification to remind us it's time to practice, I generally don't need it because they ask to use it!
Once they have had a certain amount of practice they get to go to their aquarium where they can use all their prizes. There are crabs, squid, angel fish, and clown fish. They all do something fun to interact with each other and with them! The more points they earn the more they can add to their aquarium and get accessories for it like anvils, food, etc. It offers a fun incentive to try hard to do well and earn points!
Overall, I am really impressed with the Splash Math 1st Grade app. It really covers so much material and the detail of the reports is wonderful. The fact that the kids enjoy it and are so motivated to use it that they ask me before I mention it makes it that much better! Since it's an app it goes wherever we go! So it's also something educational to keep them occupied during waits at the dr. office or pharmacy instead of just any old game or a video!
You can get the Lite Version of Splash Math to try or the Full Version to have all the features.
You can get Splash Math on Google Play as well!