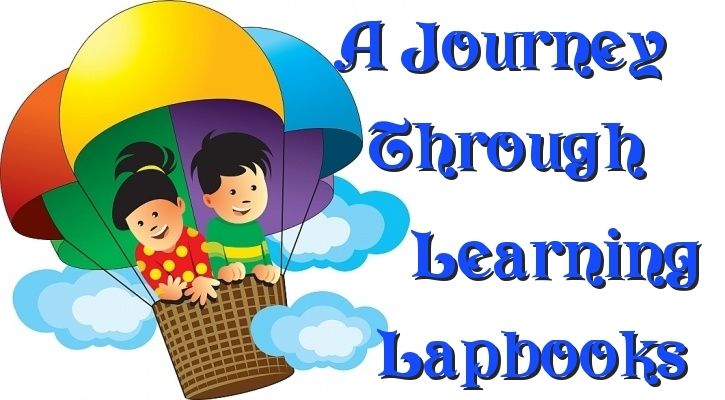 A Journey Through Learning offers a variety of subjects that help kids learn through Lapbooks. We have never done Lapbooks before, and I think their quote explains it well "Scrapbooking with an Educational Twist." It definitely adds a more hands-on experience to education. For our review we reviewed Letters, Numbers and Shapes with our almost 3 year old (recommended for ages 3-5) and The Earth with our 1st graders, which are ages 5 and 6 (recommended for grades 1-5). Because we have never tried lapbooking I was definitely curious. My biggest challenge as a "new" lapbooker was finding the right folders. I saw so many great pictures of beautifully colored folders, but after many attempts to find such folders I had to settle on plain manilla folders. Luckily, once you start adding things it really starts to look nice regardless!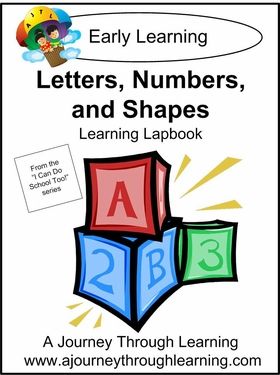 Because Chaz isn't quite 3 yet (he will be 3 in a couple of weeks) I was not sure how this would go. I figured it would be a great way to help him feel more involved when his older siblings were working on things. He is obviously not proficient with scissors, so I would have him do the different things as directed such as: coloring, tracing, drawing, etc. and then I would cut it out and allow him to help staple things together and then glue them to his folder. Chaz isn't always cooperative, but most of the time, he was surprisingly eager and agreeable to work on his lapbook. There were a couple of days he just said "no," and I took his cues so as to not turn him off from it completely. He really enjoyed learning his letters, shapes, and colors through these projects! I would have him help me pick out the colors, and he didn't always color everything completely, but he would at least make a few scribbles with that color where indicated. He couldn't quite draw the shapes yet, either, but he had fun trying! He would say his letters and numbers as he traced them. I was pleasantly surprised how interested he was! The hands-on learning approach really seems to be encouraging to him. He also loved to watch me cut with the scissors, and I think it made him feel proud that he could staple and glue things on his folder. It was really nice to see him learning and having fun!
Letters, Numbers, and Shapes is part of their "I Can Do School, Too" series and does have a general guide on how to put the lapbooks together and how to have the child work on each part, but it does not include a study guide like the lapbooks for older children do. View a sample of Letters, Numbers, and Shapes. We aimed to work on Letters, Numbers, and Shapes four days a week (which is our "normal" homeschooling schedule), but as I mentioned, there were a couple of days here and there that he wasn't cooperative, so we didn't work on it on those days. Letters, Numbers, and Shapes makes up 3 different folders. Working on it regularly, it is noted it takes about one month to complete a lapbook. It even includes tips for multiple ways to attach them together! Letters, Numbers, and Shapes can be purchased for $13 as an instant download, $14 on a CD, $20 printed, and $29 assembled.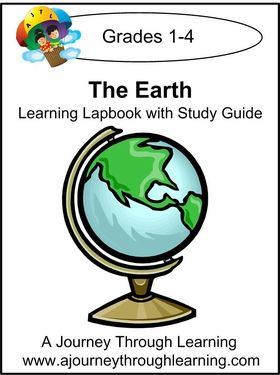 The Earth includes a study guide, which corresponds to the projects the kids are working on in their book. So, I would read the lesson while they would cut out the pictures, and then we would go over the answers together. I would then write their answers on our whiteboard so they could copy them on their projects. Unfortunately, this didn't go as well as I had hoped due to their both having fine motor concerns/delays. They both receive occupational therapy where they work on this, but at home they tend to "push back" when we try to work on holding scissors (and even a pencil) properly. Since there is obviously a lot of cutting involved this often affected how they absorbed the information they were hearing, which ended up leading to very little retention of the information. They both have a hard time retaining information as it is, but because they were concentrating so hard on cutting they really couldn't take in the information, so I found myself repeating the entire lesson over again – sometimes 3 times. Writing information in small spaces also led to a bit of frustration. Once we figured out these hang-ups we changed everything up a little bit so I no longer read the lesson while they were cutting, and I was more hands on in helping them with the lapbooks, and this helped everything to go more smoothly. It also helped them to retain the information more! It was a great learning experience for us, but we definitely had to take it at a different pace than the one study guide and mini-booklet a day. Of course, being homeschoolers themselves they recommend you find your own pace, which is what we had to do – and that's OK! We did try to work on them 4 days per week, but I took cues for when they were overwhelmed or frustrated to take a break. This was also a great experience in following directions because they kept trying to glue things in a different spot, so we had to go over directions again, which made them realize they need to pay closer attention to directions!
The Earth also has great tips for putting the 3-folder lapbook together as well as tips for putting multiple lapbooks together! It also includes information on what supplies it needs. One of the storage ideas includes duct tape, and there are so many different designs for duct tape now you can use to really spruce them up! The Earth covers topics such as: what the Earth is made of, the Earth's crust, the different types of rocks, the Earth's spheres (which I discovered I cannot say quickly! haha), how the Earth moves, parts of the Earth, landforms, detailed information on mountains, the atmosphere, the water cycle, ocean zones, volcanoes, and more. View a sample of The Earth. It really covers a lot of detail and requires 2 folders. The Earth can be purchased as an instant download for $13 or printed for $21.
Although, the lapbooks were a little challenging for our older two kids I really like the hands-on aspect, and I was surprised to see how many different topics/subjects they offer! Now that we found "our groove" it's definitely something we'll be looking more into! I am very excited we found something that motivates Chaz as well! To read more reviews from the Crew – including reviews of some of the other lapbooks offered – click on the banner below!