ABeCeDarian Company offers a reading program for new readers (Kindergarten or early 1st grade) up to 6th grade. It is divided into 4 levels: Level A for students reading at kindergarten through mid-1st grade level. Level B for students reading at mid-1st grade through 2nd grade level. Level C for students reading at 3rd and 4th grade level. Finally, Level D for students reading at 5th and 6th grade level. For our review we started with a placement test to see where our kids should begin. Our 5 and 6 year old are both learning at the 1st grade level, but reading has been a struggle for both of them. I had heard that ABeCeDarian is great for struggling readers as well as readers on target. So, I was very eager to try it for our ABeCeDarian Review.
At first I was a little disappointed that both kids tested to start at the very beginning. Instead, though, I decided to view it as a blessing we are able to take a new approach by using ABeCeDarian. So for our ABeCeDarian review we have been using the Student Workbook A1, Teacher Manual A1, and Set of 10 Storybooks once we got to Unit 4 in the Workbook. The Lesson A-1 workbook is divided into lessons as well as Units. At the end of each Unit we review everything learned up to that point. Each lesson is made up of 3-4 activities. Most days we did one lesson per day, but if they were doing really well we would do two lessons.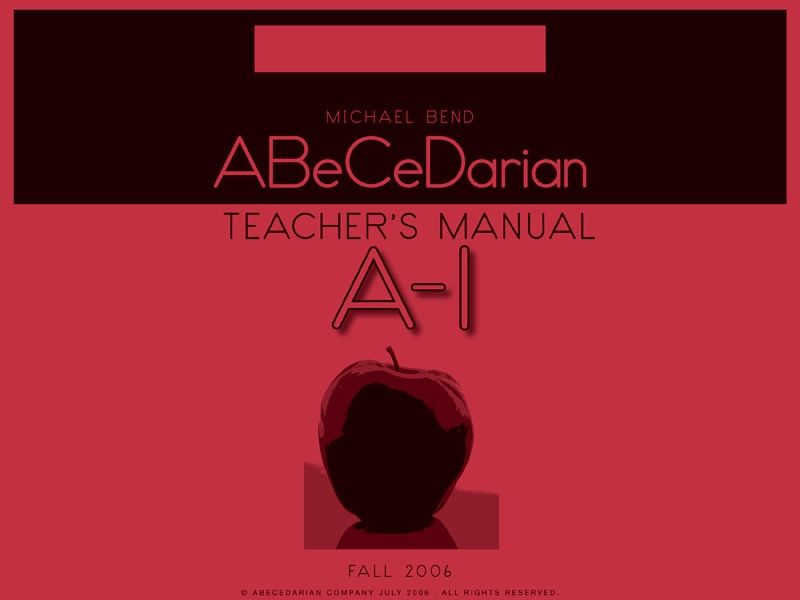 The Teacher Manual offers a step by step guide on how to conduct each lesson. I was impressed by the detail! It not only breaks down each activity but also includes what you should say out loud and what to do when a mistake was made. Nothing is left to guess work! My particular personality appreciates such detail! I did notice some discretion between the examples in the Teacher Manual and what was in the Student Workbook, so that caused confusion a couple of times. I had to look at their workbook to make sure I had the right words in front of me. Now I just verify that I have the same thing in my manual as they do in their workbook before beginning to avoid any confusion.

We started the first storybook when we reached Unit 4 in the A-1 Workbook. The first storybook starts with our daughter's favorite animal – the cat! They were very eager to read it right away, but I wanted to make sure we followed the program as suggested! When you read the first storybook it contains all the words they have learned up to that point, so it really instills repetition. This definitely aids in the learning process and helps build confidence! I always appreciate that as our kids are often hesitant when they don't feel confident. Having a story they can read offered a lot of encouragement for both of them!
ABeCeDarian definitely takes a unique approach to learning to read. Instead of using letters as we traditionally know them we jumped right into recognizing letters by their common sounds. After our first week of using ABeCeDarian I was talking to my husband about this approach and how I wish we could "unlearn" the way we had been approaching reading and had started with this approach instead. I truly believe our kids would be reading at a different level if they had started learning with this approach initially. They also don't throw "site words" into their program right away. Site words have been a huge challenge for us. I was extremely grateful to not approach the dreaded "site words" immediately.
ABeCeDarian Review
We started with "the" in level 16, so the pace worked well for us. We did actually have a lot of stumbling blocks when first starting because when I would make the "sss" sound Brayden would automatically say "c." In this case, though, "c" makes the "k" sound, which is a typical sound for "c." Because he hears that "sss" sound, which is how the name of the letter "c" sounds it took a few times for it to click. This is actually one of the very common problem for both of them in general.
Because ABeCeDarian is so good at giving tips for guiding your children when there is a mistake we were able to proceed without any negative feelings or meltdowns. We have also been working on spelling and writing as well! Since using this program, I have seen this is a really great approach to reading. I truly do wish I had known about this when we started our reading/writing journey! I'm so glad I do know about it now, though! I think of what a great start Chaz will get when he is ready to start reading!
ABeCeDarian Teacher Manual A1 costs $28.50, and the student workbook costs $12.25. The storybook collection is a set of 10 softcover readers and costs $21.50. For more great reviews from the Schoolhouse Review Crew (including reviews of the other levels) click on the button below!