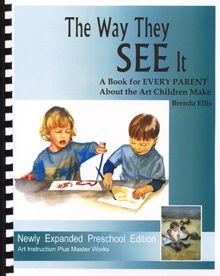 ARTistic Pursuits is a very thorough and enjoyable Art Program. They offer curriculum for Preschool through High school. Instead of using a formal and overly structured approach, they use a creative based, age-appropriate approach to Art, which makes it more enjoyable for everyone! It focuses on on their interests to create motivation for them to WANT to do art and ENJOY art instead of looking at is as just another task. For our review, we reviewed The Way They SEE It: A Book for Every Parent About the Art Children Make, which is their Preschool Program recommended for ages 3, 4, and 5. Although two of our children are a little below (our 2 1/2 year old) and a little above (our 6 year old) I actually did the program with all three children. Surprisingly, they all enjoyed the program and participated well together! The reason I chose this program and have all three children participate is because I knew our toddler would love to actually join in with his older siblings since I am always teaching them together and because our 6 year old has motor skill challenges and generally doesn't enjoy art, so I thought this program would be a great starting point for him even though he is a little older than the recommended age. After beginning the program I knew it was a good choice! Our daughter (our 5 year old) actually LOVES art and drawing, and I knew she would be happy regardless, but when we got to the make a cat out of dough project she was ecstatic. She REALLY loves cats!
ARTistic Pursuits is a very flexible program that encourages you to take things at your pace. It is recommended to do projects once or twice a week – whatever works best for you. We would do projects twice a week, and that was good for us. Our Tuesdays and Fridays are our most "open" days where the kids don't have therapy and we don't have Homeschool Co-Op, so they easily became our "Art days." The Preschool program has 36 Lessons. Each Lesson first starts with "Grown-Up Talk," and this is where I would read about what we were going to do that day, what I would need to complete the project, as well as an explanations about how children learn and to help them enjoy learning. Then, the following page is "Picture Talk," which is a page where you share with your child. You tell them about the picture and ask them about the picture. The kids really enjoyed this part of the lesson because they liked finding different things in the picture and learning about the different pictures. Then, there will be a project. The project in some way corresponds to the picture, but there is a variety of projects. It's not all just drawing the picture, or coloring, etc. There is dough art, etc. You can make your own dough, and a recipe is provided, or it will give you recommendations on products you can use instead – like Play Dough. It also goes into detail on media you SHOULDN'T use as a substitution and why. I actually learned a lot myself! The Preschool program I found I generally had all the suggested media already, so there wasn't much I had to buy to complete the projects. It uses a lot of general media. I was pleasantly surprised when I received a letter with all the recommended media, though, so I could check my "art stash" to see what I had and what I might need to buy. There are some great examples of the program itself on the Preschool Book page!
We really enjoyed working on ARTistic Pursuits together. When I say "together" I really mean it because I actually joined in on many of the projects, too! There is such a variety that we always had something new to look forward to. Re-creating a picture, looking outside at the clouds, creating a portion of a picture (or whatever we WANTED to create). I love that the program stresses that young children enjoy the exploring almost more than the finished product, so don't be disappointed if they "destroy" their masterpiece because that is actually a great learning experience! I thought that was such a great point and definitely something important to remember! I shared a few of our favorite projects in the video below, and you can see the variety from all three children – different styles, personalities, etc. It's another things I really loved about doing ARTistic Pursuits together!
The Way They SEE It: A Book for Every Parent About the Art Children Make can be purchased for $47.95. Additionally, if you don't have all the media you need for the program they have great Art Packs available on their website as well! You can purchase the Art Supply Pack for ARTistic Pursuits Preschool for $69.00.
I think whether you have a child that is a budding artist or one that may be a little hesitant about art ARTistic Pursuits is a great program! It really talks to you as the parent/teacher to help you understand where your child is coming from and how they learn Art. I found this so helpful in so many ways. I really have an appreciation for Art and understanding how to truly share that with my children in an enjoyable way is such a wonderful experience! I'm definitely looking forward to more of the projects to come!
For more ARTistic Pursuits reviews from the Review Crew (including different Grades/Levels) please click on the banner below!