Bible Verse Gifts offers many unique personalized gifts. Your Name in Bible Verse Certificates are beautiful, personalized, custom-printed certificates that combine an individual's name, a couple's name, or any message with an inspirational Bible verse for each letter of the name(s). There are so many different ways you can use names for the certificates. That's what makes them so unique! Each certificate is individually produced and unique. They are 8 ½" x 11″, are currently available in over 20 different styles and retail for $12.95 each. Your Name in Bible Verse certificates can be ordered in English (King James Version) and Spanish (La Biblia de las Americas).
There is a broad range of paper styles available for the certificates, so regardless of the occasion one is likely to find one they like. There are styles appropriate for babies/christenings/baptisms, birthdays, weddings, graduation, Christmas, Mother's Day, pastor or church volunteer appreciation – just about anything. They make a wonderful all-occasion Christian gift.
Bible Verse Gifts offers a 100% no-questions-asked money-back guarantee. How amazing is that?
Easter is coming up, and the products at www.BibleVerse.org would make wonderful gifts!
For my review I chose my first and last name in the Sunrise background. I think that background is so beautiful! When I received my certificate I was surprised how beautiful it really is! The quality is wonderful, and the printing and font stand out beautifully. I was also pleased to discover it fits nicely in an 8 ½" x 11″ certificate frame (which I got at the dollar store!). It is definitely worth hanging up! I love how each verse is unique, so I didn't expect anything in particular. So I was also really eager to read it once it arrived to see which verses were on it! I love that each letter has a unique verse. It really is a great, diversified certificate! I enjoy every verse on the certificate! They are all very positive and encouraging, and it is just awesome to look over it every day and read them!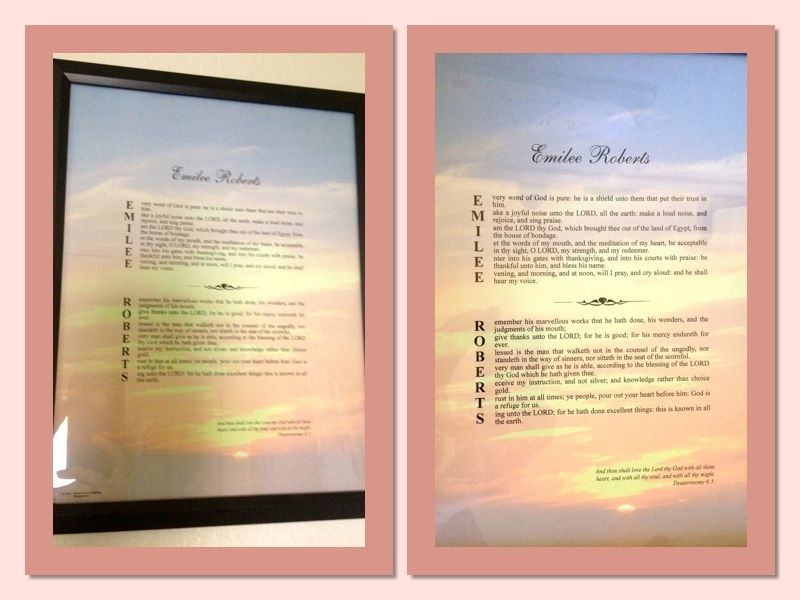 For More Information:
Visit the Bible Verse Gifts Website
Connect with them on Facebook
 *Giveaway!!! (ended 4/3)*
About the Giveaway: This giveaway begins on 3/20 and ends on 4/3 at 11:00pm (times are CST) and is open to US and Canada ages 18+. Please refer to the full terms and conditions in the Giveaway Tools.
The Prize: One lucky winners will receive a Your Name in Bible Verse Certificate!
Bible Verse Gifts needs your help selecting the design for their next certificate! Simply visit the site listed in the first entry and select your favorite! That's it! Then the rest of the entries will open! You can also receive a 30% off coupon for entering your e-mail (optional)! Good luck!
Disclosure: I received one or more of the products mentioned above for free using Tomoson.com. Regardless, I only recommend products or services I use personally and believe will be good for my readers. I am not required to write a positive review. My opinions are my own and may be different than yours. Pea of Sweetness is not responsible for prize fulfillment.