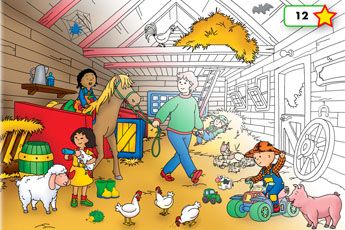 About the app:
Join Caillou and friends and family as you explore his world and learn about letters, words, spelling and phonics!
Features:
7 different scenes to explore, with big clues and small
Over 100 pictures to find and letter pairs to learn
For ages 2-5
Challenges adapt to your developing skill
Original music and a friendly narrator
My review:
Our kids are big fans of Caillou, so I was really excited to have them try this app. As usual, our 2 year old was the first to get to it! I wasn't sure how he would do since it does have letters, which he's not too familiar with yet. The way the app is set up, though, is so that it is not discouraging if you guess incorrectly. It's very encouraging, which I think is great. I've actually seen a few "learning apps" that are kind of harsh when the child guesses incorrectly. The Caillou's World app, though, was very positive and encouraging. Our 2 year old particularly loved that the pictures would start off "plain," and would fill in with color as you go along. He loved "coloring" the pictures. Our older 2 kids really enjoyed more of the letters – and helping Chaz learn the letters. I think that was the most enjoyable part for me is that they enjoyed playing it together and helping out their little brother with the letters so he could enjoy his favorite part of "coloring" the pictures. As they proceed through it they earn stars, which sets goals for them to reach as well. I love that it rewards them for their work because our kids respond best to reinforcement based learning. I always think it's great when you can find characters your kids love and offer that learning experience, too! It really encourages them to learn and have fun while doing it!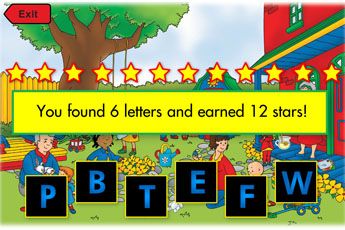 For More Information:
Visit the Night & Day Studios Website
Connect with Night & Day Studios on Facebook
Follow Night & Day Studios on Twitter.
*Giveaway!!! (Ended 2/25)*
About the Giveaway: This giveaway begins on 2/20 at 12:01am and ends on 2/25 at 11:59pm (times are EST) and is open Worldwide. Please refer to the full terms and conditions in the Giveaway Tools.
The Prize: THREE lucky winners will receive a code for the Caillou World app for either iPhone or iPad (Winner's choice)
Disclosure: I received the product mentioned above in exchange for my honest opinion. Regardless, I only recommend products I feel would be good for my readers. My opinions are my own and my family's and may be different than yours. Pea of Sweetness is not responsible for prize fulfillment.