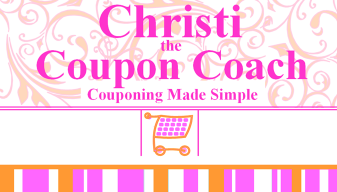 As part of the Molly Crew on the Schoolhouse Review Crew I also get the chance to review great products for money-saving tips like Couponing Made Simple by Christi the Coupon Coach. I received a print copy of the book for my review. Couponing Made Simple: Simple Steps to Successful Couponing wasn't written to for "extreme" couponing, but for real couponing for real people. Christi the Coupon Coach has been blessed with the talent of helping others save money through couponing, and she shares her methods broken down in easy steps that anybody can understand – including someone like myself who doesn't know the first thing about coupons other than using them when I have one! Her book isn't about buying things you won't use but rather saving money on the things you already do purchase and use on a regular basis.
First, I have to admit I was a little nervous after receiving the book and seeing the items pictured. If you follow my blog you may know my husband has had cancer twice, I have medical issues, and all three of our children have special needs. Therefore, we use natural products from our food to our personal care products. I am quite particular about the ingredients in our products and recently we even started switching over to gluten free products knowing it would reap major health benefits for all of us. One thing I truly appreciate about Christi, though, is that she has a heart for helping people. She doesn't WANT our family to stock up on foods or personal care products we don't feel comfortable using. She wants to help us save money on the things we DO use. This a relief because one of the reasons I haven't really given couponing much effort is because I felt like it HAD to be that way – you buy the best deal whether you like it or not. That is definitely not what Couponing Made Simple is all about. Is is about saving you money on what you do use!
So there were a couple of strategies in Couponing Made Simple that wouldn't work for our family such as the Sunday paper inserts. Our Sunday paper is $3.00 and is full of products we wouldn't even consider using. The only time I would consider purchasing a Sunday paper now that I am plugged into these new ideas is when there is a local coupon swap because many others would LOVE to have those coupons I won't use and most likely won't be using the coupons for the products we do use. Although Christi doesn't mention any specific websites (because websites could change) she mentions great ways to find websites online for coupon tips and matching. She also has a Favorites Page on her website. As you can see – one of them is Organic! I also used the power of social media to connect to others and ask around for sites where I could find eco-friendly personal care product coupons and organic and gluten-free coupons. There are more out there than you might think! Some even give back to charities!
Because it took me a while to pull all of these resources together I haven't been able to implement the other strategies in Couponing Made Simple – yet, but I plan on using them! Now that I know where to find coupons I can start matching and implement her very thorough organization system! I know I will be ready! When I did have coupons before I just stuffed them in a drawer. I am sure she would gasp at the thought! Now I know how to keep them organized so they don't go to waste!
In Couponing Made Simple Christi also explains in detail all of the coupon terms, the tools you will use in your coupon system, organizing your actual coupon run, choosing the right cashier, and more helpful tips. In addition, she shares a Bonus Section with more frugal tips such as shopping at Yard Sales and Thrift Stores!
Although, I don't have any pictures to share of a successful coupon run yet, I know I will soon now that I am pulling all of the pieces together! Once I do, I will be sure to share some of my successful shopping trips!
The paperback version of Couponing Made Simple can be purchased on Amazon is $18, and the Kindle edition can be purchased for $4.99.
Be sure to check out the other Crew Members' reviews as I'm sure many had different experiences by clicking on the banner below!