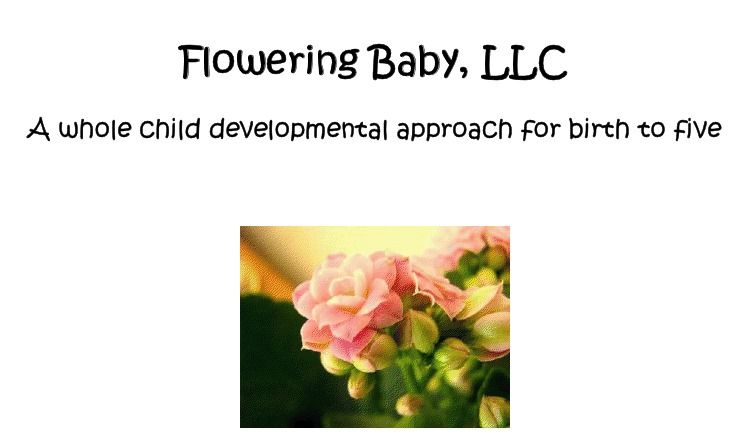 Flowering Baby offers a complete Curriculum from Birth to Age 5. As a homeschooling mom with 2 "school age" children and a toddler I have to admit I don't often give our toddler the attention he needs in regards to learning. It's easy to find projects to keep him occupied while I'm working with his older siblings, but Flowering Baby has been a blessing in that I now realize I DO have time to work with him in ways that help him learn and grown – and are fun!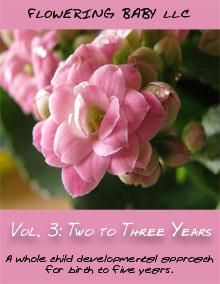 For my review I specifically used the curriculum for the Two to Three Year Olds with our toddler who will be turning 3 at the end of April. At first I wasn't sure exactly where to "start" with him because it is nicely broken down by month. Because he has developmental delays (he has Sensory Processing Disorder and a Speech Delay) I wasn't sure if I should start him where he is developmentally or his actual age. It's a tricky decision because his receptive communication is actually advanced, but his expressive communication is moderately delayed. After looking over the curriculum I decided it was best to start him at his actual age knowing I could always "go back" if necessary. So, we began the program at 33 months.
Each month is divided into 20 lessons, and the first page for the month will let you know what supplies you will need that month as well as what books you will be reading, and the Composer of the Month. The books that are recommended are definitely just a recommendation, but I found if I didn't have them they were easy to find at the library, so we were always able to keep to the recommended list. The Composer of the Month is a classical composer for music your child will listen to that month. It is not expected that your child will sit and listen to the music individually, but she recommends playing it in the background. I found it was easy to find the Composers (and their music) online without any issues! I really enjoyed having music in the background!
Each day is divided into about 6 activities. Some of the activities were more relaxing for our toddler such as the music in the background and when I would read to him. The remaining activities were more involved where he would participate directly in the activities. I found it was very easy to include these in our day without a big interruption (which is what I think I was always afraid of if I got involved with a curriculum for him). Our older kids take frequent breaks due to their special needs, and many of the Flowering Baby activities only require 5-10 minutes, which would fit in nicely during those breaks. If they were longer activities I would get him started during one of their breaks and observe him as he continues in the room with us!
The Activities in the Two to Three Curriculum vary from Physical Activities, Counting/Math Concepts, Language, Music, Story, and then additional activities related to those activities. You can view a sample of a full month when you visit the Two to Three page and scroll down to the bottom.
One of Chaz's favorite activities was actually one we used on multiple occasions. First, we painted a "candle stick" for Jack Be Nimble. He loved painting it! He was so proud. We then used it to act out the story of Jack Be Nimble. Unfortunately, he does have some motor delays as well, so he refused to attempt to jump over the candle stick. I was pleasantly surprised when a few days later we brought out the candle stick again and this time allowed him to choose what he would like to do to get passed the candle stick. I asked him again if he would like to jump over it to which he responded "no jump, run!" He ran circles around it and had a blast! The activity also helped him with sensory input as he is a sensory seeker and needs a lot of sensory input! I wanted to share the great time he had with his "candle stick."


Overall, we've really enjoyed the Flowering Baby Curriculum for ages Two to Three. We did have to modify a few of the activities due to his special needs – particularly those that asked him to tell us stories or share ideas since his expressive communication is delayed. Once in a while he also just refused activities due to sensory overload at which point I would just drop it. If I push him past that threshold a meltdown is soon to follow, and then everybody's day gets worse! A couple of the activities he modified on his own, and I believe in creative freedom, so I let him! There were a few activities that asked us to count in Spanish, but because I'm teaching the kids French I simply modified so that we did French instead. I just feel blessed we have a guideline of ideas to get him thinking and active each day! I was also surprised at how much he DOES know (like counting to 10) and had fun watching him learn and discover.
The entire copy of the Birth to Age 5 curriculum download can be purchased for $132.00. The specific year plans for Birth to One, One to Two, and Two to Three can also be purchased individually for $30.00 each. Year plans Three to Four and Four to Five cost $38 each. Right now you can get a discount by ordering from the Flowering Baby Website for 10% off! Please use code "Blog10" when ordering.
Although my personal experience was with the Two to Three Year Old Program, I did look over the other ages. I wanted to share that the Three to Four and Four to Five Curriculum are slightly different in that they have two parts, a daily general education guide and the theme studies. So, they are definitely much more involved, which I think is great for that age. Again, you can visit the Three to Four site and scroll down to the bottom for a sample. Or you can click on the banner below to view the rest of the Awesome Crew Reviews and see what those that reviewed the older ages had to say!



Disclosure: I received a free copy of this product through the Schoolhouse Review Crew in exchange for my honest review. I was not required to write a positive review. No other compensation was received. All opinions I have expressed are my own or those of my family and may be different than yours. I am disclosing this in accordance with the FTC Regulations. Please refer to my Disclosure Policy for more information.