Our meal was provided at no cost by Straits Restaurant Houston during the GoHouston! Travel Campaign hosted by New Creative Writing and Social Media Marketing, home to Money Saving Parent.com. All opinions are my own.


After we checked out of Hotel Sorella on the last day of our mini vacation we headed to brunch at Straits Restaurant Houston. They are located just downstairs of Hotel Sorella in CityCentre Houston. We had reservations for their opening time at 11am, but we arrived a little early. They weren't ready for us, but they still welcomed us and invited us to sit down in a comfortable waiting area while they got everything prepared.
Once they were ready we were asked where we wanted to sit, and we chose to sit in the comfortable seating under the cabanas outside. I had been eyeing them since we had passed by them many times while walking around the CityCentre plaza! The ambience is really nice, and the seats were very comfortable. It was nice to be under the cabana and out of the hot sun yet able to enjoy being outside.
We were given a Lunch menu as well as a Brunch menu. Since this was our first time at a Singapore Restaurant it took us a long time to decide. Luckily, most of the other GoHouston! Travel Bloggers had visited Straits and recommended the Singapore Satay Sticks, so we had an appetizer to get us started! After looking at the menus all but our oldest son decided on the same thing – the Mango Butter Pancakes. Maybe a strange choice following Satay Sticks, but they sounded so good! If you are thinking we should try something more exotic at a Singapore restaurant I assure you their Mango Butter Pancakes are not made like our American pancakes. They are fluffy and have a naturally sweet taste, and the mango butter really adds to the flavor! My husband and I got the full brunch which includes fruit and bacon, and we got an extra side of pancakes for our younger two kids.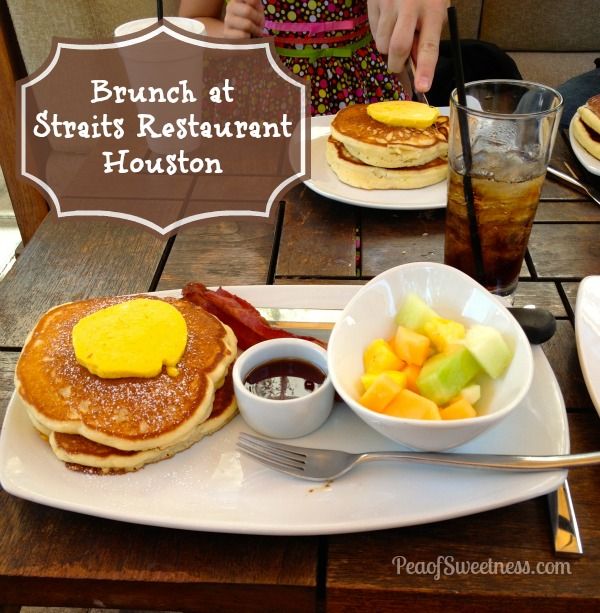 Our oldest son wanted to try noodles, but I wasn't sure what would be best for him since he is our most picky eater of the three. When he thought of noodles he was thinking of something much different (like spaghetti). I chose garlic noodles for him believing that would be the best choice. It turned out to be too spicy for him, but the good news we liked them! Plus, we had plenty of pancakes to go around. The Garlic noodles had wok fired noodles, thai basil, tomatoes, and shiitake mushrooms. They actually aren't that spicy, but he is very particular about flavors, and the noodles do have a lot of flavor. This is actually a good thing for most of us! It has just the right amount of each flavor to where not one flavor is overwhelming but they compliment each other nicely! I was glad to get to try one of their lunch dishes as well as enjoy my mango butter pancakes.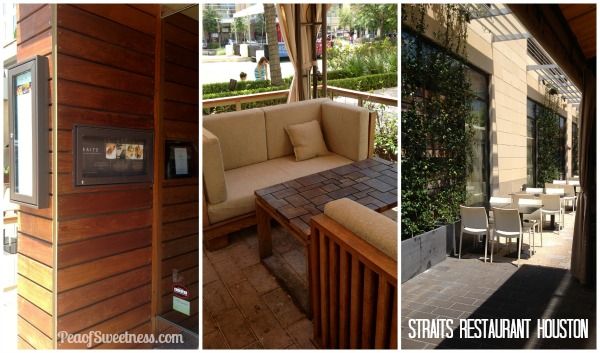 Our server was extremely friendly and helpful and made sure we had plenty of plates as well as boxes when we were ready to leave. He also offered to let us take drinks to go for the kids, but since we knew we were on our way to a movie next we decided not to take any drinks with us. We were able to take our time and enjoy the nice breeze under the cabana and not feel rushed while we ate. I would definitely recommend visiting Straits for Brunch when you get the chance. I have heard their dinner is as equally amazing and just as kid friendly!
Straits Restaurant Houston is an OpenTable Diners' Choice Winner 2013. To make your reservations head over to their website! While there sign up for their VIP Exclusives to receive great deals!