Hyland's understands homeopathy, and they understand families. From Hyland's Homeopathic Teething Gel to Calms Forté, Hyland's cares for families at every stage of life.
Hyland's develops homeopathic formulas that contain the highest quality natural ingredients, and they follow the strictest standards for preparation. With a century of commitment to homeopathy, Hyland's tradition of excellence consistently provides integrity and quality in every homeopathic product.
My review:
I am always looking for more natural products, and that is most definitely true when it comes to health care! We are constantly surrounded by all these different options and medications. It's refreshing to see natural options! When it comes to colds and coughs there aren't many options for the little ones, so when I received a pack of products for kids I was so surprised how much Hyland's has to offer! I am not new to using Hyland's products, but I now know that was just the tip of the iceberg! I received the following products: Allergy Relief 4 Kids, Calms Forte 4 Kids, Flu Care 4 Kids, Sniffles 'n Sneezes 4 Kids, Cold 'n Cough 4 Kids, Nighttime Cold 'n Cough 4 Kids, a sample of Calms Forte (for adults!) and Defend Cold & Cough. Wow! The best thing is, these are all products from which I know our family will benefit! All 3 of our kids have allergies, and it's always great to have products for flu and colds! The best part is all of the "4 Kids" products are safe to use at ages 2 and older. Finally, a option for the little ones – and a natural option at that!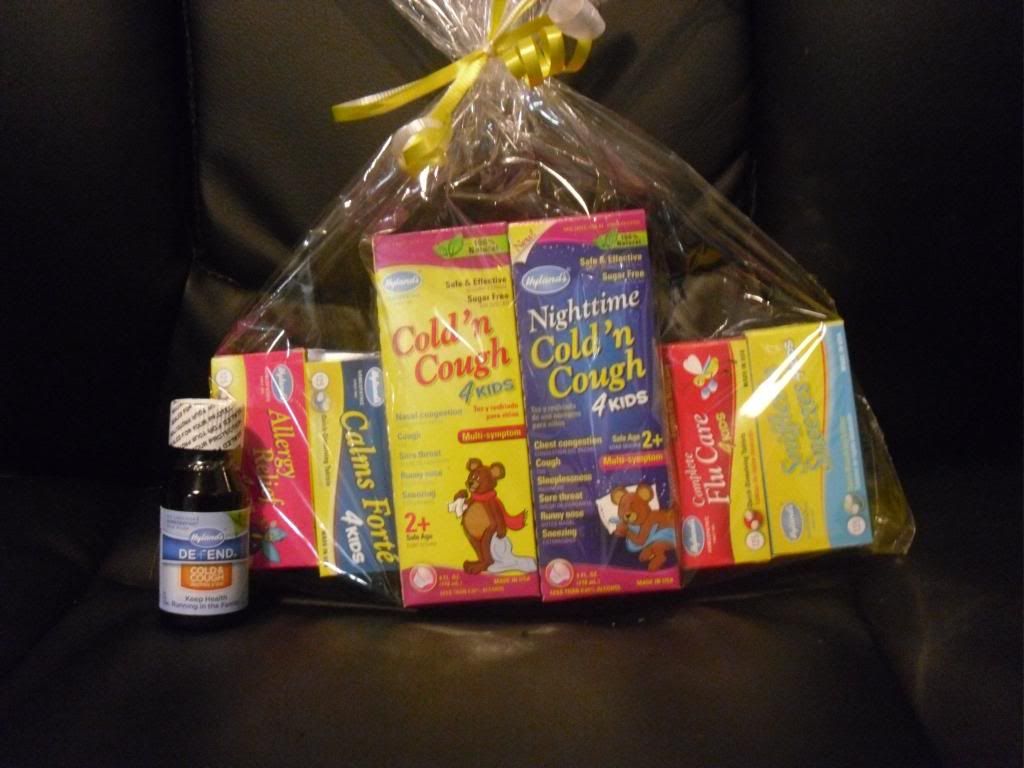 I did actually have a chance to try out some of the products because we've been fighting a cold around here. Our toddler had one very briefly, and I was able to review some of the products myself because it was I who has been battling with a cold on and off. Although the products are "4 Kids" they do give a guideline for adult dosage as well. I also love that on the box of the Cold 'n Cough products it had a comparison chart of what each product does so you could choose the one that was best for your symptoms. Our little guy tried the Cold 'n Cough during the day and the Nighttime Cold 'n Cough that night. He took them without complaint, which is a big deal for him. They don't have a "medicine" taste to them, which really helps. I used both as well. They both have a slightly sweet taste. After giving him the nighttime Cold 'n Cough he went to sleep right away! If you've read my MANY posts about his sleep issues, you know this is definitely not the usual! It was amazing! His snoring was minimized that night as well because it helped clear up his congestion, so he overall slept better. I was really impressed by how well the Cold 'n Cough products worked for me as well! When I get a cold it usually hits me hard, and with a combination of the products I've bee able to keep the cold at bay! They really help keep the congestion clear and even helped with my horribly sore throat. This cold also gave me a chance to use the sample of Defend as well! After taking the Defend I also noticed a big difference in the congestion.
Since we mentioned sleep let's talk about the Calms Forte as well! I had actually just started trying Calms Forte with our toddler just before receiving these products for review. After many different, consistent attempts to help him sleep in other ways including supplements like Melatonin I had a couple of friends tell me to try Calms Forte. It took a couple of nights to adjust, and he still doesn't have the best sleeping pattern, but it's been getting much better! Calms Forte isn't just for sleep, though, which I wasn't aware of until I read more about it. It can also help with general restlessness and lack of focus. Having a son on the Autism spectrum and 2 children with Sensory Processing disorder anxiety, restlessness, and lack of focus are pretty common around here! I have been very pleased with the results of the Calms Forte when used during the day as well! Sometimes as a parent of special needs children you are asked about the idea of medicating your child(ren), which is something we've opted not to do. Finding something natural like this that helps them stay a little more calm and focused is a huge blessing! If you're like me and have some of these symptoms as well they do have Calms Forte for us, too! I received a sample of the Calms Forte "for adults" as I call it, and I also had good results!
I am so pleased with our experience with Hyland's products, and I love that there is a natural alternative that I feel safe using and feel comfortable giving my children.
For More Information:
Visit the Hyland's Website
Connect with Hyland's Health on Facebook
Follow Hyland's Health on Twitter
*Giveaway!!!*
Thank-you to our amazing co-hosts: Giveaway Gator , Couponing with Integrity, Mommy Lesson Plans, and Meg's Daily Bytes, Reviews and other Online Distractions and all of the amazing participating bloggers!
About the Giveaway: This giveaway begins on 2/3 at 12:01am and ends on 2/18 at 11:59pm (times are EST) and is open to US residents ages 18+. Please refer to the full terms and conditions in the Giveaway Tools.
The Prize: A Hyland's Kids' care kit like the one I received! Close to a $50 value!
Disclosure: I received one or more of the products mentioned above in exchange for an honest review. Regardless, I only recommend products I feel would be good for my readers. I received no additional compensation for this publication. My opinions are my own and may be different than yours. Pea of Sweetness is not responsible for prize fulfillment.