My kids are very different learners, but if there is anything they agreed on last year it was that they don't like multiplication. Needless to say, when I was presented with the opportunity to share a Times Alive review, I was definitely excited! Times Alive offers online lessons with animated songs and stories to learn times tables the fun way.


For our review we received a 3-month subscription, though it is offered as a month-to-month subscription with an initial setup fee. Once the account is setup it can be easily accessed online from any computer that is connected to the internet. If you like to take learning on the go, it can work on an iPad if the iPad has a FLASH app so it is capable of using FLASH programs. Our iPads don't have a FLASH app, so I didn't opt to try this option. We have been accessing it from both a desktop and laptop computer.
I have been using Times Alive with both my 10 year old son and 9 year old daughter. Getting started with Times Alive has been easy. It has an easy to navigate interface that also helps track progress. It's important to note that if you do use it on multiple devices, be sure the children using it only use it on that same device. For example, my daughter was using it on the desktop while my son was using it on the laptop. If they use it on the other computer, they can still log in and do lessons, but their progress won't be saved on that computer.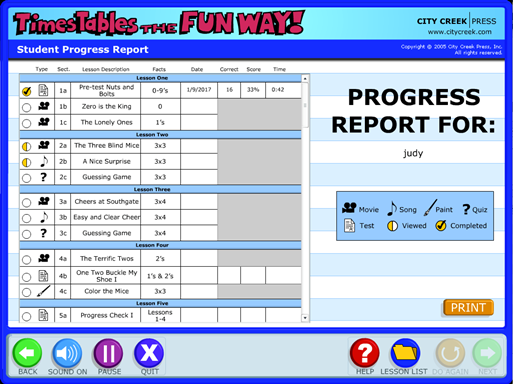 When I first told the kids they would be working on multiplication they both groaned. Since starting Times Alive, though, I haven't heard a word of complaint again! It teaches all of the times tables through fun stories and songs. Sometimes I get complaints from my oldest about things that are taught this way because he's "too old for it," but he didn't feel that way about Times Alive.
When first starting Times Alive they were given a "Pre-Test," which did get groans from both. Neither did terribly well, and it took them a long time to finish it. As they progress, I see how quickly they go through the little Progress Check quizzes that are given every few lessons. A couple of times they noticed it threw in a few problems they hadn't actually learned through Times Alive yet. They'd get a little hung up on them, but I was surprised how quickly they could answer the others (and get them right, too)!


Each lesson only takes a few minutes, and if you're not paying attention, it's easy to keep going through additional lessons without realizing it. It happened to my son, at least, when he first started it! The kids have been doing one lesson per day each week day. This is more than the suggested schedule, but they haven't felt overwhelmed. In fact, they like doing it every day! Since we are at the beginning of our new homeschool year, we have been using Times Alive exclusively for math. I think it will make easing back into a full math easier because they will have their times tables down!
Times Alive Review

Overall, we have been loving Times Alive. It's fun and interactive, and it's memorable. The kids have been easily remembering their times tables, and this will definitely help them as they move on with math for our 2017 school year. They can recall them easily which is definitely which will definitely be helpful! It's easy to access and use, the lessons are short and fun. It's been the perfect way to teach them their times tables!
Connect with City Creek Press
Would you like to know what other members of the Schoolhouse Review Crew thought? Check out their reviews by clicking on the banner below!