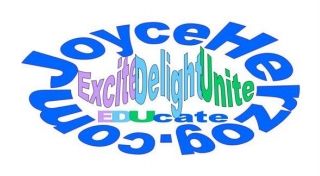 Joyce Herzog offers many wonderful homeschooling resources including Luke's School List and Luke's Life List. I found both very interesting because they both serve as a guide in both education and life skills (including spiritual life, which is definitely important to us). I have tried to make similar lists myself to no avail, and I tend to do better when I have a little guidance, so I am very grateful to have had the opportunity to use both Luke's School List and Luke's Life List.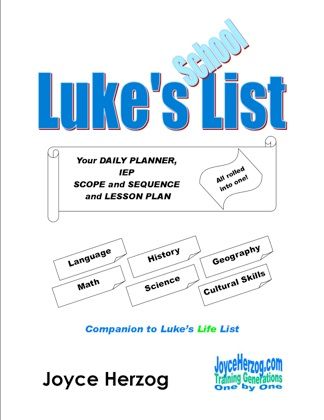 Luke's School List is a K-8 Checklist. It is very much like an IEP – Individualized Education Plan. If you have special needs students and have ever received public services you may be very familiar with an IEP. I decided to use Luke's School List with our oldest and plan to purchase additional copies for our younger two children as well. One thing I really love about Luke's School List is Joyce Herzog makes it very clear that each child is different and that this is just a guide and not an absolute "this is the only way." She understands that God has created our children to be individuals and that's not only OK, but it's expected! So, I really felt at ease when I was going through the lists because I wasn't going through them feeling like "I really hope he is at the level he SHOULD be." Instead, I went through knowing I am going to find out where he is now and what we need to continue working on to guide him to our goals. It was a breath of fresh air not feeling pressure. Yes, this is a guide, but it's just that – a guide. It is to help, not to point out shortcomings, but to show progress in each area. I found it very helpful and encouraging to look at it from that standpoint. Luke's School List is presented as a way that you can mark when a concept has begun, when progress has been made, and when it has been mastered. In this way, you can keep track of where you are in each area. It is recommended to write goals as you see fit – there are no specific time frames given because, as she noted, it would be a waste to check progress quarterly and stand still on a task they have already mastered just because it isn't "time" to write a new goal or to write new goals when they're not ready to move on. Therefore, I glance at our goals each week and will write a new goal when the current goal has been mastered. You can even download a sample.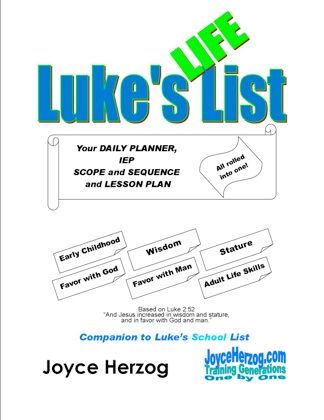 Luke's Life List is similar to Luke's School List in the way it is presented. Skills are addressed and marked off in the same way, and again she emphasizes the fact that children are different. Due to our children having special needs this is definitely true in their development. I felt comforted knowing they are uniquely the way God created them! Again, I used this with our oldest and plan on purchasing additional copies for our younger two as well. Luke's Life List not only includes Christian Knowledge and skills but basic child development as well. It covers Wisdom, Stature, Favor with God, Favor with Man, and Adult Life Skills. I was really excited about Luke's Life List because I think life skills (including spiritual growth) are often overlooked, but they are very important! I found Luke's Life List to be thorough and insightful. I use Luke's Life List in the same way as Luke's School List in that I don't have a certain time frame for our goals, but I check them weekly and make new goals as needed when previous goals have been met. It really has been a great system for us! You can download a sample of Luke's Life List as well.
Both of Luke's Lists are based on Luke 2:25, which is where they get their name. I love that they are both Biblical based and thoroughly cover education and life skills. As I mentioned, I love that they are meant to be used as guides and you are encouraged to understand that God made each child unique. They are easy to understand and use, and I am glad we now have these great lists to serve as a guide as we continue our homeschooling journey. Luke's School List and Luke's Life List can be purchased for $30 each.
For more reviews of Luke's Lists and other great resources by Joyce Herzog please click on the banner below!