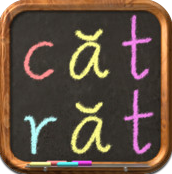 LiteracySoft offers an app, Phonics and Reading with McGuffey, which has 52 lessons to help teach children to read. Phonics and Reading with McGuffey works on both the iPad and iPhone. I downloaded it to both, but because I couldn't figure out how to save progress across devices I had them stick to the device with which they started. Both of our older kids (ages 7 and 5) worked on Phonics and Reading with McGuffey on the iPads 5 days per week. Most days we only did one lesson, but some days they were really just flying through the lesson and opted to do a second lesson. I am a firm believer in allowing our children to choose to learn "outside of the box" (like an additional lesson) when they choose.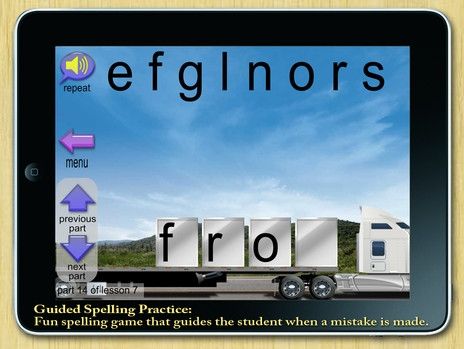 Each of the 52 lessons is broken down into parts to help them walk through each lesson step-by-step. The kids refer to some of the specific parts as "the truck" and "the train." As you may know, reading and phonics have been a challenge for our kids. They both love working on the iPad, so I love that Phonics and Reading with McGuffey addresses their need to practice reading as well as their love of the iPad! Because of their challenges with reading and phonics I had both of them start at the beginning of the program. I have been very surprised how well they have done with this program! Our daughter (age 5) has challenges when learning along side her older brother because she is easily distracted, which is part of her Sensory Processing Disorder. With Phonics and Reading with McGuffey she was able to take the iPad back in her room where she had no distractions, and we were able to really see her full potential! I had a feeling she was absorbing more than it seemed, and Phonics and Reading with McGuffey was the perfect opportunity to really open up her potential. Our son (age 7) also often has problems concentrating due to being on the Autism Spectrum and, again, this was an opportunity for him to seclude himself from distractions so he could really concentrate. Of course, I would go in and check on them and throw them off their groove! Overall, though, I am very excited with how much they have both been able to open up their potential since using Phonics and Reading with McGuffey.
Phonics and Reading with McGuffey starts with the very basics of letter sounds. It asks them to click on the letter that makes the sound it names. "The truck" encourages them to build words using the letter sounds. At first, both of our kids were resistant to this. This is often a reaction given to something new, but with a little encouragement they not only stopped resisting, they both started doing really well! "The train" encourages them to click on the words after they hear them. It has an easy to find "listen again" button in case they didn't hear it. It encourages them to answer correctly as the train goes faster and faster. It really adds a fun component to learning!
Another bonus to Phonics and Reading with McGuffey is the simple fact that it is an app, and it's easy to take it wherever we go! With the kids' therapy appointments, my doctor appointments, and my husband's various doctor and therapy appointments we spend A LOT of time in waiting rooms (or in the SUV). Although I am known to carry a large bag of homeschool supplies to said appointments there are definitely days I would rather not, and now there are days I don't have to! The iPads go with us anyway, so I can just take them and not have a need to take anything extra! What a relief!
Phonics and Reading with McGuffey is good for a variety of ages and learning levels including learning challenges such as dyslexia. The 52 levels contain the proven step-by-step material needed to develop to the first grade reading level. It can be purchased for $19.99 in the App Store. There is a Lite Version of Phonics and Reading with McGuffey that includes 10 lessons which will form the first steps on the journey to a first-grade reading level – so you can try it out first!
For more reviews please click on the banner below!