I am a big fan of educational games. I love when the kids are having fun while learning important information. It's even better when we can all play together as a family. We have been playing the educational math game Sunya – The Magic and Wonder of Math and Science Adding & Subtracting. Sunya Publishing is a new educational publisher, and this is one of their two games.



For our Sunya review we received the Adding & Subtracting Game which includes a spiral bound School and Homeschool Teacher/Parent Guidebook as well as two sets of cards and a number line. The Guidebook includes game instructions as well as interesting information like the Hindu-Arabic Numeral System and Math Facts and Riddles. Because this is a new product we also had the opportunity to compare gray scale pages to full color pages. I personally like the the full color pages best, but I do tend to prefer color.
The Adding & Subtracting game is recommended for ages 7+ and 1-5 players. We have been playing this game with our family. Our oldest two children are ages 10 and 8 and are both at the 3rd Grade level for math. Our youngest, who is 6, just teams up with either my husband or myself. That way he can still feel included as well.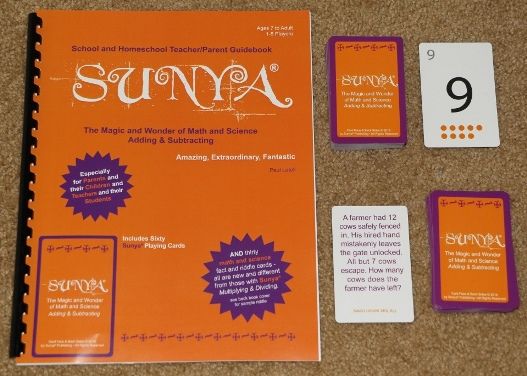 There are multiple ways to play this game. The first way is the Basic Game of Sunya Adding & Subtracting. I found that this game was definitely the easiest game for everyone to understand, and it's the game we have been playing most often. It is a lot like many other card games where you try to discard all the cards in your hand. When you do so you say "Sunya." Sunya is actually a word from Sanskrit that means empty or void of any quantity. Perfect description, right?
In this version of the game, players make number "sentences." They must be correct problems (ex. 2+3 = 5). Players continue to place cards to make correct number sentences, and the one who runs out first is the winner.


It took a lot of reading to feel like I finally had a grasp on the other two games, and to be honest, I don't feel like I did ever get a good grasp on it. I even found the first game to be a little confusing at first, and I am not sure we're even playing it exactly right, but we're playing in a way that makes sense, and everyone is learning and having fun.
Plus, there are a variety of math facts for young children at the end of the Guide. It includes using the cards for flash cards, sequencing, matching, making equations as well as the Math and Science Facts and Riddles (these cards are included in the decks.
Sunya Review
Overall, I do feel there is a big learning curve to the Adding & Subtracting game. I do love the concept, though, and we make it work. We play in a way that everyone can have fun, and the kids are definitely learning as well. I like that it challenges not just practicing math facts, but there is a component of critical thinking as well. The additional suggested activities, facts and riddles are a great addition!
Members of the Schoolhouse Review Crew reviewed both the Addition & Subtraction game as well as the Multiplying & Dividing game. Check out their reviews by clicking on the banner below.