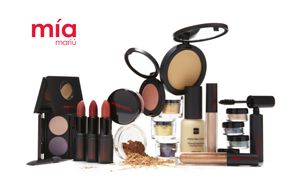 Mia Mariu's high performance products are formulated with the most natural ingredients available helping you achieve vibrant beauty and health inside and out.  Each unique product fuses nature and technology by combining the highest quality botanicals, antioxidants, vitamins, minerals and peptides.  The result is healthy products that provide a perfect balance that reflects itself through youthful, healthy, beautiful, glowing skin and renewed energy and vitality, at an exceptional value.  Mia offers natural skin care, professional makeup artist quality mineral cosmetics and brushes to Reveal Your Unique Shade of Beauty!
As you know, I am an "eco-conscious" consumer. I am always on the search for good, natural products. One thing I have had a hard time finding is a good liquid foundation that don't contain ingredients on my "ingredients to avoid" list. When I saw an opportunity to try Mia Mariu Mineral Cosmetics I was definitely intrigued. When I read more about their company and products I was very excited to try their products. Plus Mia Mariu has a great Perfect Tone chart! I sometimes have a hard time choosing a foundation color, so I found this to be very helpful!
For my review I got the PERFECTING FINISH Mineral Liquid Foundation Vanilla, Mineral Eye Shadow Duo Luna de Miel , and the Luminous Lip Gloss Romance. I received it very quickly, and it included the little make-up sponge as well!
I received my package on the way to a party for which I was the consultant, so talk about some great timing! So I got to try this for the first time on my way there! Don't worry, my husband was driving! I was immediately impressed with the liquid foundation, as I mentioned is always a big concern for me. The color is perfect, it blends nicely, and it is a very nice consistency – not too heavy and not too thin! It was exactly what I've been looking for! The eyeshadow combination is subtle but definitely makes a difference! I was definitely impressed with the texture and how long it lasts. I would describe the lip gloss in the same way – it's a subtle but noticeable difference! The lip gloss is thick but smooth. I generally don't wear a lip gloss or lip color but when I saw the colors they offered I definitely wanted to try the Romance color, and I'm glad I did! I wear it all the time now! I then usually add my final touches – eye liner and mascara, but in the picture below I didn't add them just to show you the dramatic difference in my "without" makeup and with JUST the Mia Mariu makeup! I did use the dark color of the eye shadow to create a subtle eyeliner, which worked great! An added bonus: when I looked at the bottom of the foundation bottle I saw "Made in the USA!" 🙂 Overall, I am extremely pleased with the Mia Mariu makeup!
For More Information:
Visit Mia Mariu's Website
"Like" Mia Mariu on Facebook
Follow Mia Mariu on Twitter
**Giveaway!!!**
Thank-you to our co-hosts: Mommy Lesson Plans, Giveaway Gator, and Couponing with Integrity.
Thank-you to all our great participating bloggers!
About the giveaway: One Winner will receive a liquid foundation, eye shadow, and lip gloss in their color choice!
Giveaway runs from 11/17 at 12:01am to 11:59pm on 12/1. Open to US residents ages 18+. Please refer to the Rafflecopter for full terms and conditions. Good luck!
Disclosure: I received one or more of the products mentioned above for free using Tomoson.com. Regardless, I only recommend products or services I use personally and believe will be good for my readers. My opinions are my own and may be different than yours. Pea of Sweetness is not responsible for sponsor shipment of the prize.