Disclosure: I received the products mentioned to facilitate my review. Regardless, I only recommend products I feel would be good for my readers. All opinions are my own and those of my family.


When it comes to chronic pain my husband and I are both all too familiar with it. He has chemotherapy induced peripheral neuropathy, and I have Fibromyalgia. We are both very cautious of ingredients in products including the big pharma treatments. When possible we like to look for natural alternatives. Amber has a natural anti-inflammatory properties, and I have always been curious if it would be beneficial to my husband as well. Recently we were introduced to Desert Made which specializes in handmade Baltic Amber and Hazelwood jewelry for babies, kids and adults. They have a wide variety of amber jewelry available, and they have a very information page about the benefits of amber I found really helpful!
In addition to Baltic Amber and Hazelwood jewelry, Desert Made also makes Silicone Teething Necklaces. Although we don't have teething babies in our household we have three special needs children with sensory seeking behaviors. Our oldest is on the Autism Spectrum, and our younger two children have Sensory Processing Disorder. They constantly put inappropriate things in their mouth. Despite constant reminders, it's still something they do out of impulse. Having Sensory Processing Disorder myself, I understand how hard it is when there is a behavior based on sensory impulse. You don't even realize you are doing it. In my blog post "Homeschooling Sensory Seekers" I mentioned the importance of having appropriate objects on which they can mouth and chew, so I was excited to see these great necklaces!
For our review we received two pieces of Amber Jewelry and three pieces of Silicone Jewelry. The Amber Jewelry we received were both polished. I love that they are a totally different look, though! One is a dark color – a Polished Black Cherry color (17 inches) and the other is the lighter color (16 inches).


My husband obviously wears the larger one, and the dark color looks very nice on him. I am not sure the light colors would, so I really think the Black Cherry is the perfect color for men looking for amber necklaces as a way to find natural relief. He has been wearing his necklace consistently and has already noticed an improvement particularly with the nerve problems in his neck. He gets awful headaches, and the doctors have tried different types of nerve blocks after determining the headaches are caused by his nerve problems. After wearing his amber necklace for a few days there was already improvement! We were both surprised he had improvement so quickly! He hopes to see all over improvement with continued use!
I also suffer from headaches, and I've also had a hard time getting an accurate diagnosis. They know they are part tension and part migraine, but I know they are sometimes debilitating. Of course, I also have full body pain flare ups from my Fibro. I have also noticed a decrease in headaches since wearing amber as well as less body aches. Plus I get to wear a pretty necklace! The quality of these necklaces is beautiful! They are beautifully polished, sturdy, and the connector is also sturdy yet easy to use.
Because of the anti-inflammatory properties I can definitely understand how it helps teething babies as well!
The Silicone Jewelry we received were two Silicone Teething Necklaces and a bracelet.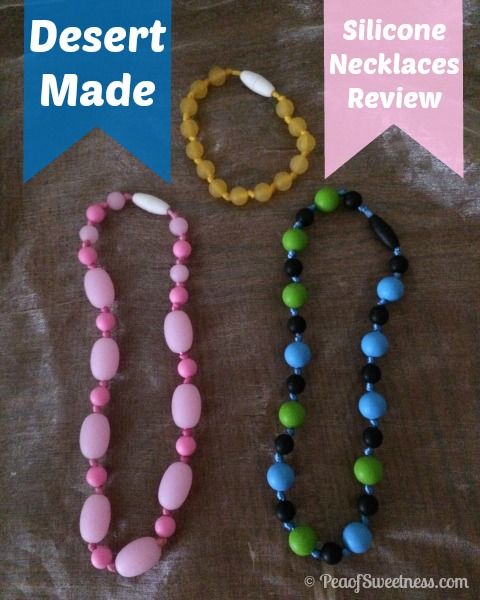 When I told the kids this was jewelry they were actually ALLOWED to put in their mouth you think I'd given them something they've been asking for for a long time! It really is something I've been needing to do since I lost the only necklace I had on which that was allowable! Our daughter is such a girly girl, but I can only let her wear metal necklaces on special occasions because that is something she will put in her mouth constantly without thinking. She also messes with her metal necklaces so much that they break.
When she saw her new pink necklace, she was in love. It wasn't just something she wouldn't get in trouble for chewing on, but it was pink and pretty, too! I was surprised how sturdy they are as well! The connectors snap together, so she can even put it on herself! I was nervous it would also come off easily, too, but that hasn't been a problem. Yes, she has definitely had it in her mouth a lot. It's so nice to not have to correct her, though, and know that she is also getting the sensory input she needs! Her sensory needs have been through the roof lately because of the move, unpacking, her birthday, holidays, etc., so this has been wonderful!
Our youngest son wears the necklace, and our oldest son wears the bracelet (but mostly just around the house). They both have been getting a lot out of them. In fact, the connecter snapping to open and close has fulfilled another sensory need for our oldest. He will just sit there and do that over and over again. They are rougher when it comes to sensory seeking, and the silicone teething jewelry has been great! In fact, I think this silicone teething jewelry is a better fit for our kids than some of the other teething jewelry I have seen on the market for sensory seekers!
Overall, we are very happy with our Desert Made jewelry! They have definitely fulfilled needs in our family, and the quality is wonderful as well! I noticed she almost always has a promotion going on on her website or Facebook page as well! Be sure to check them out!
For More Information:
Visit the Desert Made Website.
Connect with Desert Made on Facebook and Pinterest
*Giveaway!!*
Would you like the chance to win an Amber teething necklace or silicone teething necklace? You're in luck! Three lucky readers will have the chance to win a 12″ Amber baby teething necklace and three other lucky readers will have the chance to win a 14″ silicone teething necklace! The giveaway is open to US residents ages 18+ and will run from 12/22 at 7pm Central time – Enter the giveaway here!