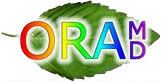 About OraMD:
OraMD is a 100% pure liquid toothpaste, mouthwash and breath freshener
Contains only all-natural 100% pure ingredients – oils of peppermint, spearmint and almond
Combining the
 bacteria fighting properties of OraMD's ingredients
the OraMD 4 Step Oral Hygiene Program, and
the information in Dr. Tom McGuire's book, Healthy Teeth Healthy Body, gives you the best knockout punch to fight oral care issues.
Ingredients help create and maintain a clean and healthy environment in your mouth (gum conditions have been linked to numerous other conditions)
Has interdental access, so it gets in between your teeth and those hard-to-clean areas
Leaves a fresh and clean feeling unlike anything you've ever experienced
Ingredients polish teeth and make them feel as smooth as glass
Safe and effective for everyone ages 3 and up
May taste a little stout the first 3-7 uses
Safe for braces, veneers, bonds, crowns, fillings and dentures
Also available in Extra Strength, a more advanced formula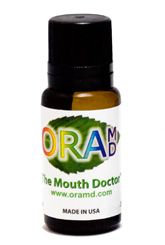 My Review:
As always, I am on the hunt for natural products, and I'm excited to see a natural alternative to toothpaste. OraMD uses natural ingredients, no fluoride or harmful chemicals, no GMOs, etc. I love that OraMD is natural and can be used as a toothpaste, mouthwash, and a breath freshener. I am a big fan of both natural products and products that have multiple uses! At first I went a bit overboard and used the higher end of the recommended usage and used 5 drops on my toothbrush. I was surprised how strong it was! Now I only use 2 drops on my toothbrush for brushing my teeth, and that is the perfect amount for me! It does take some getting used to as it is a little "stout" the first few uses as mentioned, but wow, what a clean feeling! My mouth feels clean all day! I use it as a toothpaste and mouthwash as recommended. I haven't really found the need to use it as a breath freshener because my mouth still felt "clean." Overall, I was very impressed with the ingredients, the quality, and how clean and fresh my mouth felt. Not only are there no harmful ingredients, but it's a lot less messy as well! I think OraMD is a wonderful natural alternative.
See more in my video review:
For More:
Visit the OraMD Website, and "Like" them on Facebook!
For a limited time, everyone reading this review is eligible for a 20% discount on their first OraMD order. To use the discount just go to www.oramd.org to select your order and simply enter the discount code THP20 when checking out.
*Giveaway ended 1/1*
Thank-you to our amazing co-hosts: Giveaway Gator , Couponing with Integrity, Mommy Lesson Plans, and Meg's Daily Bytes, Reviews and other Online Distractions and all of the awesome participating bloggers!
About the Giveaway: This giveaway begins on 12/18 at 12:01am and ends on 1/1 at 11:59pm (times are EST) and is open to US Residents ages 18+. Please refer to the full terms and conditions in the Rafflecopter.
The Prize: THREE lucky winners will receive a bottle of OraMD.
Disclosure: I received the products mentioned above in exchange for an honest review. Regardless, I only recommend products I feel would benefit my readers. I received no additional compensation for this publication. My opinions are my own and may be different than yours. Pea of Sweetness is not responsible for shipment of the prize.