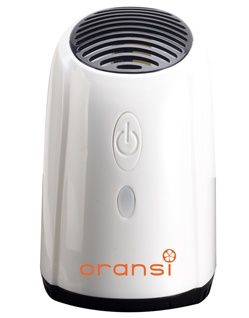 Oransi, based in Austin, TX, develops green cleaning products such as air purifiers to clean the air so you and those around you can breathe easier, sleep better and feel rejuvenated. The number of children and adults who suffer from allergies and asthma has continued to increase and our air purifiers provide high performance without the features you really don't need. We also sell highly efficient laundry cleaning products that are better for you, your wallet and the environment. They are an innovative company with a passion towards all things clean.
The Oransi Ionic Fridge air purifier cleans the air in your refrigerator so it smells amazing.
The Oransi Fridge air purifier is an economical way to refresh any kitchen. This tiny kitchen gadget (it's only 2" x 4" – about the size of a large lemon) easily fits into any fridge and silently removes all bacteria and odors.
It helps fruits and veggies stay fresher longer thereby reducing food waste which saves money on your grocery bill. Best of all, it eliminates the strange stink that can sometimes fill your fridge and kitchen. There are no expensive filters to replace and no harmful ozone. It takes 2 AA batteries (not included) which last up to 3 months on average. Your butter will never taste like last night's fish supper again.
*My review*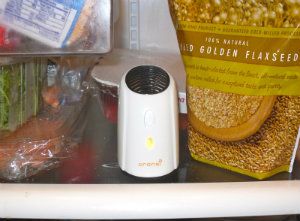 I was excited to try the Oransi Ionic Air Fridge Purifier! I love natural products, and we often have a lot of produce at one time. One thing that really appealed to me was that it can keep produce fresher longer! I knew we could put this to the test! I often get disappointed as our family love strawberries, and although we eat them rather quickly they seem to go bad by the next day! It is always such a waste! Once we put the purifier in our refrigerator we actually did finish the strawberries before they went bad! That hasn't happened in a long time! The Ionic Air Fridge Purifier is quiet, discreet, and you really could put it just about anywhere in the fridge! Not only could I see saving money by wasting lest food, but it's also cost efficient because it takes two AA batteries that can last from 45-90 days! It has an indicator to let you know when the batteries are low. My husband asked me how often we'd have to change the filter and how much they cost. Well, that's another plus – there is NO filter! The only thing you'll have to purchase are two AA batteries every 2-3 months! That's it! If you have kids you probably have a constant supply of AA batteries anyway! 🙂
Another thing we noticed was how quickly this little purifier made a difference. I set it up, put it in the fridge, and within an hour our fridge smelled like nothing. That's a big deal. Usually it smells like a variety of things, but when you open it now there is no scent at all! One thing that really bothers me is when I make fresh brewed tea and the next day it has this "off taste" to it, and since using this purifier it still tastes fresh!
Oransi Ionic Fridge Air Purifier is available online at an affordable price of $29.
Giveaway!
One lucky winner will receive an Oransi Ionic Fridge Air Purifier!
Giveaway ends August 6th at 11:59pm, open to the US Only ages 18+. To enter please use the rafflecopter form below! Good luck!
*Disclosure: I receive product(s)/sample(s) for purpose of testing and review. My opinions are my own and may differ from those of your own. I am disclosing this in accordance with the Federal Trade Commission's 16 CFR, Part 255: "Guides Concerning the Use of Endorsements and Testimonials in Advertising." Please view our disclosure policy if you have any questions. Pea of Sweetness is not responsible for sponsors who do not fulfill prize shipments. We work hard, though, to ensure this does not happen.*