About UGLee Pens:
The UGLee Pen is a great ergonomic pen that is good for everyone who writes no matter how much or little. It is especially helpful to people who experience pain and discomfort when writing, for example those with arthritis, carpal tunnel syndrome, etc.,. It's also the best writing utensil for children who are learning to write and are developing fine motor skills, as well as helpful for special-needs children who find holding a pen or pencil correctly difficult. It is also great for high-school and college students who have to take a lot of notes because it helps keep hands and fingers from cramping.
My review:
I was really intrigued by the UGLee pen because it looks interesting and because if there is any household that needs help with holding writing utensils correctly – it's ours! All 5 of us hold our pens and pencils incorrectly.
I cant really explain how I hold a pen other than teachers used to say I look like I'm writing like a left-handed person, but I write right-handed. I often drag my hand across what I've written and smear it. I also have nerve problems with my hands and writing can really hurt my hand. I was definitely eager to see the difference!
I noticed right away I couldn't hold the UGLee pen like I usually hold other pens. It's like the design truly corrects how you hold it. I was actually writing correctly with no issues! In fact it's so much easier because I don't have to worry about the smearing! Plus the ergonomic grip is so soft it cushions my fingers and I don't get that usually cramping in my hands or the marks from my fingernails in the palm of my hand. Because of my awkward grip and extra pressure I use to compensate for the nerve issues, that is something that was a problem, but with the UGLee Pen I don't have that!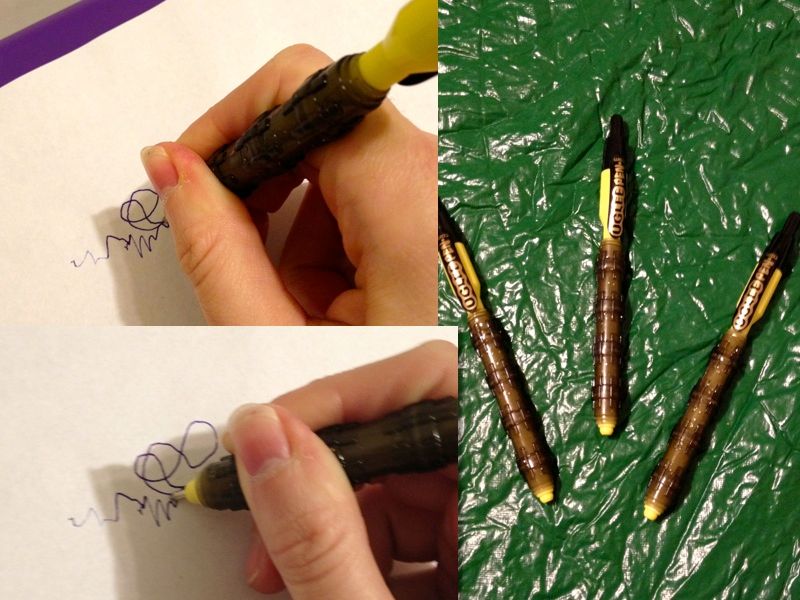 My husband doesn't even use his pointer finger when he writes because his "power muscles" are the outer muscles of his hands. This causes his writing to be a little less controlled. Now that his chemo induced neuropathy is getting worse he has less feeling and control in the outer part of his hands, so he almost has to "relearn" how to write. I can see how the UGLee Pen will be a big help!
Both our 6 and 5 year olds also neglect the fine motor skills in the pointer finger area due to their special needs (and partly genetics), which is something both of their occupational therapists are working through with them. Our oldest son also presses too hard when he writes because he is hyposensitive and can't tell how hard he's pressing and gripping his writing utensil. Writing something like a paragraph is exhausting to him because he expends so much energy. Aside from other therapy practices I'm also going to start incorporating the UGLee Pen in some of our writing! I'm going to share it with their therapists as well!
As for our 2 year old, he still has the "toddler grip," but you can never start them too early helping them to write correctly! 🙂
For More Information:
Visit the UGLee Pen Website
Connect with UGLee Pen on Facebook
Follow UGLee Pen on Twitter
*Giveaway!!*
Thank-you to our fantastic co-hosts: Mommy Lesson Plans, Giveaway Gator , Couponing with Integrity, and Meg's Daily Bytes, Reviews and other Online Distractions and all of the fabulous participating bloggers!
About the Giveaway: This giveaway begins on 1/28 at 12:01am and ends on 2/11 at 11:59pm (times are EST) and is open to US residents ages 18+. Please refer to the full terms and conditions in the Giveaway Tools.
The Prize: A set of UGLee pens!
Disclosure: I received one or more of the products mentioned above for free using Tomoson.com. Regardless, I only recommend products or services I use personally and believe will be good for my readers. My opinions are my own and may be different than yours. Pea of Sweetness is not responsible for prize fulfillment.