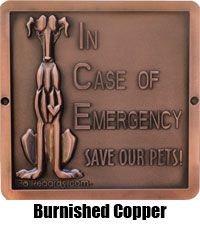 Fire safety and fire awareness should be a priority in our homes. Statistics are quite alarming regarding how home fires affect average people, such as every 22 seconds a fire department responds to an emergency situation and every 82 seconds a home structure fire is reported with one civilian fire injury reported every 31 seconds and death occurring every 2 hours and 38 minutes. Most of us are required to have smoke detectors, but 63% of home fire related deaths were in homes where the alarm was not working. Wow. These are just a few facts that I learned when I received a Pet Safety Plaque from BoRegards. With such alarming facts are we truly prepared? Are we checking our smoke detectors? Do you have an E.D.I.T.H. (exit drills in the home) that you practice regularly? 70% of use Americans do not have one! I'm going to be honest, we didn't either! Not only did I receive a beautiful plaque to alert emergency personnel of the presence of our beloved pets, but I also learned a lot about fire safety that I wasn't practicing regularly! BoRegards includes a wealth of information with each Pet Safety Plaque that is important for EVERY person and family to know!

BoRegards Pet Safety Plaques are designed to bring special attention to special members of our family – our pets! Unfortunately, there was a duplex fire in a nearby neighborhood recently and both families lost everything – including their family pets. A lot of families came together to help them replace their necessities, but we obviously can't replace our pets. My heart was broken for their families, and the need for not only fire awareness but the importance of notifying emergency personnel of our pets' presence became very real. I know for us our pets are family – not only are they family, but they're also understanding companions to our special needs kids. We want to make sure they're protected in an emergency as well!
For the review I was sent a Burnished Brass Pet Safety Plaque. BoRegards Pet Safety  Plaques are made in the USA, which is always a product point we love! When I received it I was amazed at all the information it included like that pictured above! It made me re-think how we handle fire safety as a family and we now have a good plan of action that we will practice regularly that includes the whole family! I hung the Pet Safety Plaque immediate within our front door, so when you open the door it's the first thing you see! The plaque is beautiful! It comes with two anchors and screws and was very simple to install! I was amazed by the size! You truly can't miss it, and it looks beautiful at the same time! You can purchase the Pet Safety Plaque for $34.95.

One of the first things firefighters will do in the event of an emergency is turn off your electric box, so we wrote the current date, 1 dog, and 1 cat on the In Case of Emergency sticker and put it on our electric box. We also plan on ordering more of the stickers (also available for individual sale on BoRegards.com for $5.00) for our back door. The rectangle clear sticker I also filled out with date, 1 dog, and 1 cat and placed it on the upper right-hand corner of the plaque where it fits beautifully. I originally used a blue permanent marker, but I do suggest black because it is much easier to read! I also read all of the information we received and, as I said, learned a lot and made a new action plan that we will practice regularly!
 I am happy to have had the chance to check out BoRegards Pet Safety Plaque for myself and will continue to implement all the helpful information I learned! Their passion for sharing fire safety awareness as well as their heart for pets is wonderful!
For more information or to purchase the Pet Safety Plaque for your home:
Be sure to "Like" them on Facebook
Like BoRegards on Facebook

and Follow them on Twitter
for great Fire Safety information and other great posts for pet lovers!
*BoRegards has offered to give away one of their Copper Burnished Pet Safety Plaques in our Loving Your Pet Giveaway Hop, so head over HERE and enter!*
*Disclosure: I received a product free of charge for my review. No additional compensation was received. All opinions expressed are solely from Pea of Sweetness. See our Disclosure Policy for complete details. My opinions are my own and were not influenced by any form of compensation.*