ReUsies™ are a re-usable alternative to sandwich and snack bags. Each one has the potential to eliminate hundreds of plastic bags. ReUsies™ are 100% cotton lined with leak-resistant nylon and are secured with hook and loop closures. They are easy to clean either by hand, dishwasher, or washer and dryer. Food safe and come in a variety of prints for any member of the household!
I am a big fan of reusable products for a couple of different reasons: they save on costs, and they save on waste. I think with reusable products people don't acknowledge the cost savings right away. I think this is more true with higher priced items like cloth diapers, but I can tell you firsthand, it makes a BIG difference! Snack and sandwich bags are no exception! If you calculate how much you spend monthly (or even weekly depending on how much you use them) you will realize you start "saving" money within a few months! The obvious save on waste is huge!
For my review I received a snack and sandwich bag in a beautiful, elegant print, which is perfect for me as I like to pack our lunches on the kids' therapy days rather than buying food on the way there or rushing to eat before we have to leave (which is right around lunch time). So this print is perfect for my lunches!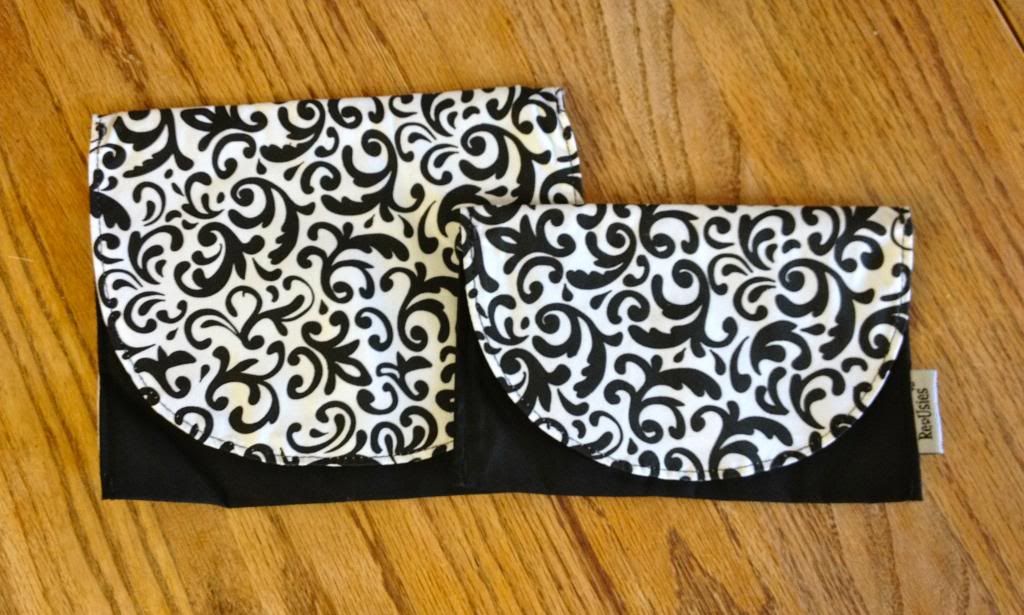 I have enjoyed using the ReUsies and will definitely be looking into getting more in a variety of prints for the kids' lunches on therapy days as well! They really come in a great variety of prints. The material is durable and is lined well. It is also leak resistant. One thing to note if you haven't used reusable snack or sandwich bags before: they are not air tight, so you definitely don't want to leave foods that get stale quickly in them too long, but if you pack your lunch in the morning I found it was perfectly sufficient. The size of the bags is more than sufficient! I was very impressed by the size. The snack bag could fit a large amount of Goldfish and the sandwich bag easily fits a sandwich. The one I snapped a picture of is just a little peanut butter sandwich with the thin-slice store bought bread, but you can see there is still a sufficient amount of room, so if you do make a homemade loaf of bread (mine tend to be much taller than the store bought bread) there is definitely room for it to fit!
Plus the ReUsies are, of course, washable! What really caught my attention, though, is they have an extra velcro tab on the back so you can flip them inside out for washing and secure the velcro to either the front velcro tab or the back one! It is definitely important to secure the velcro when washing so it doesn't snag other things in the wash, so I love that it has the option to fasten it to the front and the back! Overall, I think the ReUsies are great reusable snack and sandwich bags and with the variety of prints they offer you can find one for everyone on your holiday gift lists!
For More information:
Visit the ReUsies Website
"Like" them on Facebook
Follow them on Twitter!
*Giveaway!!!*
This event would not become possible without the participation of these amazing co-hosts: Giveaway Gator , Couponing with Integrity, and Mommy Lesson Plans
About the Giveaway: This giveaway begins on 11/21 at 12:01am and ends on 12/5 at 11:59pm (times are EST) and is open to US residents ages 18+ Please refer to the full terms and conditions in the Rafflecopter.
The Prize: One lucky winner will receive a set of ReUsies snack and sandwich bags of their choice!
Disclosure: I received one or more of the products mentioned above for free using Tomoson.com. Regardless, I only recommend products or services I use personally and believe will be good for my readers. My opinions are my own and may be different than yours. Pea of Sweetness is not responsible for sponsor prize shipment.